Vision for a Model, Comprehensive Public Institution
The first 100 days of my administration have been a milestone for change. With new leadership comes new vision, new goals and a renewed emphasis on creating opportunities to drive and foster student success. When I asked the campus community to share your thoughts with me, I was overwhelmed by the tremendous response. Your input has been vital to informing my vision and goals for the University. Learn more about the process here...
Through survey results, multiple meetings with University stakeholders, both internal and external, attendance at events, active listening, and immersing myself in the trends and conversations around the future of higher education at both the local, state and national levels, I have begun to outline a plan to ensure student success, which is at the core of our mission.
---
How do we define student success?
Increasing retention and graduation rates
Reducing the achievement gap
Providing civic and world engagement experiences
Assisting with the transition to the labor force and graduate school
How will we achieve student success?
To support our effort to achieve student success, we will put into place a signature four-year program, The Westfield State Experience. This new program adds intentionality to the learning process and capitalizes on a number of elements already in place.
First-Year: Experience
---
We begin introducing students to first year seminars, and creating common intellectual experiences and learning communities to immerse students in critical inquiry and collaborative learning
Second-Year: Reflection
---
The second year focuses heavily on aligning goals with aspirations and careers, and creating essential road maps for student success in and outside of the classroom
Third-Year: High-Impact Practices
---
The third year engages students in undergraduate research, service learning, community-based and global learning and internships to further increase retention and engagement
Fourth-year: The Last Mile
---
The fourth year immerses students in capstone courses and projects that integrate and apply learning and prepare for the work force and graduate school
The changing landscape of higher education is forcing institutions to sharpen and focus their mission. Positioning Westfield State as a model, comprehensive institution requires us to be strategic in our approach to enrollment and program development.
Developing a Graduate Initiative
The Westfield State Experience does not end at graduation. We must continue the relationship that successfully prepared students for their professional life by building affinity for the University through alumni connections.
Engaging alumni to become lifelong supporters of The Westfield State Experience
---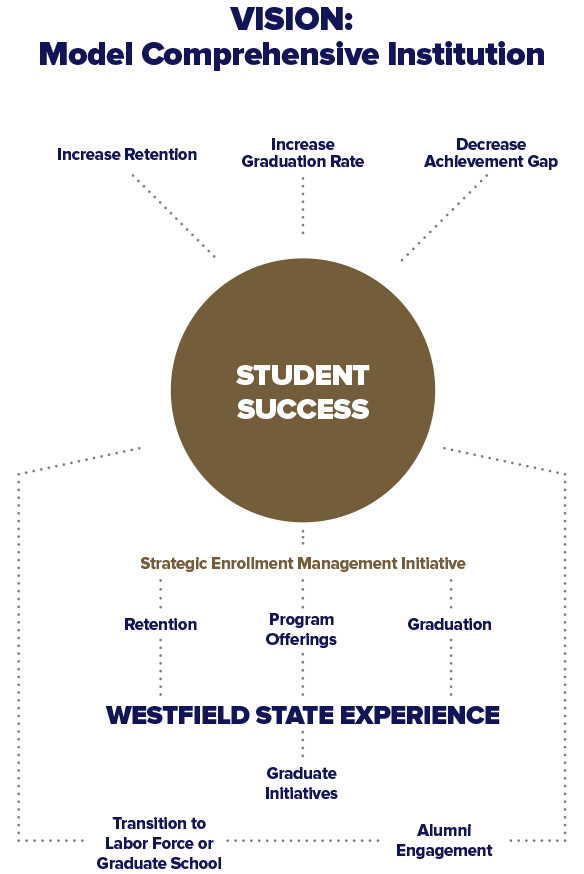 Vision for the Future
All of our undertakings in the first 100 days are in support of the most critical job we have: defining and supporting student success by providing life-changing, positive experiences in their time here and beyond.
Achieving student success does not come from just one mind. Currently, we possess the brushstrokes of a vision. But decisions about how we are going to achieve our goals are ongoing. The process is fluid and organic, and relies on input and collaboration from students, faculty, staff and other partners. We are anchored by our values and mission, capitalizing on our existing strengths and harnessing new opportunities for the success of our students and the betterment of our campus community. With this in mind, we are positioning ourselves as a model, comprehensive public institution in Massachusetts—and in the nation, and delivering on the The Westfield State Experience.