Congratulations on your acceptance to Westfield State!
WESTFIELD STATE PRIORITY NEWS PLEASE READ:
COVID-19 INFORMATION FOR VISITORS
Like many colleges, Westfield State has been closely monitoring the rapidly evolving coronavirus (COVID-19) outbreak. The University has made the decision to close our campus to the public for the rest of the spring semester. As a result, all admission campus tour events, including our upcoming Accepted Student Days, have been cancelled. The Admission Office will follow up with all registered guests once alternative plans have been finalized.

Letter to Families of Accepted and Committed Students
Letter to Families of Accepted Students
---
Register for the "Owls Chat" with Accepted & Enrolled Students on April 29, May 6, May 13 or May 27 from 6-7pm! What better way to learn about being an Owl than to hear directly from our current Westfield State Owls? In this live event, find out why our students chose WSU in their college search process, why they love WSU and why they have stayed at WSU!
Register today for one (or all 4) of the "Owls Chat" with Accepted & Enrolled students:
April 29th May 6th May 13th May 27th
---
Join our Virtual Accepted Student Day! We totally get that participating in a Virtual Accepted Student Day event is not the same as actually being on our vibrant campus, but the Admission staff at WSU has worked hard to bring Westfield State to you. So, from the comfort of your home, please check out our Virtual Accepted Student Day to learn more about academics, financial aid and student life.
At your convenience, please click on the picture below to get started! Please note, you will need your Student ID number to log in. This Student ID number (ex. A0000000) can be found in your acceptance letter and it has been emailed recently to you as well. If you have trouble logging in, please email the Admission Office at admissions@westfield.ma.edu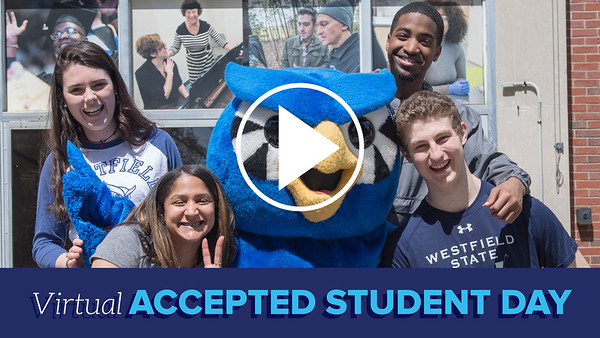 ---
Let us bring Westfield State to you! We certainly understand the importance of the campus visit when trying to finalize your college decision for the upcoming fall semester. Let us help you "virtually" picture yourself at Westfield State! Please check out our Virtual Tour and join our amazing tour guides, Madison and Gabby, for a tour of our beautiful campus: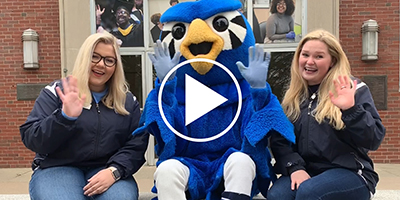 May 1 Candidate's Reply Deadline Extended to June 1. Given the current events, we have decided to extend the May 1 deadline for all accepted students for the upcoming fall semester to submit your enrollment deposit to June 1.
If you are ready to join our nest and officially become an Owl, you can pay your enrollment deposit today!