Podcasting with Audacity (Voice Only Recording)!
To create a podcast, you can download a free software called Audacity and it's sidekick the LAME encoder.
Download & Install Audacity – Be sure to choose the correct version for your computer:
Once installed, Audacity is simple to use. It works just like a voice recorder with record, stop and play buttons.
Click here to download the Audacity Quick Start PDF file – NEW
When you have completed your recording, you MUST click on "file" and "export" and then save it as an Mp3 file. If you do not save it as an Mp3 YOUR INSTRUCTOR/STUDENTS WILL NOT BE ABLE TO PLAY IT. Pay attention to where you save your Mp3 file.
The first time you attempt to save your file as an Mp3, you will get a prompt to install the LAME encoder.
Click DOWNLOAD, choose PC or Mac version and click the "go to download page" link.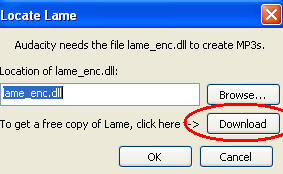 Click on the "LAME installation section" for either Windows, Mac or Linux/Unix system.
Or Click Here: https://manual.audacityteam.org/man/faq_installing_the_lame_mp3_encoder.html

Click on the appropriate LAME download page for your system.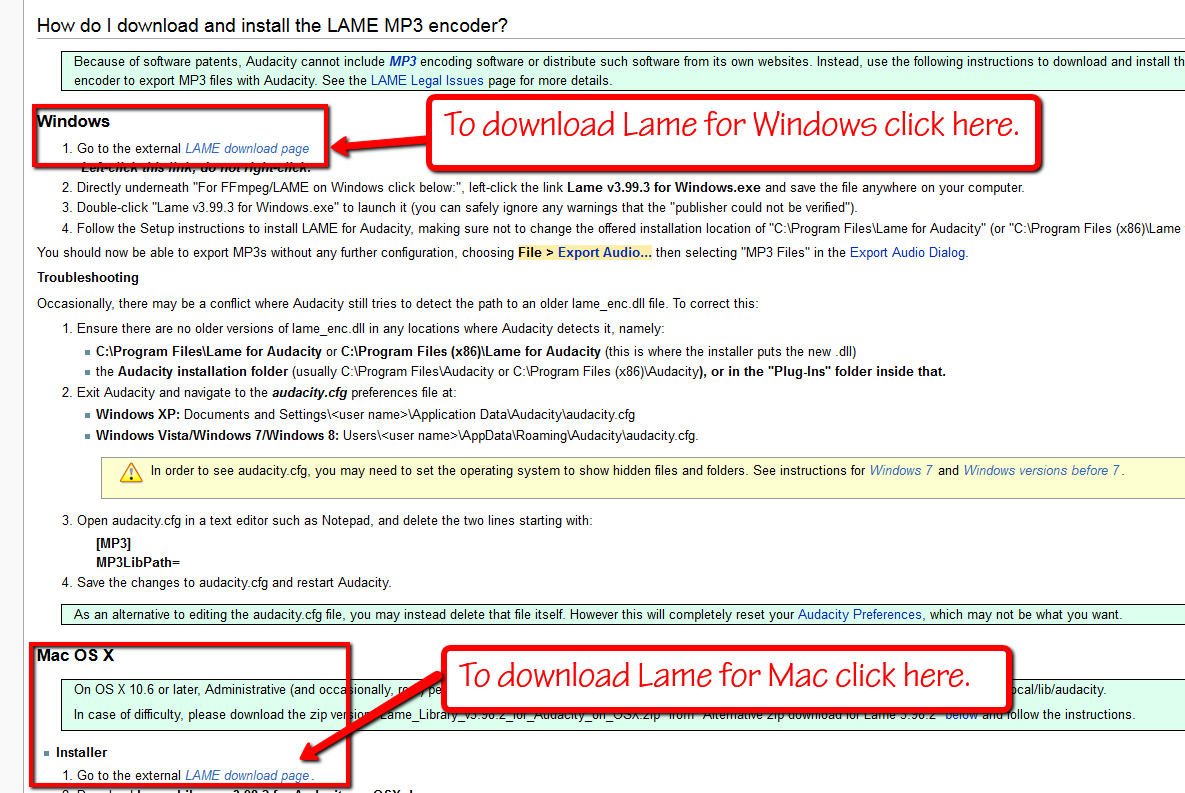 On the LAME download page, you will see the recommended Installer Package for your system. Click the link to download the program for your type of computer.

The LAME encoder, once installed on your computer, should automatically connect to Audacity and allow you to save your file as an Mp3. You may need to close and restart Audacity to get the LAME to connect.
Once your sound file is saved as an Mp3 you can upload this file to your class on PLATO , just like you would add a file such as a Word Doc, etc. We suggest you add it using the paperclip tool in the HTML editor.
If you have questions or trouble with this, please submit a help ticket with the PLATO Help Desk.
---
Screencast-O-Matic Screen and Webcam Recorder

Use this world famous recorder to record on-screen activity for short tutorials, visual presentations, and communicate while you demonstrate!
Upload your videos directly to youtube! or save them as MP4s (which can also be loaded into VoiceThread if desired).
Screencast-o-matic is a free tool used to create content for your course. Once you use this tool you will be addicted. You can create screencapture videos and send them up to Youtube or to your www.screencastomatic.com account where you can add channels to group your screencasts. (For example, you may want to create a channel for a specific course and then share that link with students or classmates so they can find all course related videos).