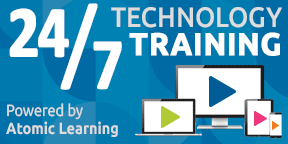 hoonuit is an online training resource that is available 24/7 and opens to ALL students, staff, and faculty. It delivers on-demand technology training on the use of computer applications, technology integration and professional development.
Get answers to many of your "how do I do that?" questions about 200+ programs, such as Microsoft Office, Adobe Photoshop, Blackboard®, APA Style, and workshops and technology integration projects on emerging topics
such as plagiarism, critical thinking, and online courses.
hoonuit is:
Easy to access – access hoonuit through Blackboard
Easy to search using keywords, specific applications, versions, and/or platforms.
Easy to share – Faculty can share direct links in Blackboard to support necessary software or technical skills.
To access hoonuit log into PLATO at www.westfield.ma.edu/PLATO and click the hoonuit link on the PLATO Dashboard! Click on the SEARCH tab and type in the software you would like tutorials on such as Word, PowerPoint, Prezi, Photoshop, InDesign, and so on.
If you have questions about hoonuit please submit a Help Ticket at the PLATO Help Desk at https://cit.westfield.ma.edu/support/.