For Faculty/Staff/Departments
CURCA Classroom Visits
We are always happy to visit your classroom or have you bring your classroom to us in our beautiful new Research, Innovation, Design & Entrepreneurial (RIDE) Center, located in Parenzo Hall.  We can discuss resources and opportunities available to your students, offer various workshops to support research and creative activity projects, and offer one-on-one consultation. 
Email Dr. Lamis Jarvinen to set up a time, ljarvinen@westfield.ma.edu
Fall 2023 Faculty/Staff Workshop Series, TBD
We are collaborating with various units to provide meaningful workshops that support faculty/staff mentorship development in research and creative activity, hosted in the RIDE Center.
Friday December 8th, 2023: Fall 2023 CURCA Celebration - In Person, Dower Center 1-4pm
October 30th-November 14th 2023: Online registration to present.  Two-sentence description of project required upon registration. Link is available in the student tab. 
November 15th, 2023-November 28th, 2023: Online submission of posters for printing. Link will available in the student tab.
Feb 16, 2024 Faculty Facilitation Award (FFA) Grant Application 
FFA Description - The Faculty Facilitation Award (FFA) supports undergraduate research (UR) and creative activities (CA) that provide high-impact learning experiences for students at Westfield State University. This grant supports the direct costs of research activities and creative scholarship, for example purchase of equipment and supplies; compensation for research participants; data analysis; and costs associated with performance, exhibition, publication, or conference presentation of the work. This grant does not cover travel costs for faculty or students. Faculty cannot use an FFA to fund their own scholarly activities - the FFA is intended to support scholarly UR and CA projects by students that you are supporting as the faculty mentor.
FFA Application Overview: Details pdf
FFA Post Award Report
TBA March 2024:  Application Deadline for SSuRF (Student Summer Research Fellow)
SSuRF Program Overview - pdf
SSuRF Application Overview (what to expect) -

pdf
Faculty Mentor Recommendation Form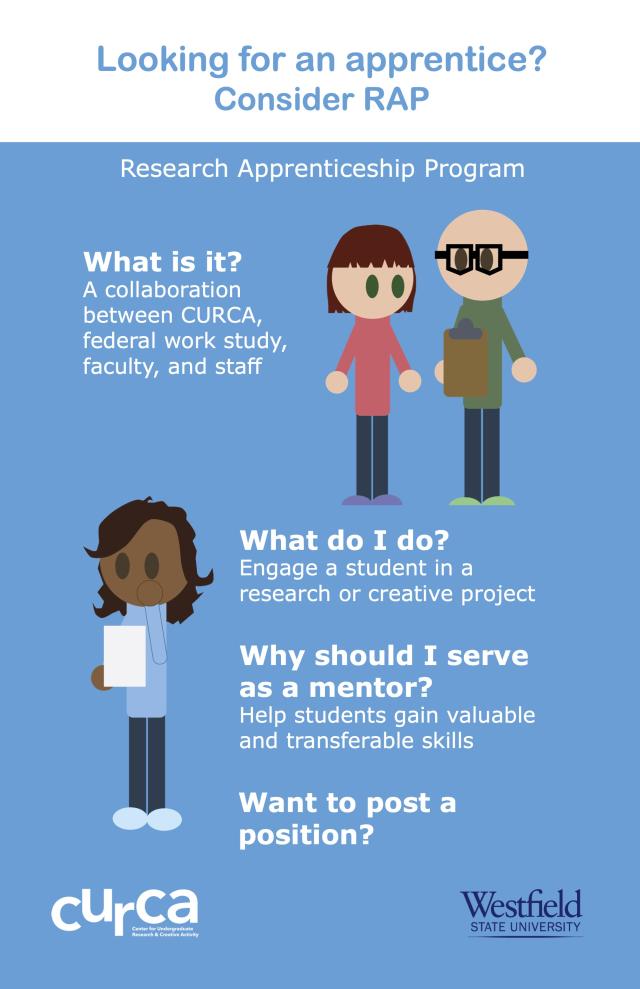 CURCA Research Apprenticeship Program (RAP)
A collaboration between the Center for Undergraduate Research & Creative Activity (CURCA), faculty mentors, and Student Financial Services to provide work-study eligible, early-career students opportunities to gain mentored research or creative project experiences at Westfield State University.  
This program allows students to make a meaningful contribution to a research or creative activity project while learning about the process of scholarship in their field of interest. Faculty will gain a full member of their research or creative team at no additional cost to the faculty mentor or their department.  
What's the goal of RAP?
The goal of the program is to help facilitate relationships between incoming and current first-generation, low income, economically disadvantaged, commuter, or adult-learners who may otherwise not participate in applied experiences at WSU.  Students are eligible for CURCA RAP at any point in their undergraduate or graduate careers, but the program is particularly intended to serve freshman and sophomore students who are just starting out in their fields of interests.  
Faculty mentors provide project descriptions for student research positions. CURCA will assist as needed and will facilitate posting project descriptions, vetting of students, and payroll associated with work-study.
WSU undergraduate and graduate students who are eligible for federal work study are eligible to apply.