The Biology Department fosters in all students an understanding of and curiosity about the living world and biological processes, an appreciation of how scientific knowledge is acquired, and the ability to apply your knowledge and skills to generate and address new questions.
You can publish and present at conferences
We stress communication and professionalism to build your confidence and preparation
We have a biology club
Our low faculty/student ratio and strong support system provide mentorship and guidance
We have expert faculty in many biology disciplines to help you explore options
We offer professional development night for networking and exploring careers
Our independent research students have 24 hour access to labs
We offer team taught courses with Environmental Science
24-Hour

Access to labs for
independent researchers

Career Prep

medicine, biotechnology, teaching +
Course Requirements
Common Core Courses
Requirements for the Biology Major - 64 Credits

To earn a major in Biology, students must successfully complete all Introductory Courses, Biology Seminars, Required Chemistry Courses, Upper Division Courses, and Elective Courses as described below.
Introductory Biology/Math Courses

Two of the following Math core courses:

Note:

BIOL 0128 and BIOL 0129 DO NOT have to be taken in sequence, but should be taken in the first year. MATH 0105 and MATH 0108 each satisfy the traditional mathematics area of the Common Core and BIOL 0278 satisfies the applied analytical reasoning area of the Common Core. Both math courses should be selected with guidance from faculty advisor.
Biology Seminars

Three 1-credit seminars as follows:

(Biology education students must take BIOL 0289 for this requirement.)

Note:

The first-year seminar serves as an introduction to the field of biology, research methods, and career opportunities; assists students in integrating the knowledge gained in individual biology and cognate courses; and helps documents the student's progress toward meeting the departmental learning goals. A topical seminar (BIOL 0280-0289) is typically taken during the junior or senior year and focuses on specific topics, while the Senior Seminar requires the presentation of a portfolio documenting the student's progress toward meeting the departmental learning goals.
Required Chemistry Courses

Two semesters of chemistry may be used to satisfy the Science requirement of the Common Core.
Upper Division Biology Courses

ONE course from each of the following areas:

Writing for Biology

Evolution

Ecology

Cell/Molecular

Organismal/Physiology
Elective Courses

A minimum of 19 additional credits in Biology above the 100-level (excluding internships), selected with guidance from the faculty advisor. These 19 credits must include the following:
Recommended Courses

If students are interested in graduate or professional school, a year of calculus and a year of physics is strongly recommended. Students should discuss their academic and career goals with their faculty advisor to identify appropriate coursework.
Additional Graduation Requirements
Learning Outcomes
Students will demonstrate a comprehension of the following core concepts from the molecular to ecosystem level:
Evolution: Change over time and mechanisms involved
Structure and function: How the shape of something affects performance
Energy transformation: Energy capture, use and transfer
Information flow: Transmission and interpretation of biological information
Systems: Interaction and organization of components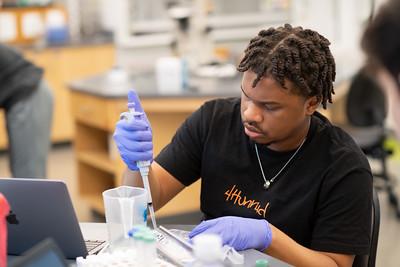 Clubs
Biology Club

The Biology Club affords an opportunity for students of the biological sciences.