Westfield State Announces Largest Gift in University's History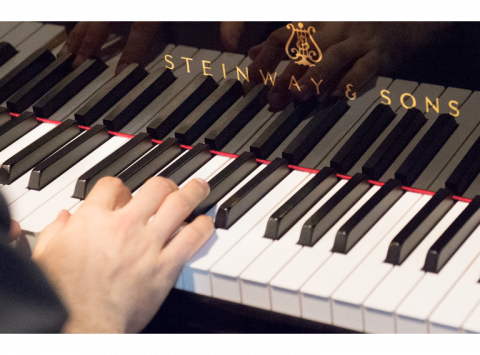 (Westfield, MA) - May 11, 2017 - Westfield State University today announced its largest philanthropic gift to date in the university's 178-year history. An anonymous donor has gifted $1.1 million to purchase 20 Steinway & Sons pianos, setting the course for Westfield State to earn an All-Steinway School distinction by fall 2017.
 
The historic donation was made in honor of the late Dr. Catherine Dower, who served as a long-time chair of the university's Music Department, as a professor emerita, and a major donor to the university. Today's announcement was made at the conclusion of the Celebration of Life event for Dower, held in the university's facility that bears her name. Dower passed away in February. 
 
"We are humbled to share that an anonymous donor has made a transformational gift in honor of Dr. Dower's legacy to our Music Department, allowing Westfield State University to soon distinguish itself as an All-Steinway School—a unique and important distinction," said Westfield State University President Ramon S. Torrecilha, Ph.D. "This transformational and historic gift of $1.1 million will enable the institution to select 20 Steinway & Sons pianos ensuring that the musical excellence established here by Catherine will continue to inspire others."
 
"The purchase of exclusively Steinway & Sons pianos allows Westfield State to soon join the ranks of some of the most prestigious schools in the world and enjoy the coveted All-Steinway School distinction," said Dr. Andrew Bonacci, current chair of Westfield State's Music Department.
 
Bonacci explained that Westfield State will become the only public university in New England to earn the All-Steinway School distinction. Less than 140 colleges or universities in the United States have received this distinguished status.
 
The Steinway & Sons pianos will be used throughout the Catherine Dower Center for Performing and Fine Arts for performances, practice and lessons. Some will also be used in other performance areas on campus. Among the 20 instruments to be purchased are two concert grand pianos.
 
"This significant donation to the arts at Westfield State underscores the level of commitment among our friends and alumni, who believe in and support our mission of providing access to an affordable, high-quality education," said Dr. Erica Broman, vice president for Institutional Advancement at Westfield State. "Thanks to the selfless generosity of an anonymous individual, future performers and music educators will study in a world-class environment on the very best instruments available."
 
The current anonymous donation surpasses the November 2015 $1 million gift from Dower herself. At the time, that was the largest gift received by the university and was used to establish the Catherine Dower Center for the Performing Arts, the venue of today's announcement.