Westfield State University students launch campaign to benefit Children's Advocacy Center program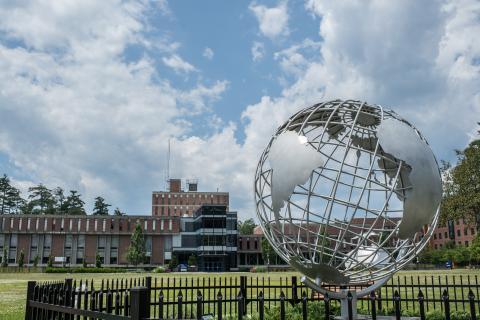 Westfield State University public relations students are launching a social media campaign next week that is focused on a pledge to enhance community awareness of online sexual exploitation and human trafficking, and will also raise money for the Children's Advocacy Center of Hampshire County's CSEC Program (Commercial Exploitation of Children).
Called Behind the Screen, the virtual campaign will be held Dec. 1–8 via Facebook and Instagram. The money raised from the campaign will be donated to the CSEC program to buy gift cards for basic needs that will be given to the victims of sexual exploitation and human trafficking who receive services through the program. Campaign participants will take a pledge to educate themselves on child abuse and child exploitation.
Taught by Professor Suzanne Boniface, Westfield State's Advanced Public Relations course students will host an online Bingo game as part of the campaign, and it will feature prizes such as a Yeti cooler, Apple AirPods, and much more. This will take place on Facebook and Instagram using the hashtag #behindthescreenCSEC. Professor Boniface's students will coordinate and manage content and engagement on the social media platforms.
"Under Civic Engagement at Westfield State University, the Advanced Public Relations students are working to bring awareness in our community to the disturbing trend of sexual exploitation and human trafficking of children," said Boniface. "The WSU students are working diligently on this campaign to bring a better understanding of these issues to the public, let others know that there is help out there, and to raise funds for victims who have suffered under these circumstances. In turn, the students are learning about social justice and how to address it within their field of study." 
Professor Boniface explained that the campaign's theme was created because children are highly susceptible to online predators, due to the wide availability of internet access and personal media use. According to the National Children's Advocacy Center, the average age of a CSEC-involved child is 14. Since the beginning of the Covid-19 pandemic, the reported number of cases has declined 80% but the rate of exploitation has increased by nearly 75%. The Center for Cyber Safety and Education states that 40% of children in grades 4–8 reported that they interacted with a stranger online.
The Children's Advocacy Center of Hampshire County helps children who have endured child abuse, human trafficking, and sexual exploitation. Using a team approach, CAC works with law enforcement, Massachusetts Department of Children & Families, medical and mental health professionals as well as prosecutors to reduce the stress of a police investigation. Particular to the CSEC (Commercial Sexual Exploitation of Children) program, CAC provides support and resources to children and teen survivors. They also train the community on how to identify and help children going through abuse.
Those preferring to donate to the program without participating in the Bingo game may do so at https://cachampshire.org. For more information, email sboniface@westfield.ma.edu.