Faculty Handbook
Academic Year 2022-2023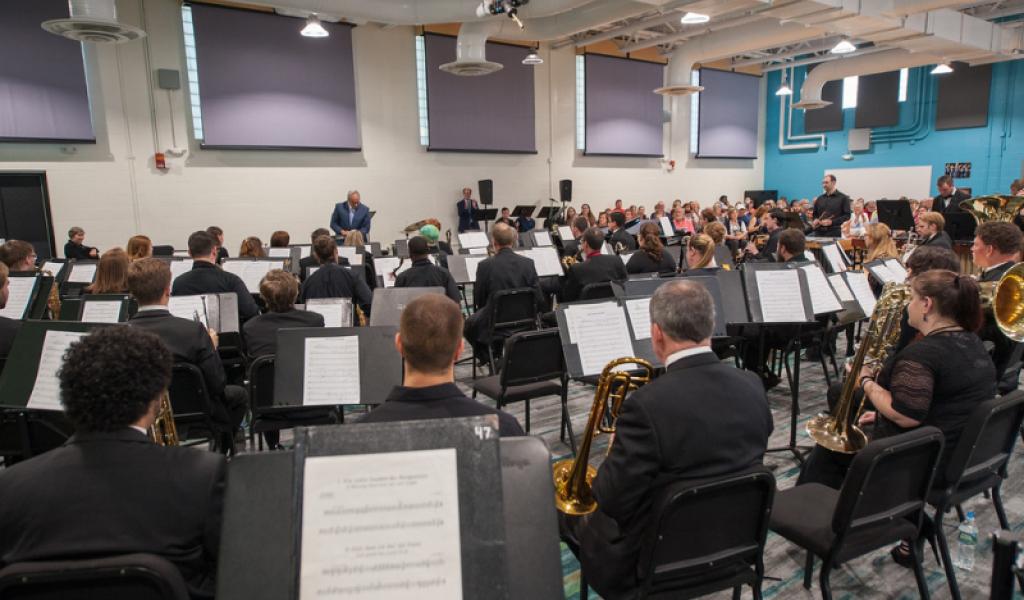 ABOUT WESTFIELD STATE UNIVERSITY
Westfield State University (WSU) was founded by Horace Mann in 1839 was the first coeducational college in America to offer an education without barrier to race, creed, or economic status. Conveniently and centrally located, Westfield, Massachusetts (pop. 41,094) is a city in Hampden County, located in the Pioneer Valley of Western Massachusetts.  Westfield was first settled in 1660.  In 1669 "Westfield" was incorporated as an independent town, in 1920, it would be re-incorporated as a city. WSU is located 20 minutes from Springfield, 30 minutes from Northampton/Amherst and the Berkshires,2 hours from Boston, Providence, and Albany, and 3 hours from New York City.  At WSU, our tradition of teacher education is combined with a broad spectrum of 50+ innovative programs in the liberal arts, sciences, and professional studies. Traditional college-aged students, as well as older and non-traditional students seeking higher education on either a full- or part-time basis, are served and are accorded opportunities to participate in campus life through a variety of co-curricular programs and activities.  A wide array of information about the University and our students is available on our website, including in the WSU overview, history, and student body and on the following link: https://www.westfield.ma.edu/about. The campus map can be found on the following link: https://www.westfield.ma.edu/about/directions.
GOVERNANCE AND ADMINISTRATION
Board of Trustees

BOARD OF TRUSTEES

The 11 member Westfield State University Board of Trustees is appointed by the governor of the Commonwealth of Massachusetts.  Each member is appointed for a five-year term, with the possibility of one additional term of five years.  Each member of the board is required to take an oath to discharge faithfully, impartially, honestly, and to the best of his or her abilities the duties of a trustee. While trustee terms do expire, the trustees continue to serve on the board until a replacement has been appointed.

Members of the Board of Trustees:

Robert A. Martin, Ph.D., Chair
Ali Salehi, Vice-Chair
Lydia E. Martinez-Alvarez, Secretary
Melissa Alvarado
Paul Boudreau
Theresa Jasmin
Madeline Landrau
Chris Montemayor, Alumni Trustee
William Reichelt
Chloe Sanfacon, Student Trustee
Administration

ADMINISTRATION

Dr. Linda Thompson, President

Dr. Michael Freeman, Special Assistant to the President for Strategic Initiatives and Chief of Staff
Dr. Juline Mills, Interim Provost and Vice President, Academic Affairs
Steve Taksar, Vice-President, Administration and Finance
Daniel Forster, Vice-President, Enrollment Management
Lisa McMahon, Interim Vice-President, Institutional Advancement
LaRue A. Pierce, Vice-President, Justice, Equity, Diversity, and Inclusion
Timothy Rooke, Special Assistant to the President, Community and Government Affairs
KEY CONTACTS AND LOCATIONS
To reach a university phone extension from an off-campus phone, the full phone number must be entered, which consists of 413-572-[EXTENSION]. From a university phone, only the extension needs to be entered. To reach an off-campus number from a university phone, enter 6 + 1 + [AREA CODE] + [NUMBER]
ACADEMIC DEPARTMENTS, PROGRAMS AND OFFICE LOCATIONS BY BUILDING

Bates Hall

Department of English - Dr. Glen Brewster, Chair - (413) 572-5332
Department of History and Philosophy - Dr. Nicholas Aieta, Chair - (413) 572-8977
Department of Health Science (includes Physician Assistants Program) - Dr. Jennifer Hixon, Chair - (413) 572-8356
Veteran and Military Services - (413) 572-8420

Dower Performing Arts Center

Department of Art - Prof. David Shapleigh, Chair - (413) 572-5630
Department of Music - Dr. Andrew Bonacci, Chair - (413) 572-5358
Department of Theatre Arts - Prof. James McNamara, Chair - (413) 572-8369

Ely Campus Center

Department of Communication - Dr. Thomas Gardner, Chair - (413) 572-8058
Division of Student Affairs - Maggie Balch, Dean of Students - (413) 572-5421
Library - Thomas Raffensperger, Library Director - (413) 572-5639
Center for Undergraduate Research and Creative Activity (CURCA) - Dr. Lamis Jarvinen, Director - (413) 572-8681
Office of Course Adjustment, Retention and Engagement (CARE) -
Nicole West, Assistant Director - (413) 572-8191

Tutoring Learning Consortium
Reading and Writing Center - Dr. Catherine Savini, Director - (413) 572-5569
Tutoring Services

Horace Mann Center

Department of Criminal Justice - Dr. Daniel Price, Chair - (413) 572-8146
Division of Administration and Finance

Office of Human Resources

Division of Enrollment Management

Admissions - (413) 579-3040
Financial Aid - (413) 579-3090
Marketing
Student Accounts - (413) 579-3090

Division of Institutional Advancement
Office of the President - (413) 572-5201

Lammers Hall

Career Center - (413) 572-5206
Counseling Services - (413) 572-5790

Mod Hall

Department of Ethnic & Gender Studies - Dr. Elizabeth Stassinos, Chair - (413) 572-5731
Department of Social Work - Dr. Rose Sullivan, PhD, LICSW, Chair - (413) 572-8292
Department of Sociology, Hispanic, Liberal, and Interdisciplinary Studies - Dr. Tian-jia Dong, Chair - (413) 572-5383
Honors Program - Dr. Hillary Sackett-Taylor, Director - (413) 572-8086

Nettie Stevens Science and Innovation Center

Science Labs
Simulation Labs

Scanlon Hall

Academic Advising and Transfer Transition - Robert Thornton, Ed.D., Director - (413) 572-8460
Banacos Academic Center - Sarah Lazare, Director - (413) 572-8377
Center for Student Success and Engagement - Azanda H. Seymour, Ed.D., Executive Director - (413) 572-8978
Department of Education - Dr. Terri Griffin, Chair - (413) 572-5316
Department of Political Science - Dr. Hugh Jo, Chair - (413) 572-8806
Division of Academic Affairs - (413) 572-5213
Facilities and Operations - (413) 572-5278
Faculty Center for Teaching and Learning
Health Services - (413) 572-5415
Massachusetts State Colleges Association (MSCA) Westfield Chapter
TRiO Student Support Services - Dr. Celeste Donovan, Director - (413) 572-5462
Office of Assessment and Accreditation - Dr. Brian Jennings, Dean - (413) 572-5638
Office of Community Education and Workforce Development
Office of Graduate Studies - Jessica Tansey, Director of Graduate Admissions - (413) 572-8461
Office of International Programs - (413) 572-8819
Office of the Provost - Dr. Juline Mills, Provost - (413) 572-5400
Office of the Registrar - Dr. Monique Lopez, Registrar - (413) 579-3200
Office of Residential Life and Housing
School of Education, Art, Communication, and Humanities - Dr. Sabine Klein, Associate Dean - (413) 572-8107
School of Health, Natural Sciences, and Human Services - Dr. Ziblim Abukari, Associate Dean - (413) 572-8702

Wilson Hall

Department of Accounting and Finance - Dr. Liem Nguyen, Chair - (413) 572-8418
Department of Biology - Dr. David Christensen, Chair - (413) 572-5373
Department of Chemical and Physical Sciences - Dr. Christopher Masi, Chair - (413) 572-5371
Department of Computer & Information Science - Dr. Goopeel Chung, Chair - (413) 572-5714
Department of Economics - Dr. Hillary Sackett-Taylor, Chair - (413) 572-5253
Department of Environmental Science - Dr. Tim Parshall, Chair - (413)-572-5303
Department of Geography, Planning and Sustainability - Dr. Brian Conz, Chair - (413) 572-8084
Department of Management and Marketing - Dr. Kimberly Sherman, Chair - (413) 572-5329
Department of Mathematics, Dr. Jesse Johnson, Chair - (413) 572-5717
Department of Nursing and Allied Health, Dr. Marcia Scanlon, Chair - (413) 572-8414
Math Center
Department of Psychology - Dr. Robert Hayes, Chair - (413) 572-5376
School of Business, Mathematics, Computing, and Sustainability - Dr. Rebecca Morris, Associate Dean - (413) 572-8701
School of Criminology, Psychology, Social Justice and Public Policy - Dr. Gabriel Aquino, Associate Dean - (413) 572-8676

Woodward Center 

Athletics
Department of Sports Medicine & Human Performance - Dr. Diana Schwartz, Chair - (413) 572-5298
IMPORTANT FACULTY RESOURCES
Academic Affairs Calendar

The Academic Affairs Calendar lists University events and important dates from the Academic Year Calendar such as holidays, final exam dates, and registrar deadlines.  The Academic Affairs Calendar, in turn, is fed to the University App providing notification of campus events to mobile devices of University constituents who subscribe to the University App.  The Academic Affairs Calendar is an easy way to have your event broadcasted University wide!

The Academic Affairs Calendar web page can be viewed here. 

For more information about the University App or to subscribe, see Westfield State University App below.

If you have an event you want listed on the Academic Affairs Calendar and the Westfield State University App, please contact Robin Parsons at rparsons@westfield.ma.edu.
Campus Events and Event Management

Event Management's focus is to produce large scale University events as well as external facility rentals.  Event Management manages the only digital database of all classrooms schedules as well as activities for students, faculty, staff, and external constituents.  Each week we provide the Universities service departments with the schedule of activities and reports compiled from our self-service event scheduling software, known as EMS.  (Event Management Software)

Any faculty or staff member with a valid WSU email address can submit a reservation online once an account has been created.  Please contact our office at 572-8276 to assist you in creating an account.  Please remember, as an important part of our emergency response plan, all meetings, events, activities, etc. in any location on campus must have a reservation in EMS. To book your event, meeting, or activity, you must submit a reservation online, via Virtual EMS, located https://calendar.westfield.ma.edu/EmsWebApp/.

Instructions on how to make a reservation can be found https://www.westfield.ma.edu/offices/event-management/event-management-software-ems-instructions

Should you have any questions on making a reservation, email is the best means of communicating with us, as we are often out of the office managing events.

Please submit your questions to:  (jbigelow@westfield.ma.edu; mfarrar@westfield.ma.edu) or call 572-8276.
Campus Police

The WSU Police Department (WSUPD) has primary responsibility for safety, security, and the upholding of all laws of the Commonwealth on the campus. The Department works closely with the University community to ensure that programs and services are systematically coordinated to promote and enhance a safe environment. The WSUPD is in our Public Safety Complex.  If you arrive at your office building during a time the building is locked and you do not have your key card with you, you may call Campus Police for assistance in gaining entry to the building. The WSUPD phone number is 413-572-5262, or from a campus phone, simply 5262. Information on campus safety is available on the WSUPD webpage. https://www.westfield.ma.edu/offices/department-of-public-safety.
Ely Library

Ely Library provides a variety of excellent resources for WSU faculty and students, including an array of online databases. You can find useful information on the library website, including instructions on how to place books on reserve and e-reserve for your students, a form to request books through interlibrary loan, and library staff contact information. Also, librarians are available to provide library instruction sessions for your classes. Additional information about the library is available on the library's webpage: https://lib.westfield.ma.edu/home.
Faculty Center for Teaching and Learning

The Westfield State University Faculty Center for Teaching and Learning promotes discussion of and reflection on our faculty's ideas and concerns about teaching, learning, scholarship, and the profession. The Center seeks to foster a community that celebrates both the diversity of individual fields of study and the unity of academic inquiry. For more information, visit their webpage at https://www.westfield.ma.edu/academics/faculty-center.
Faculty Spotlight

The Faculty Spotlight web page is sponsored by Academic Affairs and lists the academic accomplishments, awards and achievements of Westfield State University faculty.  Have you published a book or article, received a grant or an award, been featured in a news event, or been honored by a community organization for your efforts during your time here at Westfield?  Please let us know!

The Faculty Spotlight web page can be found here.

If you have an academic accomplishment, award or achievement from your time here at Westfield you'd like to share with the University community, please contact Robin Parsons at rparsons@westfield.ma.edu.
Grants and Sponsored Programs

The Office of Grants and Sponsored Programs (OGSP) helps manage responsibilities of private, (corporate and foundation) funding and those of public or government sources.  The OGSP is also the lead WSU office for grant oversight and works closely with the WSU Financial Accounting Office which oversees pre- and post-award financial reporting.  All proposals must go through the OGSP in order to be compliant with federal, state and local guidelines and to benefit from University legal and administrative support.  If proposals are received without approval from the OGSP, awards MAY be returned to the funder(s).

OGSP's mission is to provide research and disseminate information on potential funding opportunities, while helping with the application process, ensuring compliance and proper stewardship of funds within University and funder requirements, including federal mandates.  The OGSP also provides post-award coordination.  Please visit their webpage for more information:  https://www.westfield.ma.edu/offices/office-of-grants-and-sponsored-programs
Human Resources

The Office of Human Resources is charged with providing services to the University community in the areas of affirmative action and equal opportunity, employee and labor relations, benefits and payroll administration, and training and professional development.  For more information, visit the Human Resources webpage- https://www.westfield.ma.edu/offices/human-resources.
Information Technology Services
Justice, Equity, Diversity, and Inclusion

Westfield State University recently hired its first Vice President for Justice, Equity, Diversity, and Inclusion (JEDI).  One of the primary responsibilities of the new VP is to create the Office of Justice, Equity, Diversity, and Inclusion.  This office will reflect Westfield State's commitment to:

Justice, a commitment to account for and remove systemic barriers and disadvantages, opening access to resources and opportunities for historically excluded populations, dismantling barriers to resources and opportunities so that all individuals and communities can live a full and dignified life.
Equity, a commitment that all historically underserved and underrepresented populations will have equal access to and participation in educational programs, professional growth opportunities, and resource networks and all aspects of the university.
Diversity, a commitment that reflects our community equitably supporting and embracing the broad tapestry of people, life experiences and perspectives that arise from differences of culture and circumstance.
Inclusion, a commitment to amplify each person's voice and eliminate biases regardless of their abilities, background, or experience. The practice of inclusion fosters a sense of belonging by centering, valuing, and amplifying the voices, perspectives, and styles of those who historically experience more barriers based on their identities.
Student Achievement Acknowledgement Web Page

Academic Activities and Events is a web page sponsored by Academic Affairs that lists the activities, achievements,  events, work, and community service efforts of Westfield State students and alumnae to celebrate their success!  Student activities and events listed include theatrical productions, concert features, student attendance at conferences, student and alumni accomplishments and awards, honors presentations, participation in community service events, and student and alumni paper, article, and book publication.  View this web page here.

If you know of a student or group of students, or alum or alumnae, from your department who have received an award, or published research, or have participated in a community service event, please let us know!

Contact Robin Parsons at rparsons@westfield.ma.edu with your student acknowledgement.
Westfield State University App

The Westfield State University App is available to all campus constituents who have a mobile device.  The WSU App lists campus activities from the Academic Affairs Calendar and Academic Year Calendar.  It provides easy access to university activities and functions like the Faculty Author Series, university holidays, registrar deadlines, art shows, music and theatre events and other academic and university events. 

To download the Westfield State University App to your mobile device, navigate your device to wsu.campusapp.com where you will be directed to download the app on your Apple or Android mobile device.
USEFUL INFORMATION
Athletics and Recreation Center
Dining Services

There is a wide variety of excellent dining choices at WSU. On the Dining Services webpage, https://www.westfield.ma.edu/dining/, click on any of the links on the right for details about menus, locations and hours.  Please see Owl Bucks below if you are interested in adding money to your ID card for a payment option for dining.
Health Insurance

New full-time faculty must return the completed Group Insurance Commission (GIC) enrollment forms to the Office of Human Resources within the first 10 days of hire to activate GIC health coverage. GIC insurance begins either on the first of the month following 60 days from the date of hire, or two calendar months, whichever date comes first. For more information, contact the WSU benefits coordinator in the Office of Human Resources at x8476. You will have the opportunity to change your health plan selection every spring during the open enrollment period.
Office Keys

Office keys may be obtained through your department administrative assistant.
Parking Permit

All faculty, staff and students are required to apply for their parking permits online (see link below). Before they do so, their hiring information needs to be uploaded into the system. It usually takes 10-14 days for the files to be transferred and uploaded once all hiring information is received. To apply for your parking permit please go to: https://www.westfield.ma.edu/offices/parking-clerk. Also the current parking locations and FAQ's can be found at: https://www.westfield.ma.edu/offices/department-of-public-safety/decals-parking.
Professional Development Funds

Per the MSCA Collective Bargaining Agreement, full-time faculty members are eligible to receive an annual stipend to cover professional development expenses. The amount of the stipend is determined by the Agreement and announced early in the fall semester. All full-time faculty members receive the same stipend. Full-time faculty members submit brief proposals to the Office of Academic Affairs in the fall semester, and the funds are dispersed in the spring semester. Any material purchased with these funds is the property of the instructor, as the faculty member receives a taxable stipend for this purpose. Full-time faculty must apply for these funds by the deadline, which will be communicated by the Office of Academic Affairs each fall.
Travel

Each full-time faculty member may receive $600 for travel costs related to work each year. Additionally, as negotiated in the Collective Bargaining Agreement (and referenced earlier in this document), each full-time faculty member is eligible to receive additional professional development funds, which may be used for travel or other work-related expenses, each year.

All faculty travel (permission to travel and travel expenses) must be approved in advance. All reimbursement paperwork must be submitted within 45 days after the travel is completed.
WSU Identification Card, Owl Bucks, and The GET App

Information about acquiring an ID card:

The Campus Card Office is open Monday – Thursday 8:00 – 3:30 and Friday 8:00 – 2:00     (please arrive 15 mins prior to closing).
If you are a new employee, you must have a 6 digit payroll number in order to have an ID card created.  If you don't know your payroll number, you can contact Payroll to find out.
Once you have your payroll number, please email lkriesak@westfield.ma.edu and/or jjohnson@westfield.ma.edu.  Include your full name, payroll number, what department you work for, and approximate time/day you will be coming in for an ID card.
Keep in mind, during opening week in September, the Campus Card Office will not be able to replace or issue new Faculty and Staff ID cards.  That week will be prioritized to service students.  If you will be needing an ID card for the Fall 2021 semester, please try to schedule a time during the summer months to have the ID card created.

Information about Owl Bucks and GET:

Cash or Credit/Debit will no longer be accepted by the Campus Card Office for any transactions.
Faculty and Staff will have to add funds via the computer based online tool 'GET Funds' https://get.cbord.com/wsc/full/login.php, or through the GET app.  The GET app can be downloaded for both IOS and Android (search 'GET cbord' in the app store).
New users choosing to add Owl Bucks using one of the methods above may need to have their account configured.  To configure your account, please contact Lisa Kriesak or James Johnson.  Please let us know if you were ever a student at Westfield State when configuring your account.

Information about your ID card:
PREPARING FOR CLASS
Academic Calendar

The Academic Calendar is a list of important dates in the academic year, including the dates that classes and final exams start and finish, specific holidays, and make-up days. It is essential that you check the http://www.westfield.ma.edu/academic-calendar before finalizing your syllabus.
Course Scheduling

Teaching schedules for the upcoming semester are developed early in the fall and spring semesters. Chairs will consult with individual faculty members regarding teaching assignments and schedules. In accordance with the faculty contract, chairs will attempt to give each faculty member one non-instructional day per week, although this cannot always be achieved. In developing the schedule, chairs must consider faculty expertise, programming needs, and classroom availability. Faculty are not required to teach later than 4:30pm as part of their day load but may do so voluntarily.
Ensuring Accessibility

It is the entire campus' responsibility to ensure compliance with the Americans with Disabilities Act standards for accessible course content and materials. Whether a course is entirely online or uses an online learning management system to supplement in-class content, all course materials, including audio, video, and PowerPoints must be accessible for all students, including students with disabilities. Faculty members are encouraged to incorporate principles of Universal Design for Learning in designing new courses and updating existing courses. Additionally, faculty members are responsible for locating accessible supplemental materials and providing captions or transcripts for audio/video content for their courses. The Banacos Academic Center offers many services for both faculty and students:  https://www.westfield.ma.edu/academics/banacos-academic-center.
Office Hours

The Collective Bargaining Agreement (https://mscaunion.org/day-and-dgce-contracts/) stipulates that each full-time faculty member will post office hours outside their office doors. All full-time faculty are required by contract to hold a weekly one-hour office hour for each four-credit course taught. This means that for a three course (or 12 hour) workload, faculty should schedule weekly office ours that amount to three hours per week. Office hours should be distributed over a minimum of two days. During peak periods in the academic year, such as pre-registration, registration, mid-term examinations, and final examinations, faculty members may be required to be available to advise students such that the total number of hours of student academic advising, including posted office hours, shall not be less than 75 in each semester. While part-time faculty are not required to hold office hours, they are expected to be available to advise students in their classes in person (at a time mutually agreed upon by the student and the faculty member) or electronically.
Ordering Books

Book orders are due each semester prior to the beginning of the class registration period for that semester, which takes place during the preceding semester (i.e. fall orders are due the previous spring semester prior to spring registration for fall classes). It is a federal requirement that we publish information on required books and other materials before students register for their courses. The bookstore sends out email notifications as to when book orders are due.

It is important that book orders be placed with the University bookstore even if the materials are available from another source, as students may use their financial aid to purchase books only from the WSU bookstore.

Even if you do not have a text for your course, please let the bookstore know and they can label the course as "No Text Required".

You will receive a confirmation email when your adoption is completed.

Your bookstore team is always here to help.  Please submit your request through one of the following:

Please have the following info ready:

Course number & section:
Estimated Sales:
Book Title:
Edition:
ISBN:
Author:
Your Contact Email:
Print and Copy Services

Large volume print/copying projects (e.g., syllabi and exams) should be completed by the University's Print Services office. Located in the Parenzo Hall Annex with the Mail Room, the Copy Center Services staff request that instructors allow at least three days to complete each printing project. While the turnaround time is often less, this is rarely the case at the start of the semester when everyone else is also trying to get their copying done. Print orders should be submitted through the Copy Center Storefront Gateway (https://wsucopycenter.myprintdesk.net/DSF/SmartStore.aspx#!/Storefront) accessed through Westfield's main website under the login section at the top. The gateway allows you to order any type of print job that Print Services can produce (e.g., business cards, posters, bound prints, etc.). Departments also have access to smaller copy machines, which are in the academic buildings. However, these are not intended for, nor designed for, large-volume copying. departmental copiers are generally for small-scale individual, professional work.
Syllabus

The MSCA Collective Bargaining Agreement dictates that the instructor for each course will provide a syllabus and course outline to their students. University policy is that the syllabus will be available by the first day of class each semester. The syllabus is used to communicate in writing to students the instructor's expectations for the course and all essential information for the course, including policies, requirements, and grading. The syllabus is regarded as an agreement between the instructor and the students in the class, and students should be notified in writing of any changes to the syllabus that occur during the semester.

A syllabus should include the following information:

Course number, title, and current Catalog description, including prerequisites (In a separate paragraph, instructors may, if they wish, supplement the catalog description with additional information they feel will help students understand the nature of the course being offered).
Instructor's name, office hours (for full-time faculty), office location, office phone, and campus e-mail address
Governance-approved learning objectives if it is a general education course
List of required/recommended readings and other materials, including editions of required books
Course requirements (e.g., assignments, projects, exams) and grading system
Significant course policies, especially regarding attendance, make-ups, submission of late assignments, and academic dishonesty/plagiarism (with a reference to the University policy on academic honesty in the Catalog)
Class meeting schedule and activities

While it is not required, the Office of Academic Affairs recommends that the following also be included:

Information on availability of academic accommodations (supplying Catalog language on accommodations)
A statement of how much time students are expected to work outside of class (e.g., through readings, group work, online assignments, etc.). Federal regulations dictate that students be required to engage in two hours of work outside of class for each credit hour. So, for a 4-credit course, they are expected to work 8 hours per week outside the regular classroom or online meeting times. In short, for 4-credit classes, including online and hybrid classes, students are expected to engage with the course material for a total of 12 hours per week (including in-class or online time) for a 4-credit course. For courses carrying fewer or more than 4 credits, a commensurate amount of outside work is expected.
An anti-hate statement that affirms WSU's commitment to diversity, inclusion, and equity:

WSU Notice of Non-Discrimination and Diversity
Sex/ Gender-Based Harassment and Violence

 Statements regarding expectations for student behavior in the classroom and online, if applicable:

"You should feel comfortable to ask your faculty colleagues for copies of their syllabi, especially for course(s) you are teaching for the first time. These will help you to think through your own approach to the course and to various teaching and student evaluation strategies, as well as serving as a guide for material it is possible to cover during a semester."

Below are also some examples of statements you may want to include from various student support services.

Common Goods Food Pantry, Second Congregational Church. Common Goods is a food pantry serving Westfield State University students, faculty, and staff who may be experiencing hunger and are struggling to purchase food. It is a safe, discreet, nonjudgmental, and welcoming space in which to distribute a variety of non-perishable foods and personal care items at no cost. Visitors to the pantry do not need to provide any financial documentation to use this service. Common Goods is housed in the Second Congregational Church on Western Avenue, adjacent to the entrance to the Commuter Parking Lot. For more information and hours, please visit www.westfield.ma.edu/commongoods or email commongoods@westfield.ma.edu.

Counseling Center, Lammers Hall Annex, virtual support services. Life at college can get complicated. Students sometimes feel overwhelmed, and can experience a variety of challenges, such as anxiety, depression, relationship difficulties, and/or diminished self-esteem, to give just a few examples. Many issues can be effectively addressed with a little help. The Counseling Center helps students cope with difficult emotions and life stressors. The Counseling Center is staffed by experienced, professional counselors who are attuned to the needs of college students. The services are FREE and completely confidential. The Counseling Center offers check-in counseling, which is same-day appointment scheduling to ensure faster access to a counselor. Students can access our services via telecounseling appointments on a video chat platform. Find out more at http://www.westfield.ma.edu/counseling, or by calling 413-572-5790.. Please talk to me if you are distressed and you are not sure what to do about it.
 
Reading and Writing Center (RWC), virtual writing support. The RWC is dedicated to supporting you as you work on any type of writing project, at any stage of the writing process. If you can't get started, we'll help you brainstorm or unpack the expectations of the assignment. If you have a draft, we'll help you improve that draft and provide you with strategies for writing and revising future papers.  We also offer sessions where you can join your peers in a virtual room and write together; look for the All Write Together sessions on the online scheduler. To make a FREE appointment, visit: www.westfield.ma.edu/reading. ALL RWC sessions are held online. To learn more about the RWC, watch these videos: How the Reading and Writing Center works for students and How to make an appointment. 

TRIO Student Support Services Program. TRIO is a comprehensive academic support program for students who are eligible in one or more of the following three categories: first-generation college students, students with low income, and/or students with a documented disability. We provide one-on-one academic coaching and tutoring as well as a range of support with time management strategies, financial aid literacy, career and graduate school exploration, and more. TRIO helps foster in students a sense of connection to their education, understanding of university procedures, and ways to maximize their opportunities and growth at Westfield State. For more information and our online application, visit www.westfield.ma.edu/trio. Email questions to trio@westfield.ma.edu. 
 
The Banacos Academic Center has three syllabi statement suggestions:

Academic Strategies Program. The Banacos Academic Center offers FREE Academic Strategies workshops open to all students including Create Your Own Study Guide, Time Management, Guide, Reading for Remembering and Understanding, Creating Useful Notes, Quiz and Exam Preparation, and others. A sign up will be available through the SAIL Events Calendar. Individual meetings are available on a limited basis. For questions, email academicstrategies@westfield.ma.edu.  

Exceptions to Class Rules, Restrictions or Requirements. Any student may request an exception to the class rules, restrictions, or requirements. Please set a time to meet with me during my office hours or send an email to me so that we can discuss your reasons.
 
Support for Students with Disabilities Requesting Reasonable Accommodations. It is the policy of Westfield State University to provide reasonable accommodations to students with documented disabilities. Students, however, are responsible for registering and requesting accommodations through the Banacos Academic Center. If you need reasonable accommodations in this class, please make an appointment with an advisor in the Banacos Academic Center. Write to Disability Services at ds@westfield.ma.edu  or, if you were accepted into the Learning Disabilities Program,  ldp@westfield.ma.edu to set up an appointment. Additionally, I strongly recommend that you make an appointment with me as soon as possible to discuss how we can work best together.

Please note that a student may request accommodations through the Banacos Academic Center at any time in the semester. 

WSU360. I utilize WSU360 (an online academic alert system) for this course. If I observe that you are experiencing difficulties in the course (attendance concerns, low test scores or participation, in danger of failing, etc.), I may send an email to your Westfield email account from wsu360@westfield.ma.edu. This email is managed by Nicole West, Assistant Director of Retention. The message will tell you about my concerns and ask you to meet with me or an academic advisor. Your advisor and/or I will work with you to create success strategies to address any difficulties you are having. In addition, if I observe that you are doing well in my course, you may also receive "kudos" from wsu360@westfield.ma.edu  acknowledging your efforts.

WSU360 may involve taking advantage of various campus support services, such as Tutoring or the Reading & Writing Center. If I recommend that you use campus support services, your advisor or I will redirect you to that support office so they will be better prepared to assist you. WSU360 provides essential notices by email and/or text. Please check your Westfield email account frequently and respond quickly if you receive an email from wsu360@westfield.ma.edu. 

Please see the WSU360 website for additional details: http://www.westfield.ma.edu/wsu-360-user-guides
CLASSROOM POLICIES AND PROCEDURES
Academic Policies
Add/Drop

Up to one week after the first day of classes, students can change their class schedules by adding and/or dropping courses. By logging onto myWestfield, students may add or drop a course, including changing a section of a course, until the end of the week-long Add/Drop period. During Add/Drop, students may try to add classes that are already at their enrollment limit. However, this will not be allowed without instructor approval. Overloads cannot be done by the student alone at a computer, as the decision to overload is an instructor decision. You should seek the guidance of colleagues on whether to allow an overload in your course and, if so, what priority rules to use. If the course is full, or if prerequisites are required that you have agreed to waive, a student may submit a completed override form, bearing your signature granting permission to enroll, to the Office of the Registrar. When admitting students to a class that is "full", you should bear in mind that classrooms do have fire code limits on seating capacity.  https://www.westfield.ma.edu/offices/registrar/registration-information
Class Lists and Attendance Policy

CLASS ATTENDANCE

PURPOSE
To define the University's position on class attendance.

POLICY

The student classroom attendance regulations shall be determined individually by each member of the faculty who is responsible and accountable for stating these regulations clearly in writing at the beginning of each course of instruction. Students are expected to attend all classes from the beginning of the semester. Students who miss the equivalent of the entire first week's classes in a course may be refused admission to that course by the instructor.
If students anticipate missing the first week of classes, they should make prior arrangements through the Student Administrative Services Center.
Appeals regarding this policy should be directed to the Office of Academic Affairs.

REVIEW
This policy will be reviewed annually by the Vice President for Academic Affairs

Absence Due to Religious Beliefs

Massachusetts General Laws Chapter 151C, 2B states:

"Any student in an educational or vocational training institution, other than a religious or denominational educational or vocational training institution, who is unable, because of their religious beliefs, to attend classes or to participate in any examination study or work requirement on a particular day, shall be excused from such examination or study or work requirement, and shall be provided with an opportunity to make up such examination, study, or work requirement which he/she may have missed because of such absence on any particular day; provided, however, that such makeup examination or work shall not create an unreasonable burden upon such school. No fees of any kind shall be charged by the institution for making available to said student such an opportunity. No adverse or prejudicial effects shall result to any student because of their availing themselves to the provisions of this section."
Class Cancellations

All faculty who will be absent for any reason must contact the department administrative assistant and department chair as early as possible in the day. You should indicate the expected length of your absence, the reason for your absence, and the name, time, and location of classes you are scheduled to teach during the time of your absence. A notice for students will then be posted on the classroom door for you.  If possible, individual students should be contacted by the professor directly. One effective way of notifying students is to email them as a group through Blackboard, (click on "all student users" in the email section of the course site). You should alert students at the beginning of the semester to check their WSU email and WSU website (http://www.westfield.ma.edu/5411) for class cancellations, especially if they are commuters. However, even if you have notified students via email of a class cancellation, you still need to contact your department's chair and administrative assistant with this information.

The Vice President for Administration and Finance, in consultation with the other vice presidents, is charged with the responsibility of closing the University/ and/or canceling classes due to adverse weather conditions. Individual faculty members are not authorized to initiate such class cancellations. If classes are cancelled because of adverse weather conditions or other emergency circumstances, only essential personnel are required to report for work. All other personnel are excused with pay. Faculty and students may check the WSU website for all cancellations. You should also sign up for WSU Alert, the emergency notification system. This will allow you to receive emails, texts, and voice messages regarding cancellations. https://www.westfield.ma.edu/offices/department-of-public-safety
Classroom Conduct

Faculty who experiences ongoing disruptive student behavior in their classrooms are encouraged to speak with their department chairs for advice. There are numerous resources on campus to assist faculty with challenging behaviors, such as the Student Threat Assistance Team (STAT), the Counseling Center, and the Office of the Dean of Students. If students exhibit threatening behavior, such as physical violence, shouting, direct threats of violence or self-harm, or intoxication or impairment, they should contact Campus Police at 413-572-5262. Faculty are encouraged to place policies regarding expectations for student behavior in their syllabi.  STAT- https://www.westfield.ma.edu/images/uploads/public-safety/STAT%20Brochure.pdf, Counseling Center- https://www.westfield.ma.edu/student-life/counseling-center
Course Withdrawal & The Notation of a "W"

The notation of "W" is an administrative action, since it is a record of action taken by the student or administration and is not a reflection of the student's performance in the course. Withdrawals will be noted as follows.

Students may drop a course without notation on their academic record during the published add/drop period or before the second scheduled class meeting, whichever occurs later. For the purposes of this policy, online and hybrid courses are deemed to begin meeting on the first day of the semester at 9a.m., unless otherwise noted They will be considered meeting as other in-person courses in a given term (i.e. two-three times per week for 14-15 week terms, twice per week for 6-7 week terms, daily for winter session terms). The calendar dates for this process will be published in the Course Offerings Booklet. In traditional semesters, all day student withdrawals must be made through the Office of the Registrar and Continuing Education (CGCE) student withdrawals must be made through the Office of Continuing Education. In winter and summer sessions, all withdrawals must be made through the Office of CGCE.

Students may withdraw up to three weeks prior to the last day of classes for traditional semester courses and before 75% of a course is complete for courses in shortened sessions (i.e. two weeks prior to the last day of classes for eight week courses) by completing a Withdrawal From. The notation of "W" will be placed on the student's record for the course(s) dropped during this period. This form requires the professor's signature and the signature of the student's advisor. This procedure is designed to inform the teaching faculty of the student's intent and action to leave the course and to discuss the impact of the withdrawal with the faculty advisor.  In neither case should this process be interpreted as seeking permission. The calendar dates for this process will be published in the Course Offering Booklet. Withdrawal forms must be signed and returned to the Office of the Registrar or CGCE office, depending on the student's division, by the due date. Acknowledgement from the faculty member and/or advisor via email is permitted. Choosing to withdraw is a serious matter, and it should be known that withdrawing from a course can affect a student's class standing, full-time status, financial aid, etc. A student should consider speaking with the instructor, a faculty advisor, or an advisor in the Academic Advising Center before dropping a course.

Administrative offices can withdraw students for cause. Reasons for administrative withdrawal may include non-payment of tuition and fees, lack of health form information, academic failure, or probation, exceeding the permissible number of credits in a single semester, and/or disciplinary action. The notation of "AW" is made on the student's record for all courses dropped administratively. Please note, that withdrawal for non-payment should not be assumed.

Students who enroll in a course before the first day of class and miss all scheduled class meetings during the first week (five class days) of the semester may be withdrawn from that course at the discretion of the professor. Students who are enrolled in shortened session courses or courses that meet only once a week may be withdrawn after missing the first two scheduled class meetings. For purposes of this policy, online and hybrid courses are deemed to begin meeting on the first day of the semester at 9a.m., unless otherwise noted. They will be considered meeting as other in-person courses in each term (i.e., first week of the semester for full-term courses, twice per week for shortened terms). Professors are asked to justify such a decision at the time of the recommended withdrawal. Beginning with the third week of classes (or with the third-class meeting in shortened sessions), a professor may not submit a "W."

Students who can document extenuating circumstances that prevent them from submitting a Withdrawal Form during the published Withdrawal dates may be allowed to drop a course with a "W" notation on their transcript beyond the normal course withdrawal period. These students must complete a form explaining the extenuating circumstances and obtain signatures from the Associate Dean of Academic Achievement a (Day Division), or the Dean of Graduate and Continuing Education (Continuing Education Division) and the professor for the course. Examples of extenuating circumstances may include health, family, or employment issues. Refunds of tuition for courses in the Division of Continuing Education, if any, are made based on the date and time of receipt of withdrawal notification in the Continuing Education Office, and in accordance with the refund schedule in force during the session within which the refund is requested.

The information provided is in the WSU catalog: https://catalog.westfield.ma.edu/. 
Examinations and Final Projects

Examinations, other than the final examinations, may be scheduled at the discretion of the instructor. It is the responsibility of the student to follow whatever procedures are established and presented in writing to the students by the instructor at the start of each semester for such tests.

All University courses should have a culminating experience that consists of either a final examination or final course project. Final examinations must take place during the regularly scheduled examination periods. The length of time for the final examination is determined by the course instructor, but it must begin at the regularly scheduled examination time and may not exceed the allotted three (3) hour final exam time block. Final course projects should be due no later than the day and time of the scheduled final examination period for that class. Instructors may not change the time or location of final exams; final exams are not to be administered during a regularly scheduled class.

Students who are absent from a final examination should contact the instructor to discuss the reason for the absence. In accordance with the incomplete policy, a copy of the final examination may be sent to The Center for Student Success and Engagement (CSSE). The exam will be administered on posted dates.

Examinations and other graded course materials should be made available to students in a timely fashion, in accordance with FERPA (Family Educational Rights and Privacy Act of 1974). If retained by faculty, they should be kept until the end of the next academic semester and should be made available for students' review upon request.
Policies and Procedures When Teaching Graduate Students

To understand Westfield State's graduate student policies and procedures follow this link.

To review or download the MSCA agreement for faculty teaching in Graduate and Continuing Education, follow this link.

Within the MSCA Agreement:

Fair Practices: see Article II, Section A on page 6.
Individual Contracts: see Article II, Section B on page 7.
Academic Freedom and Responsibility: see Article IV on page 11.
Use of University Facilities (including parking, and safety procedures): see Article V on page 13
Appointment and Termination (including Eligibility, Evaluations, Termination for Cause, and Reappointments): see Article VI on page 17
Stipends: see Article VII on page 23
Workload, Scheduling, and Course Assignments (including make-up, emergency cancellations, compensatory adjustment): see Article VIII on page 26
Evaluations (including criteria and procedures): see Article IX on page 31
Grievance Procedure: see Article X on page 36
Procedure for Withdrawing from the University – Day Division

Students leaving the University, either during a semester or between semesters, must complete WITHDRAWAL CLEARANCE FORM which may be obtained in the Office of the Registrar, Dean of Students, or Associate Dean, Academic Achievement. Students withdrawing from the University during the semester will receive a "W" in each course. Students who leave the University during a semester and do not officially withdraw will receive "F" grades in all courses.  Students should review the Tuition, Fees, and Refunds before finalizing their intent to withdraw.

When students withdraw completely from the University during the last three weeks of the semester, their instructors are polled to determine whether the students were passing or failing their courses at the time of the withdrawal. Students who were passing most of their courses may return to the University for the next academic semester. Students who were failing many of their courses may not be permitted to return for the next semester.
STUDENT GRADES
Academic Warning Policy

Please Note: We have a student Academic Warning policy (See below) but not a policy for faculty. You can contact Nicole West for when faculty are sent the Progress Surveys from WSU 0360. Note: this is a practice and not a policy.

Students placed on academic warning will be limited to enrolling in thirteen credits during the semester they are on warning.  Students within the College of Mathematics and Sciences may increase the number of credits with written approval from their Department Chair.  In addition, academic warning requires the student to be in contact with an academic advisor and may include 1) frequent meetings between the student and the professional advisor to check students' academic progress, 2) a requirement that certain courses be taken to improve the student's GPA, 3) possible restriction of students co-curricular activities depending on course progress (varsity student athletes will be permitted to participate in their sport during the first term they are placed on academic warning, but will be restricted if warning status continues for any additional semesters), and 4) other support activities recommended by the student's advisor (faculty or professional advisor).
Final Grades

WSU operates on a plus/minus grading system. The suggested grading system for the University can be found in the WSU Undergraduate Catalog. Final grades are due by a specific date posted by the Registrar each semester. Faculty submit grades online through the myWestfield portal by clicking on the Academic Resources tab and going to the Faculty Grades section on the left-hand side of that page.  Changes to grades may occur without permission through the fourth week of the following semester/term for which the grade was originally entered.  After the fourth week, the department chair and appropriate divisional dean must also approve the grade change.  Grade changes for a previous semester are accepted until the end of the fourth week of the following semester. Grades should not be posted publicly, nor should you place student exams or other materials in unsecured public places for pickup.

Grade of Incomplete. A grade of Incomplete (I) is assigned by the instructor only if the student has completed 80% of the course work and has offered a valid reason for their inability to complete the course work within the prescribed semester. The student must request a grade of Incomplete before the end of the semester and arrangements for the completion of the work must be made in writing with the instructor. Once the student has been granted the incomplete grade, they must complete the work within the first 30 days of the next scheduled semester. If the work is not completed within that time, or if an extension is not granted, the incomplete grade automatically becomes an "F". In certain extraordinary circumstances, faculty may complete an Extension Form (available in the Office) and submit it to the Office of Graduate Studies to permit a student additional time to satisfy the course requirements.

Grade Appeal Policy. Students have the right to discuss and review their academic performance with their instructors. Faculty have the right to establish grading standards. Faculty also have the responsibility to define general grading criteria in a course syllabus, communicate those criteria to students, and evaluate students based on those criteria. Students may appeal final course grades.  Please visit the website to view the policy and procedures-  https://www.westfield.ma.edu/images/uploads/policies/1110_Grade_Appeal.pdf.
Procedures for Handling Cases of Academic Dishonesty

When a course instructor suspects a student of academic dishonesty, they notify the student in writing of the alleged infraction as soon as possible after the discovery of the infraction. The student will have five business days to respond to the allegation.

If the student does not dispute the allegation, the course instructor reports the infraction to the academic dean of the college where the course is taught (home department of course) for record-keeping purposes, using the appropriate form (http://www.westfield.ma.edu/images/uploads/registrar/Academic_Honesty_Report_form_Aug_14.pdf) . This notification must take place within ten business days of the discovery of the infraction and should include any corroborating evidence. The academic dean will notify the office of the Provost and Vice President of Academic Affairs of the violation.

If a student disputes an allegation of academic dishonesty, the student may appeal the case to be heard by a subcommittee of the Academic Policy Committee (APC) in executive session. This subcommittee will be made up of three faculty members, all of whom are not in the department of the course instructor making the allegation, and up to two students appointed by the APC Chair. The student and course instructor will be invited to the subcommittee hearing. The APC chair will notify the student of the subcommittee's decision, which is final. If the student's appeal is unsuccessful, the APC chair reports the infraction to the academic dean for record-keeping purposes on the appropriate form within five business days of the decision. The academic dean will notify the office of the Provost and Vice President of Academic Affairs of the violation within five business days. In all meetings with the course instructor, chair, or dean that are part of this appeals process, the student may bring a support person of their choice other than legal counsel.

All records of academic honesty policy violations will be maintained by the Office of Academic Affairs. Faculty are expected to report all incidents of academic honesty infractions. Upon being informed of an infraction (either by the course instructor or the APC subcommittee), the academic dean will inform the office of the Vice President of Academic Affairs within five business days.

Upon notification by an Academic Dean of a violation, the Office of the Provost and Vice President for Academic Affairs will notify the dean if the student has previous infractions.

After an infraction, the course instructor administers appropriate penalties that range from resubmission of the work in question to failing the course, as determined by the course instructor.

After a student's second infraction at the University, the academic dean will notify the student that they must meet with the academic dean.

After a student's third infraction at the University, the student shall be notified of permanent dismissal from the University by the Office of Academic Affairs. This penalty of dismissal can be appealed. Such an appeal will be made to the University Provost and Vice President for Academic Affairs within five (5) business days of notification of the penalty.
REFERRING STUDENTS
Banacos Academic Center - Academic Strategies, Disability Services, Learning Disabilities Program

Banacos Academic Center supports ALL students and houses the University Tutoring Services, Academic Strategies Program, Disability Services, and the Learning Disabilities Program since 1979.

Academic Strategies Program supports students at all levels. Workshops are offered in reading, creating own study guides, exam preparation and test taking approaches, and time management and note taking strategies. Programming is also offered in conjunction with faculty and staff.
Disability Services provides reasonable and appropriate accommodations for students with learning, physical, psychological, or medical challenges. Students are expected to register with the office, request their own accommodations, and provide current documentation of their medical or mental health conditions for determination of disability. Disability Services also provides referrals to other supports on campus.
Learning Disabilities Program provides academic support for incoming first-time, first-year students who have a diagnosis of a learning disorder and/or ADHD. Applicants apply through their admission application to WSU and must meet University admissions standards. Work one-on-one with a program advisor who supports them from orientation to graduation, including regularly monitoring their academic progress.
Center for Student Success and Engagement (CSSE)

The Center for Student Success and Engagement (CSSE) plays a central role in the strategic goals of Westfield State University which are to increase retention, increase graduation rates, and close the achievement gap. The offices within the CSSE include the Urban Education Program, Banacos Academic Center, TRIO Student Support Services, Office of Academic Advising and Transfer Transitions, Honors Program, Reading and Writing Center, Veteran and Military Services, and the Center for Undergraduate Research and Creative Activity (CURCA). Each area within the CSSE works collaboratively, along with other university offices and programs, to provide extensive programming and support for students to promote their academic and personal success.
Center for Undergraduate Research and Creative Activity (CURCA)

The Center for Undergraduate Research and Creative Activity (CURCA) promotes and provides strategic cross-disciplinary support for all students to engage in experiential learning and high impact practices. CURCA provides students with collaborative engagement for applied experiences, professional development opportunities such attending and presenting at conferences, and opportunities for faculty-student and peer-peer mentorship.
Counseling Center

The Counseling Center (http://www.westfield.ma.edu/student-life/counseling-center ) offers crisis intervention, individual and group counseling, and psychiatry services to WSU students. These services are provided by licensed mental health practitioners and are available to students at no cost. The Counseling Center assists students with concerns in the areas of personal adjustment and growth, family problems, sexuality, alcohol and drug abuse, anxiety, depression, loss, trauma, interpersonal relationships, and other issues in day-to-day living. All records and discussions between counselor and student are kept confidential and are protected to the full extent of the law. Appointments are made by calling 413-572-5790 or by visiting the WSU Counseling Center on the first floor of Lammers Hall. If you have concerns about a student's well-being, feel free to contact the Counseling Center to talk further.
Honors Program

The Westfield State University's Honors Program is part of a statewide consortium. At WSU, the program has over 300 undergraduate students. Provide small seminars, peer mentorship, and social cohort building activities. Students conduct a Senior Honors Project consisting of a year-long independent research project or creative thesis. Students also have the option to live in a Living Learning Community (LLC) in University Hall.
TRiO Student Support Services

TRiO Student Support Services is a federally funded program for students that identify as first-generation, demonstrate economic need, and/or have a documented disability. Provides academic, personal support, and financial literacy support. Students receive professional tutoring, academic coaching and advising, academic skill building, FAFSA filing support, assistance with scholarship applications, and more.
Office of Academic Advising and Transfer Transition

The Office of Academic Advising and Transfer Transition advises all Exploratory majors, first-year Criminal Justice majors, support and advise students on academic warning, and assists new transfer students. Assist the Registrar's Office during pre-registration and the Add/Drop period, assist the Office of Retention and Engagement by reaching out to unregistered students, and oversee a Peer Advising Program consisting of students educating students on academic policies, and advising and registration procedures.
Urban Education Program

Since 1968, the Urban Education Program has provided college access, mentoring and academic support to students that identify as first-generation, from underrepresented groups, or demonstrate financial. Students participate in a 6-week, residential Summer Bridge Program. Students also receive on-going individual academic and social support, empowerment, leadership opportunities, peer mentorship, connection with program alumni, and referrals to campus resources.
Office of Course Adjustment, Retention and Engagement (CARE)

The Office of Course Adjustment, Retention and Engagement (CARE) serves as a point of contact for instructors who have students struggling in their courses and need assistance in getting support. Operates and manages WSU360, our university's retention software and generates two (2) progress surveys per semester. The office also conducts exit interviews with all students withdrawing from the university and advises and registers students who are returning. Students who are granted reinstatement or successful appeals after academic dismissals, academic warning, or repairing their GPAs are provided support.
Reading and Writing Center

Through one-on-one sessions at the Reading and Writing Center, students are aided on writing projects, within any major, at any stage of the writing process. The RWC also facilitates workshops on personal statements for graduate school, scholarship essays, senior honors projects, abstract writing, and more.
Veteran and Military Services

Veteran and Military Services supports students who are military-connected, whether they are using their Veteran Administration benefits or not. Located within the Military Community Excellence Center, they provide a sense of community, belonging and mentorship to students. Students receive academic and social support, VA work-study opportunities, conversations about major and career aspirations, academic and personal development assistance, and referrals to campus and off campus resources.
Health Services

The mission of Health Services at WSU is to assist students in attaining and maintaining their optimal level of health through education, consultation, assessment, and treatment. The Health Services (http://www.westfield.ma.edu/student-life/health-services) staff maintains total confidentiality of all private communication. Services are available to all resident and commuter students who have submitted the required health form. State mandated immunization and health insurance laws are managed through Health Services. Compliance questions may be directed to this department. The office is staffed by Nurse Practitioners, and Registered Nurses and physicians see patients by appointment. For more information on these services, please feel free to stop by the West Wing of Scanlon Hall or call 413-572-5415.  Please see website for hours.
Student Affairs

The Division of Student Affairs works to engage students holistically through their own unique journey of self-discovery during their time at Westfield State University.  We seek to create and identify a variety of social, cultural, and educational activities that compliment and extend beyond the classrooms and studios to prepare students to thrive in a complex and diverse global society.  Occasionally, students need support and resources.  We partner with faculty and staff to provide a variety of support and information to students on various topics:  students facing housing and food insecurities, questions around Title IX and other gender/harassment/violence/personal safety situations, community standard concerns, health and wellness challenges, and leadership opportunities for engagement.  Athletics, Career Center, Counseling Center, Health Services, Residential Engagement, Student Conduct and Student Government all comprise the Division of Student Affairs.   

Ely 208, 209 , 413-572-5421 , deanofstudents@westfield.ma.edu 
Student Threat Assistance Team (STAT)

The mission of the WSU Student Threat Assistance Team (STAT) is to identify and respond to students of concern in a coordinated manner to promote student safety, success, and community well-being. Specifically, the team provides a mechanism for various community stakeholders (e.g., faculty, staff, students) to share information and refer students who are identified as in need of additional support in conjunction with what is offered by existing offices in academic and/or co-curricular aspects of student life. The goal of the team is to arrange for such support through a process of assessment, collaboration, assistance, ongoing monitoring, and appropriate communication with the referral source.  https://www.westfield.ma.edu/images/uploads/public-safety/STAT%20Brochure.pdf

The STAT does not replace existing student conduct processes, classroom management, public safety responses, or other programs or services. STAT is not an emergency response team. Any emergency incident should be referred immediately to University Police. 413-572-5262.
FACULTY EVALUATIONS
Faculty Evaluations

All Day-Division faculty are evaluated as mandated by the MSCA Collective Bargaining Agreement (https://mscaunion.org/day-and-dgce-contracts/).  For all full-time faculty who have not received tenure, evaluations occur annually. For first year tenure-track faculty, this consists of a written evaluation (D-1 Form) by the Department Chair, which follows a classroom visitation to one section of each course the faculty member is teaching. For full-time temporary faculty, classroom visitations occur during the first and third consecutive semesters of employment. For all classroom visitations, you should arrange for a meeting with your Chair prior to visiting your classroom to discuss expectations and the date and time of the visit. The chair will arrange for a meeting with you following the visitation to discuss the observations and recommendations included in the D-1 form and provide feedback on your teaching effectiveness, including any recommendations for improvement. For tenure track faculty, the evaluations that take place during the second through sixth years of employment entail a more in-depth process. Tenure track faculty in their second through sixth years of employment submit narratives and portfolios documenting their teaching effectiveness, academic advising, continuing scholarship, and professional activities, including service to the University. Therefore, first year tenure track faculty should keep a file of their activities and accomplishments in these areas. In the third and fifth years of employment, tenure track faculty members are evaluated by a departmental Peer Evaluation Committee as well as by the Chair. Tenured faculty are evaluated upon request for promotion and post-tenure review. For part time Visiting Lecturers, the Department Chair conducts class visitations and evaluations during the first semester of employment and subsequently either during the sixth semester in which the faculty member teaches or during the eleventh course taught, whichever occurs first.

In all cases, the Associate Dean (if designated), Department Chair, and Peer Evaluation Committee make recommendations to the Provost and Vice President for Academic Affairs. The Provost and Vice President for Academic Affairs, after reviewing the faculty member's materials, makes a recommendation to the University President on reappointment, tenure, or promotion. Evaluation for tenure typically takes place during the sixth year of employment and is based on a narrative and portfolio documenting performance in the four areas listed above.  Detailed information about personnel evaluations is provided regularly at workshops hosted by the Office of Academic Affairs. All faculty are notified well in advance of these workshops. The evaluation process provides an opportunity for growth and professional development, and there is a great deal of support for this process both within your department and from the University.

Another aspect of the evaluation process is the administration of student evaluations each semester in all sections of classes taught by untenured full or part time faculty members and in one section of each type of class per year selected by a tenured faculty member. These evaluations were previously done using the ETS SIR II [MDE1] form. ETS has recently discontinued the SIR II, and currently a new course evaluation tool is being selected by a team of faculty and management. An announcement regarding the new tool will be made once it is chosen.

 [MDE1]Replace with the new of new evaluation form.