Welcome! About Us: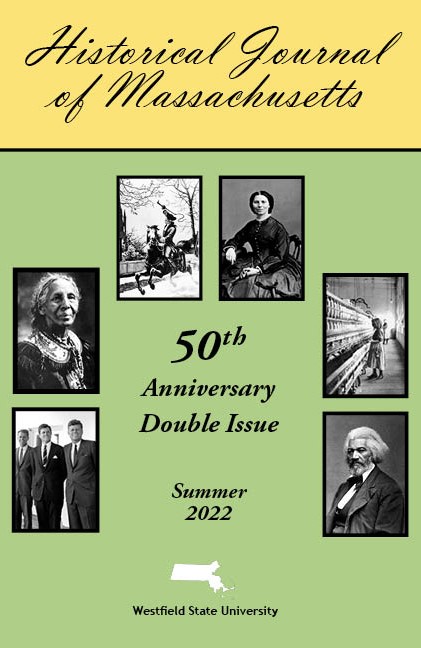 The Historical Journal of Massachusetts (HJM) is a peer-reviewed journal published twice a year by the History Department at Westfield State University. As the only scholarly journal devoted exclusively to the history of Massachusetts, it fills an important role. Since 1972, the journal has published articles by well-known historians, along with cutting-edge research by graduate students, middle and high school history teachers, amateur history buffs, and countless local historians who have labored to uncover and rediscover the fascinating history of a pioneering state. Due to the generous support of Westfield State University, an annual subscription is only $15.00.
Throughout our nation's history, Massachusetts has played a pivotal and often pioneering role. We cover all topics and aspects of the Commonwealth's past —from its Native American heritage through its colonial and revolutionary roots to the present. We strive to include all fields of history, including political, social, cultural, economic, labor, legal, and immigration. We also seek to highlight the unique histories of different groups and populations, including women's history; ethnic and religious studies; and the diverse experiences of the state's many minority groups. We explore the history of Boston as well as offer local community studies that illuminate the diverse nature of our state's history — from the evolution of its coastal and farming communities to its historic mill cities and hill towns.
Massachusetts has often been at the forefront of national reform struggles and has a long history of initiating legislation in many areas, from the abolition of slavery to public education, women's suffrage, and worker's rights. In the future, we hope to pay increasing attention to this "people's history" of Massachusetts, with a focus on the history of social movements; studies of reform, social change and social justice organizations; and oral histories of local activists. We also hope to include more articles on the teaching of Massachusetts history that would be of special interest to high school and middle school teachers.
We invite you to contribute to the journal by becoming a subscriber and/or a contributor. We welcome contributions from novice authors as well as established historians. At $15.00 annually, the Historical Journal of Massachusetts is one of the least expensive scholarly journals available. The journal has always been a labor of love that has been underwritten by the generosity of its many patrons and subscribers along with the support of Westfield State University and the Westfield State History Department.
For more information, please contact our editor:
Mara Dodge
Email: masshistoryjournal@westfield.ma.edu
Telephone: 413-572-5620
Access Past Articles & Issues
Downloadable PDFs of all HJM articles published since 1972 can be found in the Article Archives tab. They can be reproduced, distributed, and used in any educational or community setting without special permission, as long as HJM is clearly attributed.
HJM articles published since 1998 are also available on ProQuest Central and EBSCO's History Reference Center database (after 2006).
History
The journal's founder, Dr. Martin Kaufman, joined the faculty at Westfield State University in 1969 and served as Professor of History until his retirement in 1998. Dr. Kaufman received a doctorate from Tulane University in 1969. His strong interest in state and local history led him to initiate the Historical Journal of Western Massachusetts in 1972. In 1980 the journal's focus was expanded and it was renamed the Historical Journal of Massachusetts. In order to support the ever-expanding role of the journal in promoting the study of Massachusetts history, Dr. Kaufman established the Institute for Massachusetts Studies in 1981. The institute sponsored an Annual Conference on Massachusetts History (1979-1991). In 1984 Dr. Kaufman initiated the Institute's book publishing program. During his tenure, the Institute published twelve books, including: Massachusetts in the Gilded Age (1985), Education in Massachusetts (1989), Labor in Massachusetts (1990), Sports in Massachusetts (1991), and Massachusetts Politics (1998).
One of the hallmarks of Dr. Kaufman's leadership of the journal was the training of more than one hundred students as editorial assistants. He was also known for his encouragement of scholarship in the field of Massachusetts history. Many authors who first published their articles in the journal went on to publish books, which have added significantly to our understanding of Massachusetts history. Dr. Kaufman received Westfield State University's Distinguished Service Award three times.
From 1997-2008, Dr. Michael F. Konig served as HJM Editor. Dr. Konig authored Study in Leadership: Springfield and Its Mayors (1986) and co-authored two other books on Massachusetts history which were published by the affiliated Institute for Massachusetts Studies. In the summer of 2008, Dr. Mara Dodge became editorial director. Her areas of research include women's history, labor history, legal history, and the history of crime and punishment. She is the author of "Whores and Thieves of the Worst Kind": Women, Crime, and Prisons, 1835-2000. In 2009 HJM was completely redesigned to create a more modern and graphically-appealing publication that would appeal to both scholars and the general public. In 2010 it was awarded the first "Mass History Commendation Award" in recognition of its new look and strengthened content.
Today, HJM is produced by a part-time but highly dedicated team that includes two associate editors (Dr. Christin Cleaton-Ruiz and Dr. Joanne Despres) along with numerous volunteers: five editorial board members, two dozen advisory board members, one graduate assistant, and numerous interns. HJM is a highly labor-intensive endeavor. As a peer-reviewed or "refereed" journal, every article that is submitted is read by two editors and two outside expert "peer reviewers" before it is accepted. Even after the initial review, most articles go through three to four drafts before a final version is ready for copyediting, several rounds of proofreading, and then, finally, printing.