What is Web Camp?
WSU's Web Camp has received the "Program of Distinction Award" from the Board of Education. WSU's online Bachelor's completion program ranked #1 nationwide for faculty credentials and training in U.S. News & World Report's first-ever edition (2012) of Top Online Education Program rankings. Westfield State has continued to achieve Best Online Programs ranking each year.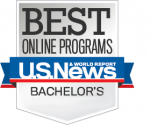 Web Camp is a step-by-step program that teaches faculty how to move their face to face courses online. It covers topics including:
online pedagogy
best practices from Westfield faculty who are teaching online
the design of your course following the WSU Best Practices Course Template
general use of the course management system
an understanding of creating and using assessments and other tools online
the tools and tricks (not limited to Screencast-O-Matic, Audacity, Collaborate)
Quality Matters Course Rubrics, and much much more.

If you are interested in teaching online, please meet with your Department Chair and let them know you are interested in the next Web Camp session.

Click into the link below to get more information, upcoming dates, and application instructions on how to participate in Web Camp.

Or call Lynn Zayac, Director of the CIT, 413-572-8142 for more details!