Counseling Center continues effort to bring joy to campus community through Pet Therapy Program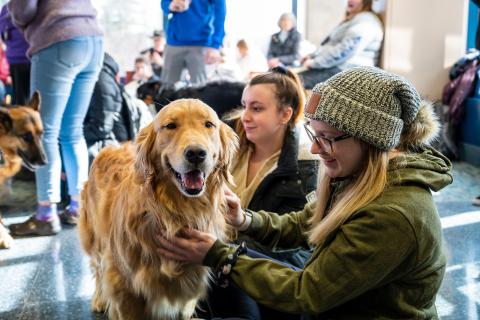 Since 2007, Westfield State University Counseling Center's Pet Therapy Program has been a peak event supporting, grounding, and engaging the Westfield State University community as one of the counseling center's traditional events.
Briefly paused by the restriction of in-person activities due to the COVID-19 pandemic, the program has reinstated efforts to reach out to the campus community.
Research shows that pet therapy improves individual energy levels, self-esteem, and mood and decreased depression. Additional benefits include increased motor skills and movement, improved social skills and verbal communication, decreased boredom, and a more positive outlook.
Numerous studies reveal interaction with animals is beneficial for individuals experiencing stress and anxiety so it's not surprising that  one of the many unanticipated effects of the pandemic was a surge of interest in adopting pets.
Animal welfare organizations saw a spike in adoptions starting in March 2020, and many shelters had difficulty keeping up with demand. Cats and dogs were being adopted at unforeseen rates, resulting in a shortage of so-called "pandemic puppies."
 A recent survey found that 78 percent of pet owners acquired pets during the pandemic.
In support of pets serving as a form of therapy, Suzanna Adams, Counselor and Associate Director of the Counseling Center says, "A lot of the students miss their pets from home. So, when they see an event full of dogs, it brings them warmth and comfort."
While there are other forms of therapy to reduce stress and increase comfort levels, interaction with animals remains popular with students.
A recent count revealed nearly 125 students coming and going over the two-hour event.
"It can be more effective than teaching meditation," says outreach counselor Raven Burrell. "We strive to have pet therapy during high-stress levels for students like midterms and finals."
 "When we have accepted students, they ask as much about pet therapy as they do about individual counseling. Some find pet therapy more accessible than counseling, while some find counseling more effective for themselves. It's all about preferences," says Leslie Schiep, Administrative Assistant of the Counseling office.
Look for the next Pet Therapy Program event scheduled for Thursday, March 23.
The program is held in the Ely Campus Center, 2nd floor lounge.