Student Government Association
The Student Government Association (SGA) is the longest standing open forum on campus
SGA's purpose is so diverse that there is something for everyone. No matter what your major is or what your interests are, SGA is right for you! SGA provides an excellent opportunity to have your voice heard by the faculty and administration. Your participation in SGA will help you learn valuable skills in leadership and teamwork as well as being a great way  meet new people. Don't sit by and watch things happen - get involved!
SGA consists of a 75 member Legislature and eight-member Executive Council.  The Executive Council is selected annually through a campus election held in the spring. The Legislature is made up of elected representative students from each Class and Residence Hall, Commuters, Diversity/Inclusion Representatives, Community Relations/Fundraising Representative and Representatives at large.
Legislature

The Student Government Association Legislature is comprised of full-time day students at Westfield State University. Each Class Council has five SGA seats. Each Residence Hall has one Representative per one hundred residents. The Commuter population is represented by the Commuter Council President and one Commuter Representative for each one hundred commuting students. SGA recognized clubs and organizations are represented by one student from each of the following club categories: Faith, Heritage and Identity, Leadership and Service, Sports and Leisure, Arts and Music, and Academic and Career. The Legislature has one Diversity/Inclusion Representative who represents the interests of the Black Student Union (BSU), Latino Association For Empowerment (LAfE), Multicultural Student Association (MSA), and the Queer/Straight Alliance (QSA). Also elected is a Community Relations/Fundraising Representative who acts as a liaison between SGA and the campus community on charitable fundraising and awareness campaigns. Rounding out the SGA Legislature are nine All University Representatives who are at large represenatives for the entire student body.
Functions

The function of the Student Government Association is to represent student interests within all academic and social aspects of the university community. SGA maintains representation on the university governance committees in which students, faculty and administrators work together to evaluate the university curriculum and create university policies and standards.

SGA also helps to sponsor campus events and activities to enhance student life through allocations from the Student Senate Trust Fund (which is made up of the Student Activities Fee). SGA maintains a great emphasis on programming for students during the week and on weekends through the Campus Activities Board. The Campus Activities Board is open to all students regardless of SGA standing. 

Our committees in SGA have a reputation in the Westfield community for helpful and sincere volunteer work. It is a continuous and never ending goal of SGA to help the student body maintain a healthy relationship with the surrounding community.
Get Involved
If you are interested in the SGA, curious about what seats are available or just have a question or concern, call us or stop by the SGA Room. SGA meetings are held every Tuesday at 5:30 p.m. in the Student Government Room located in the Garden Level of the Ely Campus Center Room E017. Meetings are open and all are encouraged to attend.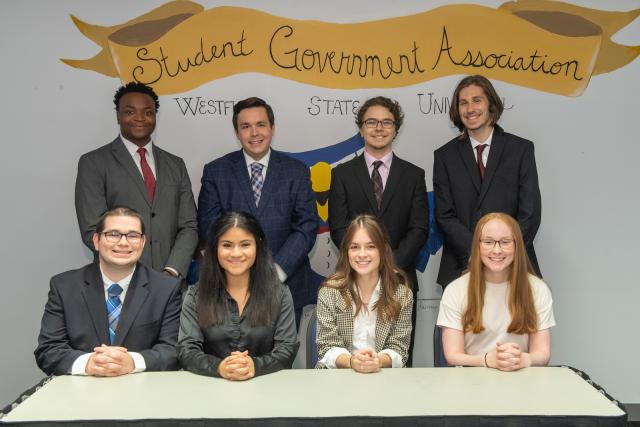 Mission:
The purpose of the SGA shall be to provide and promote a partnership in governance among all segments of the university community and to ensure opportunities for all students to fully participate in campus wide activities and organizations.