Jasmine Shah Celebrates the Accessibility of Financial Aid and Encourages Students to Reach Out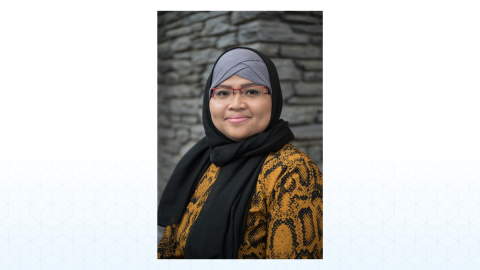 While the student experience here at Westfield State includes events such as Move-In Day, Convocation, and our Welcome Week, many find themselves overwhelmed by the complexities of securing financial aid to support them along the way. In an interview, Jasmine Shah, Assistant Director of the Financial Aid office, encouraged students to ask and meet with the staff to discuss any concerns they might have.
Speaking from personal experience, Shah discussed the accessibility of financial aid in the United States versus that from Indonesia, where she originally grew up. "I was born and raised in Jakarta," she started, "and I came to the United States around fourteen years ago. It's different in higher education. In Indonesia, there is no government help. Either you can afford [college], or you apply for a student loan. I was surprised to see that there's financial aid for those who need the help [here]. It's fascinating to see and compare."
Although Shah initially worked as a teacher, she transitioned into the higher education field due to a desire to work with and help young adults secure financial aid. "I'm passionate about education," she said. "Some students are reluctant to go to college because when they see the price, they worry whether they can afford it or not. From a first-generation perspective, and especially for parents who were not born or raised here, the perception of getting higher education from a different country… you need to be able to afford it."
However, not every student graduates high school knowing how to begin the process of filing for financial aid. Shah described the confusion first-year students often feel when interacting with the various forms and applications which comes with applying for aid.
"You go to school for free from kindergarten through twelfth grade, but once you graduate, it's not as it was back in high school. There are misconceptions about financing college and how to make it affordable. There's this piece that parents and students aren't familiar with. This where we help. We're always reaching out to students and families, because if they have any questions, they can come to our office and let us know. We pride ourselves on [being] affordable."
Regarding the Free Application for Federal Student Aid (FAFSA), our Department of Financial Aid is specifically available to walk new and returning students through that process. In collaboration with the Admissions office here at Westfield State, Shah briefly detailed some of the approaches they'll take to remind students to meet their deadlines, including sending out reminders and letters in case students need the assistance. "We're happy to work with other departments," Shah said. "We also work with students from varying populations, like those enrolled in the Urban Education and TRIO programs."
Parents are especially encouraged to support their children while applying for financial aid. "We want the parents to be present in the process as well," Shah reiterated, "so we always let them know to come back. We can't advise them on which loan to choose, but we let them know what the differences are between federal and private student loans. We inform them and then let them make the decisions on what they want to do."
She also discussed protocols for what happens to financial aid in the case of disruptions or emergencies in students' personal life. Specifically, Shah emphasized that a life-changing event does not have to disqualify anyone for financial aid right away. "If major things happen, such as a parent losing their job, that can be a consideration to look at their financial situation again. Students who are at risk [should] reach out to our office, and we'll see what we can do. There are so many things we can help with."
In cases where students need to drop a class, Shah also advises on making an appointment with the office due to that decision possibly affecting their financial aid. "Always consult with us first," she said. Some of the core benefits students receive from Financial Aid is a lot of "counseling with students" in matters related to their finances. "We want the students aware of their situation so they can make informed decisions regarding their academic and financial situations," Shah stated.
In the flurry of a new academic year, students might not remember to make appointments with financial aid right away. Luckily, the department accepts walk-ins. "They don't need appointments, but we have a designated counselor for certain programs, so students who are familiar with that counselor should let our office know that they want to schedule an appointment with them. They can contact the counselors directly. We also have Zoom if they can't come to our office. They can always send an email to financialaid@westfield.ma.edu. We try our best to respond to the students within forty-eight hours. The summer is our peak time of the year, so it might be a little late, but we will always reach back out to the students."
Most importantly, Shah and the rest of her colleagues just want the students to know that they can take the initiative with them. "Reach out. It's okay to reach out," she said definitely. "We know what you need help with. Open that communication, and reach out to us."