Nursing Students Honored at Pinning Ceremony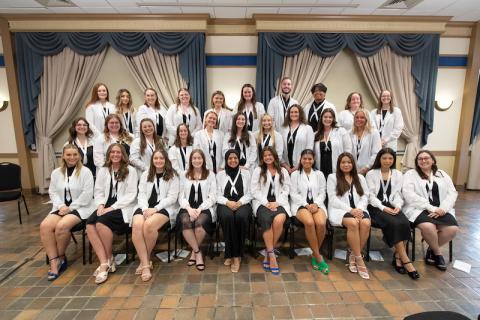 On May 10, Westfield State's nursing students celebrated their annual pinning ceremony commemorating upcoming graduation. 
"A nursing pinning ceremony is a significant event in the nursing profession as it is a traditional and symbolic ceremony for students as they transition from academia to practice," said Executive Director of Nursing, Jessica Holden.
"The nursing pin represents the completion of the nursing program, and its design is unique to the school. It is a symbol of the hard work, dedication, and accomplishments of the nursing students," said Holden. 
Opening remarks were given by Dr. Beth Rivera, followed by greetings from Dr. Ziblim Abukari, Dr. Juline E. Mills, and President Linda Thompson. The keynote speaker was Dr. Susan Scott of the University's nursing faculty.
After being pinned, the nursing students recited the nurses' pledge, "affirming their commitment to providing compassionate, person-centered care and adhering to the principles of nursing practice." 
"My four years at Westfield State have prepared me to enter the work force as a registered nurse. As receiving a BSN is one of, if not the hardest, undergraduate degrees one can pursue, it is important to acknowledge and celebrate the accomplishments of each nursing class through the pinning ceremony," said Irene Dimitroglou, a graduating student. 
"The ceremony is a special and heartfelt tradition where the nursing students can thank the people who were instrumental in their nursing school journey, as well as be welcomed into the profession by their professors. It is an intimate and unforgettable ceremony to honor the hard work of each and every nursing student graduating from WSU."
Jess Holden summarizes the event by lauding all of the hard work and dedication of the students. "I am tremendously proud of our nursing students who have worked so diligently to get to this point. They are prepared to go out and help to fill the existing gap that is the nursing shortage and apply skills obtained in our program to care for our communities and to lead positive change in our healthcare systems."