Outpouring of kindness, support for campus backpack, luggage, duffel bag drive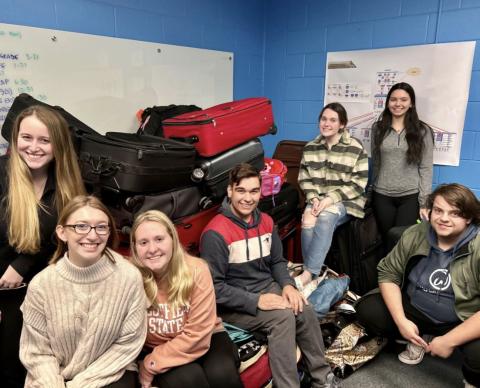 For students on college campuses, participating in philanthropic efforts bring a sense of belonging and camaraderie while also benefiting those who genuinely need help.
Members of Westfield State University's Executive Board of the Class of 2024 recently conducted a campaign to offer resources to women and children experiencing domestic hardships due to housing transitions.
The effort started when students learned women and children removed from their homes due to dangerous living conditions were only given trash bags as travel assets.
This didn't sit well with council members, so a proposal was presented to collect backpacks, luggage items, and duffel bags for those enduring hardships. The idea was that bags would be collected on campus and donated to area women's shelters. 
According to Kaitlyn Egan, 2024 class president, the act of providing individuals with resources to assist in chartering hardships is a critical part of recovery. The aim of the council was to provide individuals with a basic item that could offer a sense of comfort and dignity.
The team organized, outlined their request, and placed collection bins throughout campus and waited.
Then the bags started coming.
"The support of the community at Westfield State -- faculty, students, librarians and staff was unbelievable," Egan said.
At the end of the campaign, council members counted 160 items including backpacks, duffel bags and suitcases -- many more that they anticipated.
"We take a bag for granted but giving a little kid a backpack or giving an adult a rolling suitcase instead of a trash bag gives people the dignity they deserve," she said. "From our point of privilege, it's hard to imagine how much a piece of luggage or duffel could change the course of someone's experience," she added.
In an email to NewsWise, Egan wrote, "It was so heartwarming when we appealed to our campus community and they responded with overwhelming support, some even sharing their own experiences and reinforcing the importance of our collection. I felt a deep sense of pride that we were able to contribute in this way."
Although the campaign came to an end, Egan said it is unfortunate that there always will be a need. 
"Please keep an eye out for another similar event in the future," she said.