Reading and Writing Center aims to cultivate multiculturalism through the writing, communication process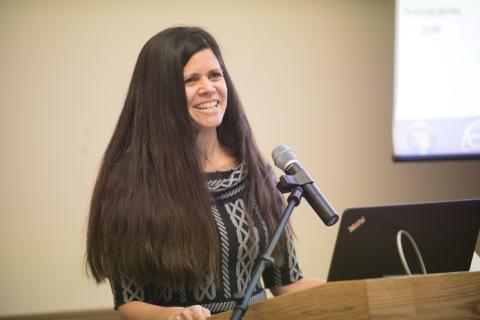 The mission of Westfield State's Reading and Writing Center aims to support and encourage students, faculty, librarians, and staff to communicate ideas and discover new ones. The Center's staff assists writers on any type of project – academic, professional, or creative – in any field at any stage of the writing process. 
The Center operates with the understanding that no single dialect or language is superior to another, and with written and oral English constantly evolving and intermixing, there is no static, standard English.
In assisting writers, Dr. Catherine Savini, Reading and Writing Center coordinator and English Professor, is motivated to close the door on "linguistic prescriptivism," or established rules supporting ideologies in which language uses externally imposed rules on marginalized groups in academic spaces.
"The argument that we need to teach standard English to students who speak and write in different dialects so that they succeed is perpetuating oppression rather than lifting these students up. Instead, we need to open our minds to multiple 'Englishes' instead of one because it's not about mastering standard English, it's about learning how to communicate effectively," Savini said. 
Over the last several years, the total international population of students on the Westfield State University campus has grown at an average rate of 12 percent indicating the need to understand a variety of communication methods.  In 1974, the Conference on College Composition and Communication issued a position statement,  Students' Right to Their Own Language, explaining that "rejecting one's native dialect is to some extent a rejection of one's culture." The group reaffirmed their statement in 2003.
Through their tutoring and engagement, the Center has consistently worked to address this issue on campus. 
"We had a panel where a group of students got together and talked about their experiences being multilingual on campus and it was so clear how much language is tied to who they are. When they are told that their language is not invited to the classroom it means part of themselves is not invited to the classroom," Savini said. 
The Reading and Writing Center contains staff and tutors from diverse groups trained to service a variety of backgrounds. Tutors work one-on-one with students and others through in-person and online sessions. The program's development focuses on taking students traditionally placed on the margins and putting them in the center. 
"If we serve students who are marginalized, we do a better job at serving all students," Savini said. 
Staff members work on designing the Center's appeal to constructive teachings through the Black Lives Matter Flag, the Pride Flag, a chart explaining gender pronouns, and posters supporting feminism. Design plays an essential role in supporting the idea of inclusion, diversity, and equity. 
"Linguistic prescriptivism is one of the back doors of discrimination that remains open. If we teach people its detrimental effects, when they are in dominant positions, they are more prone to look past language because they've learned that it's a prejudice. These changes on Westfield State University's campus will lead to changes students take with them to the outside world," Savini said. 
Learn more:
Make an appointment with the Reading and Writing Center