To recognize Black History Month, President Thompson pens column for Springfield Republican newspaper on 'firsts'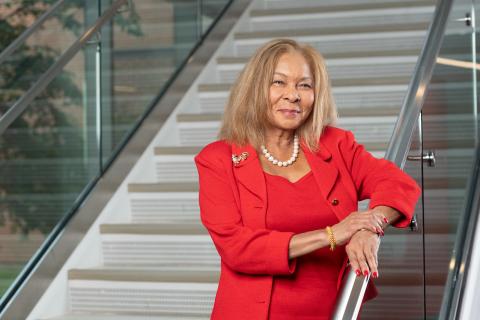 In her monthly column for The Springfield Republican newspaper, President Linda Thompson recognizes Black History Month by outlining 'firsts' in Black leadership.
As we celebrate Black History Month, acknowledging the struggles and victories of Black America takes us back centuries, but the "firsts" for Black Americans in government, business, academia and athletics are still coming.
Earlier this month, as the 118th Congress assembled in our nation's capital, Rep. Hakeem Jeffries, D-N.Y., made history as the first Black lawmaker to lead a party in Congress. As Democrat House Minority Leader, Jeffries succeeded Nancy Pelosi, D-CA, who retired as speaker in the prior session of Congress.
Founded in 1636, Harvard University recently appointed its first Black president, Claudine Gay. Last year, Ketanji Brown Jackson was confirmed as the first Black woman to serve as a justice of the U.S. Supreme Court. Also last year, speedskater Erin Jackson made history at the 2022 Beijing Winter Olympics as being the first Black woman to win an individual medal at the event. In Maryland, Democrat Wes Moore was elected as its first Black governor. Late last year, President Biden appointed, and Congress confirmed, Gen. Lorna Mahlock as the first Black woman to serve as a two-star general in the Marine Corp. Earlier this month, Kyra Harris Bolden was sworn in to become the first Black female justice to serve on the Michigan Supreme Court.
Bolden said to a reporter, "It's absolutely unacceptable that in 2022, we are just now having the first Black woman on the Michigan Supreme Court."
Bolden raises a fair point. While we may view these "firsts" as a victory for diversity and inclusion in America, some may say, what has taken so long?
It should be noted, as the 21st president of Westfield State University, I am the first Black woman to serve in this role.
At Westfield State University, we strive to uphold the mission and values of our founder, Horace Mann. Established in the normal school tradition during the 19th century, Mann founded our institution with the intent that students of any creed, color, gender, or financial standing could have access to a quality education.
We continue our mission to be an inclusive, engaging community. Our Justice, Equity, Diversity and Inclusion Division works throughout campus and our community to build an environment that is welcoming to all, regardless of their identity and background. We promote programs that cultivate a vibrant and multifaceted, inclusive community. We work to build relationships, appreciating and celebrating the perspective of others, and using the powerful tool of education to create understanding through a cohesive and inviting culture. While there continue to be "firsts" in our society, we are determined to build on those innovations, making diversity in leadership a consistent and familiar part of our lives.
Our dedication to IDEAS, innovation, diversity, engagement and advancement represents a solid vehicle to serve our students. We will tailor our programs, classes, events and celebrations with IDEAS in the forefront, creating an environment that will offer our business community and government skilled contributors to advance their goals.
In pursuing our goals, we are challenged by some individuals and groups who wish to drive our culture into various segments. It is those people and groups that will set our nation in the wrong direction. The task of individuals who represent "firsts" of our country is blazing and widening their trail for others to follow. At Westfield State we intend to cultivate and enlighten our students to become leaders and strong contributors in their chosen path.
To effectively flourish as a Democracy, we must recognize the critical need to include all voices, genders, ethnicities and perspectives. As a driver of higher education, Westfield State is committed to advancing the necessary voices to make Democracy reflective of the people it serves. Understanding, appreciating and respecting our differences drives us closer as human beings. It creates a stronger sense of humanity.
This must be our primary goal.