Students and Faculty Contribute at the National Conference on Undergraduate Research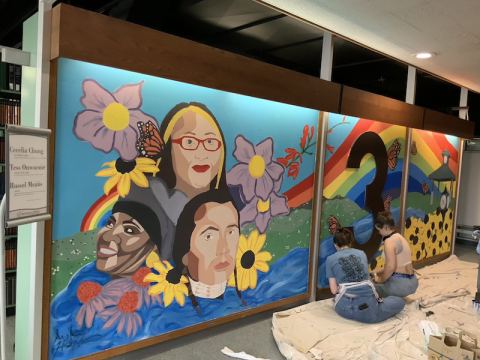 The importance of creating and facilitating collaborative opportunities for faculty, staff, and students to pursue research and creative scholarship cannot be overstated. 
Each year, the Council on Undergraduate Research (CUR) selects a host university as the setting for the National Conference on Undergraduate Research (NCUR). This year, the University of Wisconsin – Eau Claire showcased the scholarly work of more than 4,000 students and faculty-administrators who provide innovative and creative approaches to engaging students in their work. 
Unique to NCUR this year were special collaborative artistic projects that include diverse teams of students to produce original work in dance, music, theater, literature, and mural projects.
Two WSU art students, Jules Cullinane and Jacob Paddock, along with 5 other nationally selected students, received the honor of creating collaborative murals on the campus of UW-Eau Claire.  They worked collaboratively to create mural designs focused on equity, diversity, and inclusion.
Founded in 1978, CUR describes its mission and purpose as an "organization of individual, institutional, and affiliate members from around the world that share a focus on providing high-quality and collaborative undergraduate research, scholarly, and creative activity opportunities for faculty and students."
More than 700 institutions, including Westfield State University are members of CUR, engaging in shared opportunities to advance undergraduate research.  
"Jules and Jacob are impressive and unique artists who are worthy of this prestigious selection. It is impressive that two out of the seven students chosen nationally are from Westfield State University and it speaks to the quality of our Art Department faculty and program overall," Jarvinen said.
"It was an incredible experience being at NCUR and I learned so much about my craft," Cullinane said.  "I learned more than I could have imagined throughout this process; how to work on a new surface, with a new medium, at a scale like never before. Importantly, I learned how to properly communicate, how to let someone else take charge when it was necessary, how to voice my opinion and share my ideas respectfully, how to ask for help when I needed it, and most importantly how important what I do is to the world."
In addition to Cullinane and Paddock, Stacy Rodriguez, a Biology major was selected to attend the conference as a future researcher.
"Attending the National Conference for Undergraduate Research was an unforgettable experience that expanded my knowledge and passion for the field of research," Rodriguez said. "As a biology major, I was ecstatic about the opportunity to witness the incredible work of fellow undergraduate researchers. The conference proved to be a melting pot of academic knowledge, ideas, and innovation. It was fascinating to see how the different fields of study complemented each other in creating a diverse and intellectually stimulating environment. The experience left me feeling energized and inspired to pursue further education and research opportunities."
Paddock expressed similar feelings on the event: "I believe this opportunity allowed for several important doors to open, it has gotten me in contact with several artists in several parts of the country and has allowed for me to work with other artists in an ambitious and collaborative manor. This opportunity also allowed for me to work at a scale that had never occurred to me, the mural spans roughly 18ft across and 8ft upwards, this of course had its challenges. It required teamwork between the muralists and creative innovation to complete our goals," Paddock said.
For more information on CURCA. 
See additional information on the Council on Undergraduate Research.