Theatre festival creates opportunities for students to gain experience, knowledge to advance future careers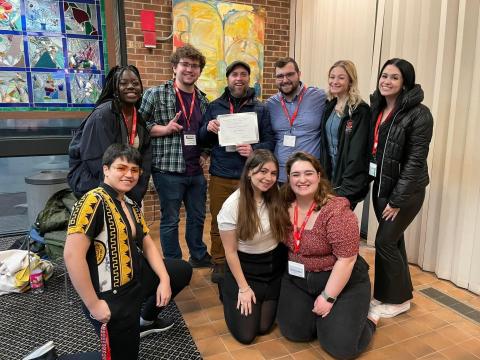 For students participating in the Theatre Arts Department and Student Theatre Association the Kennedy Center American College Theatre Festival is a solid step in providing experience and confidence that will likely create opportunities to advance future careers. 
Taking place at three locations, The Hyannis Resort and Conference Center, The Cape Codder Resort and Spa, and Cape Cod Community College, the 55th annual regional festival offers students the opportunity to move on to a national event further showcasing their talents.
With 12 students representing Westfield State, The Kennedy Center Festival offerings include over 150 workshops from accredited theater artists, five invited productions, and internships in various fields.
Westfield State had two students in the Musical Theatre Scholarship program. Amber Thetonia (Art '24) who was nominated for her performance as Rita LaPorta in WSU's Spring 2022 production of "Lucky Stiff" and Hannah Bruno (Music '25) who was nominated for her performance of Mae in the fall 2022 production of "Andrew Lippa's Wild Party".
WSU student Ricky Hartford said the festival provided real-world experience that created a better understanding of the industry.
"I really enjoyed the privilege of being able to see all the invited productions, all of which I adored, and it gave me more of an in-depth view on how the industry actually treats professionals in theater and film. It also showed the kind of strength and tenacity that can be needed to survive a world like that," he said.
Students also compete for the Irene Ryan Action Scholarship which hosts nearly 200 participants. This process involves multiple rounds with the first being done through self-tapes. The competition evolves through three rounds narrowing final student participation to 10.
This year WSU had five students auditioning for the Irene Ryan Scholarship. Nominated from Harvey (WSU STA Spring '22): Melina Garcia (Theatre '24) for her performance as Elwood P. Dowd. Nominated from WSU TAD Spring '22 "Lucky Stiff": Adrianna Fawkes (Elementary Education '24) and Owen Snyder (Theatre '22) for their roles as Annabel Glick and Harry Witherspoon, respectively. From "Lippa's Wild Party" (WSU TAD Fall '22): Nick Dumais (Music / Theatre '25) and Madelyn Traynor (Theatre / English '23) for their performances as Burrs and Kate, respectively.
They were supported by their scene partners: Ricky Hartford (Art '25), Priscilla Oluokun (Music '26), Julio Colon (Theatre '24), Dani Smith (Music '26), and Carolyn Abraham (History '24).
WSU also received an award on the tech side: Carolyn Abraham received the Don Childs award for Cross Discipline Collaboration for her work as the Stage Manager for "Lippa's Wild Party".
Madelyn Traynor appreciates the way participants share an understanding of what it means to work in theater arts.
"This is my second Kennedy Center event, and my favorite part will always be getting to meet other students who are working to make this a career. The joy and laughter as we share stories of our journey will never not be amazing. I have loved every second of learning and growing with others who understand exactly what I am going through," she said.