Westfield State Community Members Participate in Notecard-a-Thon to Help Raise Funds for Investment and Data Analytics Lab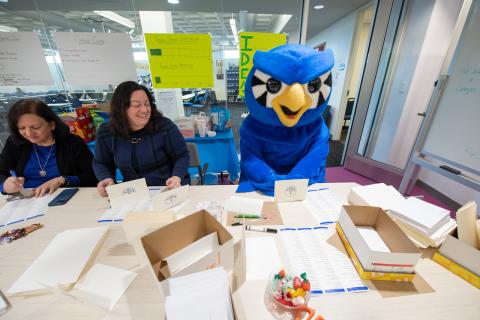 On March 9, 2023, Westfield State supporters including students, faculty, staff, and alumni, focused their attention on the University's desire to outfit a new classroom opportunity that would enhance student learning. As a kickoff to the annual day of the giving, "Give a Hoot" which is celebrated on March 22 and 23, 2023, the Notecard-a-Thon highlighted what such a space could mean for the Owls.
Dr. Rebecca Morris, Associate Dean of the School of Business, Mathematics, Computing, and Sustainability, describes the proposed lab as a "game-changer." The lab will be a source of tremendous learning which will help graduates "be even better prepared for success in the real world."
"With the implementation of the Investment and Data Analytics lab," Morris notes, "students will learn how to use the same software used by investment banks, money managers, and hedge funds. They will also be able to earn Bloomberg certifications which are micro-credentials that will help to increase their prospects for future employment."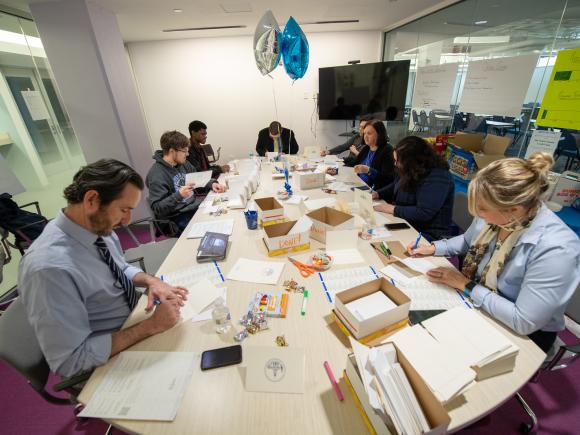 Current student Daniel Currier '25, Vice President of Finance in the Student Government Association and student representative for the Westfield State Foundation, expressed his own motivations for helping to organize the event, stating that much of it stems from the hope Westfield State will thrive for years to come. "By working to fundraise for this project and developing notecards to potential donors, we are ensuring that the leaders of tomorrow have access to the materials they need to be successful."
In his statements, Currier also mentions how the donated funds will be used in the maintenance of the Investment and Data Analytics lab on campus. He talks about the new space, and how it will allow Westfield State students "to engage more fully with the course material" in addition to "utiliz[ing] the technology used by professionals in the field."
The goal for the Notecard-a-Thon and Give a Hoot campaign is to raise approximately $25,000 for the Investment and Data Analytics Lab. Community members are encouraged to contribute or support similar efforts for innovative educational growth at Westfield State. Donations will be accepted beyond the annual day of giving.