Westfield State MPA students present research projects at Capstone Symposium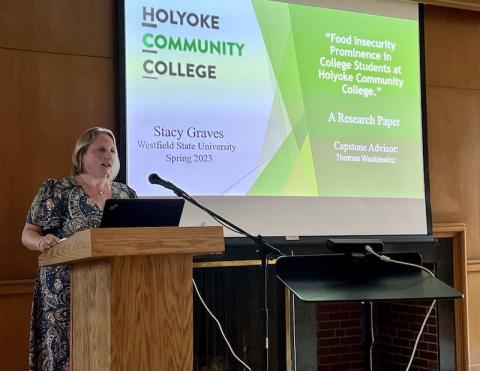 Westfield State University's Master of Public Administration program, directed by Professor Dr. Charles DiStefano, recently showcased student projects in their Capstone Symposium. The Westfield State MPA program prepares students for careers as leaders in government and nonprofit organizations.
As part of their final graduate experience, all students in the MPA program are required to complete a Capstone Project. The projects are tailored according to the student's area of concentration and career goals and requires original research. Throughout the year, students meet periodically for Capstone Workshops to share their work in progress and present their final project in a public forum. 
Five projects were showcased at the May 12 and 15 symposium which focused on regional and state-wide issues that impact the lives and well-being of community residents.  
In the project, Municipal Police Response to Mental Health Calls for Service in Low Population Jurisdictions,under the guidance of Professor Kimberly Tobin, students Matthew Carl, Nicole Devlin and Julia Knowles identified the pros and cons of current law enforcement response to individuals with mental health and addiction concerns. Their findings aimed to establish realistic practices for small suburban police responses through analysis of the effectiveness, efficiency and sustainability of a mental health team and law enforcement officers who are trained in crisis intervention techniques. They also investigated whether intervention trained officers can more effectively handle calls than those who have little, or no training.
Student Donald Ganley with guidance from advisor Professor Kimberly Tobin examined the Massachusetts winter of 2015 and how the Massachusetts Emergency Management Agency (MEMA) helped local communities across the state recover. In the project, How MEMA helped the State of Massachusetts recover from the 2015 winter,  Ganley's case study focused on the history of emergency management, established guidelines surrounding disaster events, and how these guidelines related to the 2015 winter. In 2015, Massachusetts communities, and throughout New England, experienced record-breaking snowfalls.  Using public records and preexisting research, Ganley assessed whether MEMA did everything in their power to help the state recover.
In the project, The Prominence of Food Insecurity in College Students at Holyoke Community College, researcher Stacy Graves, with guidance from advisor Professor Thomas Waskiewitz, examined how the COVID-19 pandemic impacted community college students. While little research has been conducted on this topic,  Graves' research, through student surveys and interviews with HCC administrators, found more more can be done to assure the appropriate resources are available for HCC students.
The project, A Case Study on the Response Models to Mental Health Calls in the Town of Amherst, Massachusetts, by student Lindsay Carroll, advised by Professor Michele Wolf, explored the various methods of response to mental health calls in the town of Amherst. The town has recently created a civilian response unit, called the Community Responder's for Equity, Service and Safety (CRESS), that aims to take over the response to these types of calls. Through an examination of data from sources including CRESS, the Amherst Police Department, and a local clinician who responds to calls with police, Carroll's study provided a recommendation to the town for the best combination of services for residents and responders.
Student Alex Meisner, advised by Professor Charles DiStefano, focused on: Police Chiefs in Massachusetts: A study of Hiring Practices. This capstone looked to analyze and find patterns in police chief hiring and selection favorability. In the research, two governmental forms (Board/Administrator and Council/Mayor) were studied. The question asked is if one form of government will hire a certain type of police chief over another. A search of 42 Massachusetts municipalities was conducted to gain an understanding of these municipality's selection process and the key variables that come in to play for their hiring.