Westfield State Prof. Felicia Barber publishing her first book on use of dialect in spiritual genre of music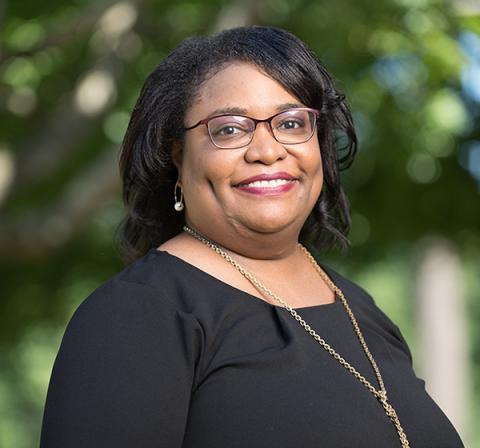 A book launch and signing will be held on Oct. 29 for Westfield State University faculty member and Choral Activities Director Felicia Barber, Ph.D., who has penned her first book.   
Barber's book, A New Perspective for the Use of Dialect in African American Spirituals: History, Context, and Linguistics (Roman & Littlefield, 2021), investigates the use of African American English (AAE) dialect in the musical genre of the spiritual. The book traces the history of the dialect, its use in early performance practice, and the sociolinguistic impact of the AAE dialect in the United States. Along with a synopsis of research on the use of dialect in spirituals from the past century, the book also identifies the phonological and grammatical features identified in early practice. (Spirituals are a type of religious folksong most closely associated with the enslavement of African people in the American South.)    
The book, available on Amazon, represents research on the use of AAE dialect within the text of spirituals. In addition to the findings, it gives practical recommendations for applications for both conductors and performers alike.
"This book and research on the AAE dialect found in the texts African American Spirituals and its linguistic approach have frankly never been done," said Barber, an associate professor of music at Westfield State. "My research establishes early performance practice on the use of the dialect in a three-pronged analysis: an analysis of early researchers, written scores and collection (early as 1867), and early sound recordings (as early as 1893)."   
Barber shared that her book is a worthy read because "it provides teachers and performers with the history and context of early performance practice in regard to the use of AAE dialect in spirituals, then provides a practical application that may inform current practice."  
As part of the book launch, which starts at 5 p.m., Barber will host a research presentation followed by a community singing of excerpts of spirituals (6 p.m.) and a question-and-answer session (6:30 p.m.). Barber will sign books and host a reception at 7 p.m. The event will be held in room 127 of the Catherine Dower Center for the Performing & Fine Arts, 715 Western Avenue, with the book signing/reception in room 120. The public is welcome to attend. (Please note that individuals are required to wear masks inside Westfield State University buildings.)  
In addition to her responsibilities at Westfield State, Barber serves as the president of the Massachusetts American Choral Directors Association (ACDA), a nonprofit music education organization that promotes excellence in choral music through performance, composition, publication, research, and teaching.    
Through the ACDA, Barber has presented her research in regional and state professional development conferences to choral music educators throughout the United States and Canada. Her area of expertise includes choral teaching strategies, repertoire selection, diversity initiatives, and the performance practice of African American Spirituals.