Westfield State Professor Catherine Savini's linguistic racism research featured in national media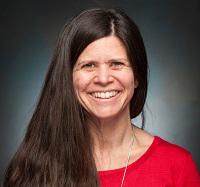 An article written by Catherine Savini, Ph.D., Westfield State University professor of English, coordinator of Writing Across the Curriculum, and director of the Reading and Writing Center, was recently featured in the national publication Inside Higher Ed. Savini's article—"10 Ways to Tackle Linguistic Bias in Our Classrooms"—focused on the many problematic elements of linguistic bias she has encountered as an educator.
"I've learned that it is pervasive and that it is extremely damaging," said Savini. "Linguistic bias can lead students to feel as if they don't belong at the university. We don't want this to be the case but it is."
"Language, after all, is a central component of our identities. Our assessment practices typically don't reflect our stated desire of including all students," Savini explained.
Transdisciplinary teacher-researcher-activist Dr. April Baker-Bell, Ph.D., associate professor of language, literacy and English education at Michigan State University, defines linguistic racism as "any system or practice of discrimination, segregation, persecution or mistreatment of language based on membership in a race or ethnic group."
"The impact of linguistic racism extends beyond education," said Savini. Included in her article is an example of an urban planning student who later admitted to learning how to separate dialects from intelligence, following the reading of Vershawn Ashanti Young's essay "Should Writers Use They Own English?", published in the Iowa Journal of Cultural Studies in 2010.
According to Savini's article, this student described the predisposition held during public meetings, where predominately White planners were given the opportunity to discuss their ideas for predominantly Black and Latinx communities. Prior to reading Young's article, the student said, "I would have dismissed many of the communities' concerns because they didn't sound intellectual."
"Linguistic racism perpetuates systemic inequities beyond education, in housing, and in the justice system... Most of us (including me!) are guilty of making assumptions about people based on how they communicate and those assumptions can be based on racism, classism, sexism, all the isms," Savini explained.
After 20 years working in writing centers, Savini couldn't deny the negative impact of linguistic racism on students. "It's not just speakers of BVE [Black Vernacular English]; multilingual students have told me that if they are talking with a peer in their native language, they switch to English as soon as they enter an academic building," she states in her article.
"But we must teach students to write standard academic English, and we must mark them down if they do not meet those expectations—otherwise, they will not succeed in the real world, right? That is the traditional argument in favor of requiring all students to write in standard academic English in the classroom," her article states.
Through "10 Ways to Tackle Linguistic Bias in Our Classrooms", however, Savini debunks this requirement. Her extensive list of recommendations offers an array of advice to create not only more room for dialectical diversity in the classroom but also how to "combat linguistic prejudice by revealing it."
The publication of her article is yet another reminder of the importance of awareness.
"Even though I've been reading and teaching about this topic for years, I still catch myself making those assumptions because they are so deeply embedded in our culture. Like most issues, the first step is awareness," she states in the article. "Because linguistic bias is so normalized, it took me a long time—too long—to apply my awareness of its existence to my practice, and I think we need to hurry this process along because the stakes are high."
As Westfield State University strives to become a Hispanic-Serving Institution (HSI)—dedicated to expanding educational opportunities for, and improving the attainment of, Hispanic students—curricular and pedagogical reform in all areas of study, Savini believes, is "imperative."
"WSU will need to be more inclusive of Spanish speakers if we are to become an HSI. This means creating bilingual materials, reforming the curriculum, hiring more bilingual faculty and staff, and creating classroom spaces that value diverse dialects and languages," Savini explained.
Multilingualism can be valued through a vast array of writing-to-learn assignments, Savini believes. Professors can ask students to write in their native languages or dialect, stop assessing students based on standard English, integrate a syllabus statement that explicitly values multilingualism, and teach students about how linguistic racism is manifested in the discipline.
"One of my students, who is from Puerto Rico and speaks Spanish, suggested that professors invite students who are conducting research to find articles in their home languages," Savini explained.
It was this "terrific idea," Savini said, that suggested perhaps multilingual students should be asked what challenges they are facing and what they need and want.
"Too often students who are not native English speakers are perceived as a problem that needs to be fixed; the suggestions I provide here help us make an important shift away from a deficit approach to an asset approach," explained Savini.
"Many amazing professors at WSU are adjusting their teaching to be more inclusive of diverse languages and dialects and to address issues of linguistic racism in the content areas of their courses," stated Savini, who earned a bachelor's degree in English from the University of Massachusetts Amherst, and a Ph.D. in American literature from New York University.