Westfield State Reaches Out to Community in Thrills N' Chills Halloween Event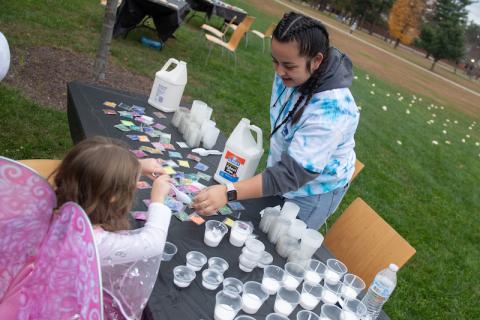 In preparation for this Halloween, Westfield State hosted Thrills N' Chills, this year's spooky event which consisted of several functions over the course of last weekend, including an interactive haunted house. The haunted house was held at Lammers Hall on campus and featured frightening decorations along with scare-actors dressed in monster costumes.
The event spanned Saturday and Sunday, with each day being dedicated to Westfield State students and the town of Westfield respectively. "It was a mutually beneficial event that allowed our students to get more involved while also providing a good time for the community at large," said Aiden Betit, member of the Campus Board Activities executive team. "We think it's important to reach out the town of Westfield to get them interested in the University."
The Campus Board Activities (CAB) program is a division of Student Activities, Involvement, and Leadership (SAIL), and is largely responsible for the planning and hosting of campus-wide events such as Fall Fest, Owls Give Back, Relay for Life, and Spring Weekend. In addition to the CAB executive team, there are various volunteers who help put events together, who are affectionately referred to as "cabbies" by those in the program.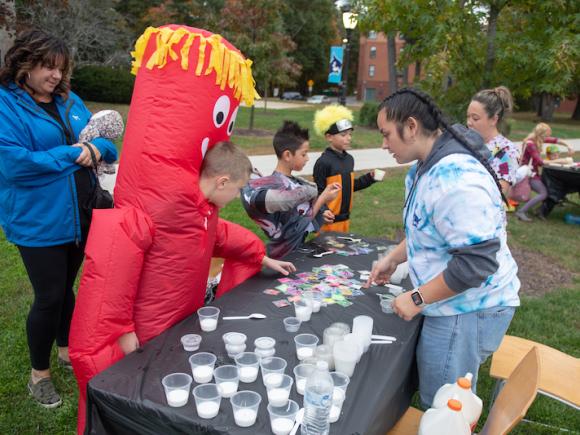 "Cabbies put a lot of work," Jules Cullinane, fellow student and member of the executive team said. "Last year we had a lot of first-year students participate and volunteer with us, and they talked about feeling a sense of belonging, involvement, and leadership in the program. CAB is mostly student-run. Ashley Ewick is our boss, but our friend too, and she helps us with planning. As much as we have these great ideas, she knows how to make them happen, so she guides us in the right direction. So does Matt Dellea, the Director of SAIL."
Ashley Ewick, Coordinator of Student Activities, helped organize Thrills N' Chills by advertising the event to Stefan Czaporowski, Westfield's superintendent, urging all of those interested in nearby schools to join in the festivities. "We made sure that we invited everyone to participate in something that will hopefully be a long-time tradition," she said. "CAB is a unique program because it's building relationships with both the campus and the town itself."
For the haunted house, there were alternative activities for children in the community who wanted to participate in other ways, such as coloring, pumpkin decorating, bubble blowing, and trick or treating. "I remember going to these events as a kid, so I personally enjoy running them now and helping my community," Cullinane said. "I worked at Six Flags as a scare-actor last year, and I couldn't wait to do this haunted house. I'm a licensed stilt performer, so I would go outside the haunted house and run outside with the kids. Sometimes monsters are scary, but they can also be fun. I enjoyed it a lot."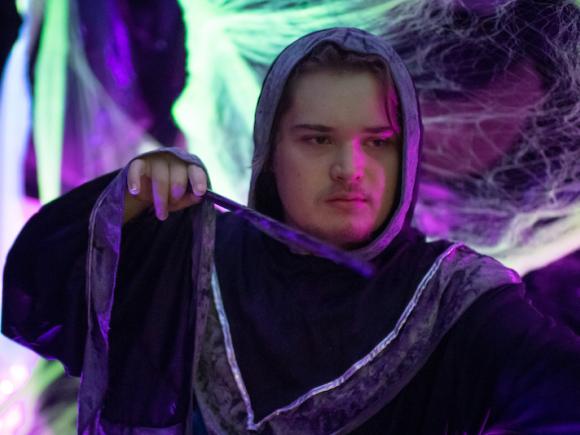 "We also had different colored light sticks based on people's tolerance for jump scares," Kaolin Westcott, student and member of the CAB executive team said. "Some kids might be a little younger or might not want to be scared as much. That was my favorite part when I was a kid, just having that option."
"We were much scarier for the student haunted house," Betit added. "For the community, it was a bigger event with arts and crafts. It was also raining the day the students came, so we focused on the haunted house and made sure it was extra scary and memorable for them. Students enjoyed it, and I personally thought it went amazing. It was my first time as a scare-actor, and I did all right!"
Cullinane emphasized the importance of events such as Thrills N' Chills and highlighted the broad need for community-based support. "I grew up with a single mom, and these events were so beneficial to me as a kid," Cullinane said. "Having something to do that was free for my mom was super important. I'm so grateful to be able to do that for other people. To think that you brightened a kids' night, who may not normally have the opportunity because of money or time… being available like that, was a cool feeling."
Betit encourages students who may be interested in CAB to volunteer, as it helps to develop planning and organizational skills, as well as a sense of friendship. "Anyone is welcome to join CAB. We have weekly meetings, and it's a good time. We love when people in our community get involved. We welcome it."