Westfield State University students participate in Model United Nations simulations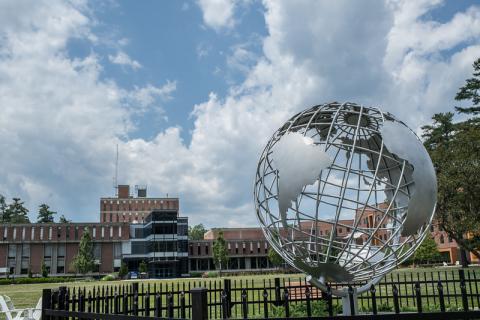 Students from Westfield State University's International Relations Club participated in two virtual Model United Nations (UN) simulation events in Montreal and New York City this semester. The annual events bring together students from all over the world to represent future diplomats, politicians, and activists.  
Joseph Joyal, a senior economics major and IR Club member from Agawam, describes the Model UN process as "the hidden gem of Westfield State." Joyal attended Model UN sessions the past two years and this year's Montreal event. 
"The incomparable experiences that we gain from participating in these models cannot be overstated. The Model UN allows you to take on an international perspective of issues that force you completely out of your comfort zone," he said.  
While McGill University sponsored the January event, the United Nations sponsored the most recent online simulation, which was held last month. Westfield State's student representatives were: Mariam Aydah '21, Iyanu Doxy '22, Amanda Jefferson '24, Joseph Johnston '22, Ben Levy '24, Kyle Rourke '22, Ariana Torres '21, and Melanie Voss '21.  
Voss, a political science major from Wrentham, Mass., believes that having access to Model UN opportunities as an undergraduate will serve her well in the future. 
"The experience gained in Model UN is unique," she said. "It's an opportunity to learn about foreign policy and other countries in a situation where you feel included. It also allows you to get into the minds of these countries and their UN delegates."  
Johnston, a business major from Agawam, was initially worried about the online format, having attended other Model UN simulations in person during his time at Westfield State.  
"After all, it is such an interactive event where you must communicate with your peers constantly and effectively," he said. "I didn't think that we would be able to do that under the circumstances" he explained. "However, I was proven wrong. Both models we attended this year seamlessly adapted through two virtual platforms." 
Johnston explained that there were many new faces at the simulations this year and said there was "nothing but admiration" for the students who took this year's unique challenge head-on. 
The McGill University simulation—referred to as "McMUN" (McGill Model United Nations Assembly)—has solidified itself as one of Canada's premier Model UN conferences. For over 30 years, students have worked together on platforms for debate, diplomacy, and problem-solving strategies.  
Westfield State's International Relations Club's responsibility is to represent African countries at the events.  
"While this can be a challenge, as many of these countries are undersized and underdeveloped, it forces us to be scrappy," Joyal said. "Our program has something of a chip on its shoulder, coming from a relatively small state university and going against Ivy League and international students. In order to achieve our agenda, we form alliances with other small countries who have shared interests, and we are extremely crafty with our wording in drafting clauses to get them onto resolutions."  
Joyal believes the committee work they do—such as the solutions reached regarding international banking, border disputes, and sovereignty—is important, but it is also the conversations with the people met at the conferences that can affect the participants the most.  
Reflecting on past in-person events, Joyal cherishes memories of meeting students from all over the world. 
"Students from more than 50 countries attend the Harvard and McGill Models," he said. "I have made friends from Ghana, who I would chew on raw cacao and talk about rigged elections with." 
This year's online format has been challenging, but—after taking inspiration from the ongoing COVID-19 pandemic—students are working toward developing solutions to global problems.  
"While we missed the interaction and connections we typically make, we still got a lot out of it this year," said Joyal. "We dive deep into researching the issues affecting our country. In fact, COVID-19 has provided a unique experience in the models as it affects every aspect of international relations. How does the shutting down of borders affect refugees? Or hurt the economic output of developing countries? These are questions that we get to explore with a wide variety of students." 
Westfield State Political Science Professor Brian Steinberg, Ph.D., accompanied the students to each virtual event. 
"The nature of our model UN work involves intense lectures within a tight time framework
as our model UNs act as labs to the Comparative Foreign Policy course," he said.