Westfield State's Annual Club Fair Celebrates Over 30 Clubs and Organizations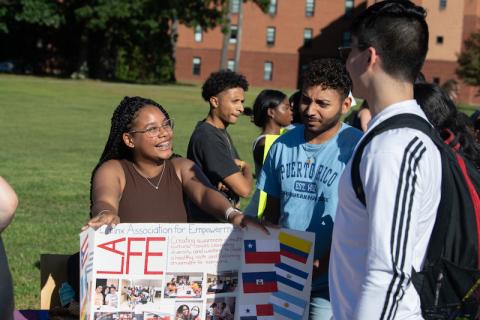 Last week, Westfield State University hosted its annual club fair, an event for new and returning students to explore the various activities offered on campus. With over 70 recognized clubs and organizations, Westfield State holds a vast assortment of hobbies and interests in which students can participate. This year, the club fair was held on the Campus Green, with clubs presenting booths and posters advertising information on how students can get involved.
Because community involvement and participation are integral steps to attain the Owl experience at Westfield State, club fairs provide the opportunity for students to engage with resources, peers, and activities outside of their traditional, academic journey. The Presence application has made it easier for users to gain knowledge about events on campus, and students were encouraged to use the app after signing up with a club or organization.
Kaolin Westcott, Student Government Association (SGA) Vice President for Finance, commented on the club fair, discussing how she and other members of the SGA were helping to prepare organizations advertise their club.
"We have been working with pre-established clubs, reactivating clubs, and new clubs over the past week in preparation for the event," Westcott said. Those in the Student Government Association even hosted a poster making event for interested clubs, allowing them to "make posters that represent their club, which will build up more excitement for the fair."
Westcott also noted her own excitement about the event, explaining how she hopes that the clubs will inspire students to connect with each other as they finish settling in and adjusting to their new schedules.
"We are expecting over 30 clubs with more than eleven, part-time employers to be represented at this event. We are hopeful that this will lead to increased engagement by students across campus and will allow those interested in finding off campus opportunities to do so."