Westfield State's interim president to speak at University's AAPI Heritage Month event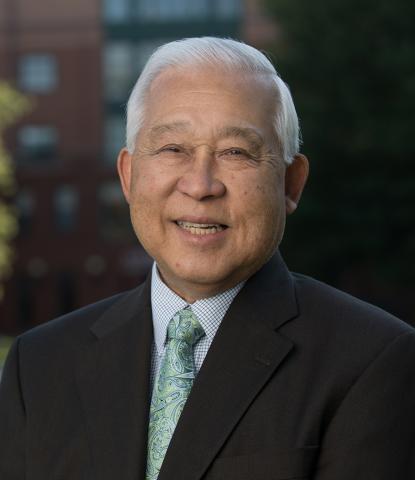 Westfield State University Interim President Roy H. Saigo, Ph.D.—a Japanese American internment camp survivor during World War II—will deliver a talk Monday, April 5, as part of the University's Asian American and Pacific Islanders (AAPI) Heritage Month.
The Westfield State University Education Department (WE) Anti-Racism Education (ARE) Project will host the event, during which President Saigo will reflect on his experiences as a Japanese American and an internment camp survivor—and how his community identity has shaped his work and leadership. His talk, titled "Truth in History, Positionality, and Solidarity in Practice: A Leadership Dialogue with President Saigo," will be held from 10:30 to 11:30 a.m. via Zoom. (Please register to attend this event.)
"By honoring President Saigo's lifelong experiences—including his personal and family experiences of Japanese American incarceration—we hope attendees will learn about this important part of United States history," said Juliet Lee, Ph.D., assistant professor of education at Westfield State and one of the event's organizers. "We also hope they will take away insights on intersectionality, positionality, and solidarity, in hearing the ways President Saigo's racial, ethnic, political, and cultural identities inform how he engages in leadership in our communities, including Westfield State."
Added event co-organizer Andrew W. Habana Hafner, Ed.D., associate professor of education at Westfield State: "This will be an invaluable chance to listen and learn about education and leadership."
Saigo is a first-generation American born to working-class Japanese immigrants. Born in California, he was 16 months old when Japan attacked Pearl Harbor on Dec. 7, 1941. Upon President Franklin D. Roosevelt's signing of Executive Order 9066, he became one of approximately 120,000 people of Japanese descent (mostly U.S. citizens, about two-thirds were children) removed from the West Coast and exiled to internment camps in nine states. Isolated from the rest of American society, they were forced to live in brutal conditions.
"My family and I were considered the enemy because of how we look," said President Saigo, who explains that his passion for providing opportunities for underrepresented students of color and other marginalized populations were first inspired by his trying experiences as an imprisoned youth.
More than seven decades later, beyond the farmland of California he worked with his immigrant father and after 53 years of service to higher education, Saigo has been president of four colleges and universities, including his appointment at Westfield State last summer.
"My father told me, 'If you don't like farming, you need to get an education, because that's one thing they can't take away from you,'" said President Saigo. "So, from my own personal experience, affordable education is the one sword that will help you help yourself, your family, and society. As such, it needs to be available to all people, from all walks of life, regardless of income, social class, gender, religion, ethnicity, and/or race—just as Horace Mann, Westfield State's founder, intended."
The April 5 event's intent is to help raise attendees' understanding, awareness, and support of the APIDA communities, according to the organizers.
"In solidarity with racial justice movements, we aim to highlight the positionality and cultural experiences of the APIDA communities, which are so often overlooked, misunderstood, and overshadowed; including the historic Southeast Asian immigrant and refugee communities of Massachusetts," said Professor Lee.
Added Professor Hafner: "As we witness the historic leadership of Vice President Kamala Harris, of Jamaican and Indian immigrant roots, we hope to learn with our students and colleagues about intersectionality and positionality of racial identities and understandings of U.S. democracy-in-progress."
This AAPI Heritage Month event comes on the heels of Westfield State's launching a Racial Equity and Justice Team and joining the Leading for Change Higher Education Diversity Institute Consortium, pledging to help dismantle systemic barriers to opportunity and combat injustices faced by communities of color. The team is guided by the 33-member Consortium, whose goal is to close opportunity gaps in higher education. Based at Bridgewater State University, the Consortium is a voluntary collaboration of public and private colleges and universities in Massachusetts and throughout New England committed to identifying student and employee diversity best practices through uniform and transparent use of data, institutional benchmarks, and reflective practice.
Despite President Saigo's achievements and accomplishments, he says he will never forget his past and the hardships and acts of racism he and his family, friends, and colleagues faced. Of concern as well are the thousands of recent reports of bigotry and violence toward Asian Americans, fueled by the news that COVID-19 first appeared last year in China. He often shares his personal story with students at local middle and high schools as well as at Westfield State.
"For me, World War II has continued for more than 70 years," he said. "Every generation has to be taught empathy; it doesn't become part of your DNA. Because very few of us who were incarcerated are still alive, I will continue to talk about my personal story and speak for those without a voice.
"I believe that education is a strong part of building a better society," added President Saigo. "At Westfield State University, we strive to be sensitive and welcoming to everyone. We are committed to providing creative ways for students, staff, and faculty to learn from one another, engage deeply, develop understanding across differences, and grow."
Contact:
Lorraine U. Martinelle
Communications Officer
lmartinelle@westfield.ma.edu