Arbor Day Tree Planting Promotes Ecological Wellness on Campus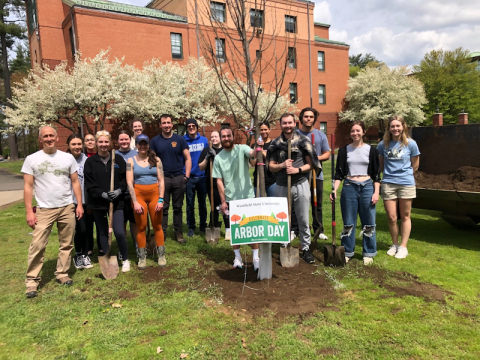 In order to promote environmental wellness along with green, sustained living, Dr. Tim Parshall, Professor and Chair of the Environmental Science Department is looking to make Westfield State University a "Tree Campus."
"Trees provide a wide range of benefits," Parshall said in a recent interview. "From sequestering carbon dioxide from the atmosphere, improving air quality, positively impacting mental health, and simply beautifying campus," he said.
Being designated a "Tree Campus" is a designation offered by the Arbor Day Foundation. The criteria consists of specific standards around a university's commitment to build a campus environment that celebrates the benefits of trees to our environment. 
The Environmental Science Department celebrated Arbor Day by planting trees around campus. Organized by Parshall, Joel Moser, and the Westfield State grounds department, five trees have been planted over the course of two weeks.
He also said the university has specifically chosen trees which impact pollinators, since Westfield State is recognized as a Bee Campus by the Xerces Society, which aims to increase the amount of native vegetation on university campuses, providing nesting sites as well as reducing the use of pesticides.
The collaborative effort of landscaping also helps bring together people in a communal way, fostering connectivity and promoting social and ecological activism.
William Guyette, an Environmental Science major who attended the tree planting elaborated on additional projects in which the department is involved.
"The ENVS department has been working on creating a pollinator garden outside the campus greenhouse to provide a space for local pollinators to find refuge and a food source during the spring and summer." Meanwhile, the Restoration Ecology class has been planting and raising plants throughout the semester, meaning they should start to bloom within the next couple of weeks.
For Guyette, the tree planting event was personal.  "It will be nice to be able to come back to campus in the future and see reminders of my time here at WSU growing in the heart of the green."
He added: "Participating in this type of activity on campus is something that I would recommend for the entire WSU community to get involved with. Having more people become involved with these plantings or similar projects here on campus and their home communities would bring more beauty to both, and hopefully build a connection with the natural world that helps bring awareness to the challenges the world is facing with climate change."