Petrucci Family Foundation Collection of African-American Art acquires painting by Westfield State Professor Imo Imeh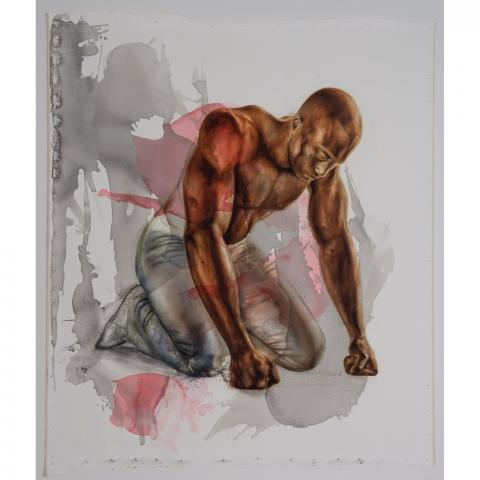 WESTFIELD, Mass.—The artwork of Imo Nse Imeh, Ph.D., Westfield State University associate professor of art and art history, has been added to the prominent Petrucci Family Foundation Collection of African-American Art.
The New Jersey-based foundation purchased Imeh's most recent painting, Feeding the Veins of the Earth (Grounded Angel), which is part of his Benediction series. This group of paintings envisions angels sent to Earth to be bonded to the skins of Black men and boys to bear witness to their traumas, triumphs, and lived experiences.
Completed in 2020, Feeding the Veins was created using oil paint, India ink, acrylic ink, and charcoal on unstretched canvas, measuring 100 x 84 inches.
"As stewards of African American art, we look for work that is technically skillful, intellectually engaging, and deeply moving," said Claudia Volpe, director of the Petrucci Family Foundation. "Dr. Imo Nse Imeh ticks every box in his practice. His Benediction series, in particular, caught our eye. We were struck by Imo's decision to depict Black men as angels and as God's direct witnesses to the gravity of living as a Black man in America during a time when it feels as though the struggles that Black Americans face are willfully ignored. Feeding the Veins of the Earth (Grounded Angel) elegantly captures the crushing weight of bearing witness to tragedy, as well as the critical need for these national wounds to be seen and recognized. It is our distinct privilege to include this remarkable piece in the PFF Collection."
Selected works from the Foundation's collection are exhibited in museums and galleries across the country, such as part of The Smithsonian's Traveling Exhibition in Michigan and Iowa; and at the Portland Art Museum in Oregon, African American Museum in Philadelphia, and The Wadsworth Atheneum in Hartford, Conn. It is a targeted initiative to bring focus to the range of African-American visual creativity and its essential place in the history and discourse of American art. The collection offers continuing proof that African-American art is integral to the rich tapestry of American creative tradition. It seeks to visually represent a cross-section of themes that speak not only to the African-American community but also to the broader American community.
Imeh noted how he was admittedly humbled and overwhelmed by the acquisition.
"I am thrilled that my work is part of this prestigious collection," said Imeh. "It joins the company of works by a host of illustrious and widely celebrated African and African Diaspora visual artists including Romare Bearden, Elizabeth Catlett, and Titus Kaphar, to name a few." Kaphar is a 2018 Fellow of the John D. & Catherine T. MacArthur Foundation, which included a "genius" grant of $625,000 to further pursue his creative, intellectual, and professional inclinations.
Westfield State University Interim Provost Juline Mills, Ph.D., expressed her and the campus community's pride in Dr. Imeh's academic and artistic accomplishments. "Westfield State is so fortunate to have such a talented, passionate, and thought-provoking artist among its dedicated faculty members," said Mills. "He aspires to make sense of a complex and sometimes senseless world. Dr. Imeh has made immeasurable contributions to the University and the worldwide community, especially through his art."
In addition, Imeh's work will be featured in an exhibition exploring the tension between Black identity and American patriotism/belonging at the Sigal Museum in Easton, Pa., beginning Nov. 19. Among the artists to be featured there is Kehinde Wiley, who painted Barack Obama's presidential portrait in 2018.
Furthermore, Imeh will contribute an essay about his work to an upcoming book about African American Diaspora. Titled Shifting Time, the publication is anticipated to be published in Fall 2022.
A talented visual artist and scholar of African Diaspora Aesthetics, Imeh authored Daughters of Seclusion: the Ibibio Aesthetic in the Staging of a Female icon (Peter Lang Inc., International Academic Publishers, 2012) and earned a B.A. from Columbia University and an M.A. and Ph.D. in art history, criticism, and conservation from Yale University.