S.A.I.L. offers opportunities for student involvement, leadership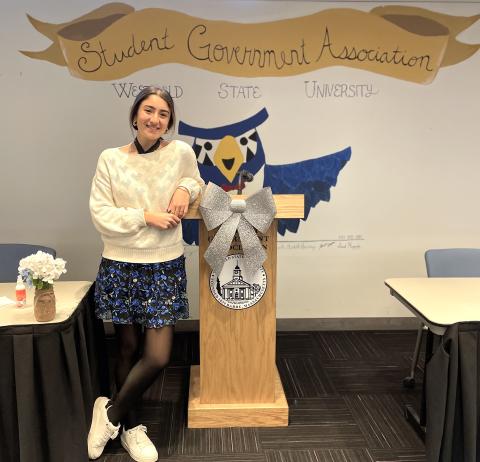 Student activities and events can create a sense of inclusion and promote diversity and engagement among students at many institutions of higher learning. Although students often feel stressors in their lives around their demanding academics, part-time jobs, busy social calendars, and personal development, being involved on campus can help them combat these pressures and prevent negative impacts on their wellbeing. According to Minga, a web service on enhancing student involvement on campuses,  "Events provide an opportunity to bring the outliers in, to build school spirit and create a sense of belonging."
Westfield State University's Student Activities Involvement and Leadership Program, also known as S.A.I.L, aims to nurture students' leadership skills through campus events and activities in line with these recommendations. In addition, it serves as a developmental space on campus for students to make an impact outside the classroom. The program comprises three main groups: Student Government Association, Campus Activities, and New Student Orientation. While each area in the department has its focus, they work in concert to bring students residing on and off campus together by creating a fun, engaging, resourceful, and positive environment. 
Laura Cafaro, Coordinator of Student Involvement says, "Campus community members have noticed that this is a hub area for students. We are the first people students go to when they need to find information."
S.A.I.L programs often teach student leaders how to advocate for their peers and share campus resources. Surveys asking students what they want to see on campus are placed near Dunkin' located at the lower level of the Ely Campus Center. S.A.I.L members collaborate with over 70 active clubs and organizations, including Black Student Union, Persona Literary Journal, and Latino Association for Empowerment, to create and maintain traditional events.
"We work with students to see what they need so we can provide for them and help support any ideas they have," Cafaro said. S.A.I.L. also often partners with other offices and departments across campus to create programming for students. For example, recent partnerships with the English department, Health services, and Career Center have been successful in offering programming that blends academic, personal, and social development for students.
According to Ohio State University research, student engagement helps promote cognitive development, leadership, and multicultural awareness. In addition, employers find highly involved college students to be more hirable and career ready.
"Employers rate students that had been at least minimally involved in co-curricular activities as more hirable than those who were not involved at all," Cafaro said.
Although S.A.I.L. prioritizes leadership development, students not looking to take on these leadership roles can still make friends and pursue interests by joining a club or organization.
Even though she has only been on campus for a few months, Cafaro is grateful for the opportunities she has had to interact with Westfield Owls and be part of a staff dedicated to serving students. "Often as you go about your work, you don't think you are that imperative in a student's experience on campus, yet when they tell you things like, 'You are a name that I will always remember,' it feels nice. I hope they realize that I will always remember them too and their impact on me and on this campus."  
When Cafaro meets students, she always advises them to be open minded and try new things, "When you find yourself in on-campus activities and have an opportunity to be a leader in many areas, you open up doors to unexpected opportunities."
If students are interested in getting involved or learning more, they should visit the S.A.I.L. website, follow S.A.I.L. on Instagram, or email sail@westfield.ma.edu.