Student Profile: Abbey Majka '25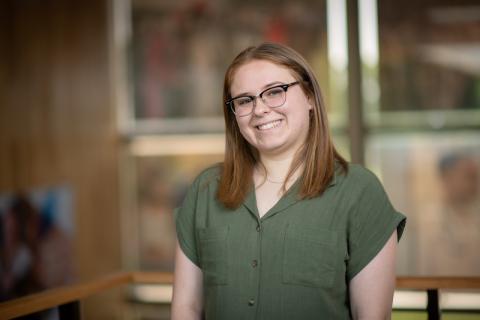 When Abbey Majka '25 was deciding on which college to attend it was an easy choice. 
"I never looked at any other schools. I only looked at Westfield State," she said. 
Majka, with a double major in Environmental Science and Geography, Planning and Sustainability (GPS), had good reason to focus on Westfield State. The school was well-aligned with her family. Her mother, Angela Majka, graduated in 1993 with a degree in French. Her mom also received a certificate in Secondary Education. Her grandmother, Lorraine Majka, graduated in 1966 with a degree in History and Education. Her sister is also planning to attend. 
"This is the perfect college for me," she added.
Like many students starting out in college, Majka's major was undeclared but that all changed when she took a course in World Regional Geography, taught by Dr. Dristi Neog, introducing her to the Geography Department. She was always interested in maps, so this area quickly piqued her interest. 
Soon after, Majka was immersed in the Site Planning Studio within the GPS department working on a collaborative project with the City of Westfield to develop a green infrastructure project for the Westfield Middle School parking lot. 
Majka worked with her team at Westfield State to present the project to the citizens of Westfield at the Westfield Athenaeum in December. The project worked to develop a new drainage system to retrofit the parking lot with green infrastructure that protected the Little River. The team worked in collaboration with the Westfield River Watershed Association. 
At the time of the presentation, Majka said, "I had a great time working on this project. It was nice to get some real-world experience as well as collaborating with different people in the field. This will help me in my future endeavors and has given me valuable connections."
When asked what she appreciates about Westfield State, Majka says, "I like the community. Everyone I meet is so nice and I love the enthusiasm of the professors and the different opportunities that you get here. It's real experience, like the Site Planning Studio project. I took a lot away from that. Working on that project made me more confident saying, 'yes, I can do this.' People are very supportive here." 
Majka also shared she likes the sense of community and the smaller classroom structure at Westfield. 
"You really do get to learn with the people you're working with and build connections. That really shows here," she said.