Homecoming
A Bridge To The Nest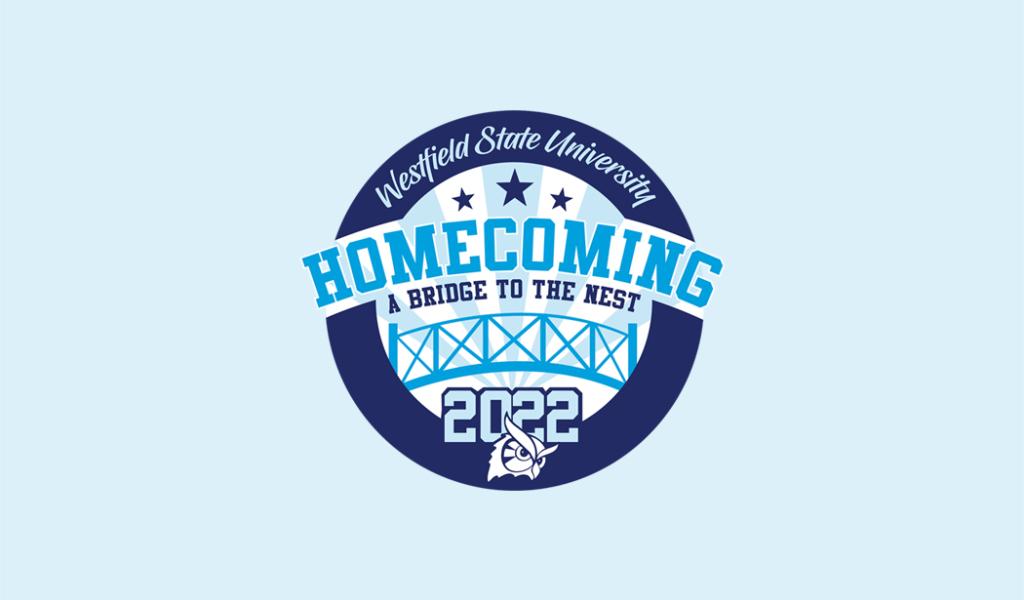 This year's Homecoming runs October 20—23! Hoot Hoot!
Come back to the Nest for the BIGGEST Westfield State University Homecoming EVER! 
Check Out All Four Days Of Events!
Many of the weekend's events are FREE and open to all. 
Admission to all Owls Athletics events are FREE for Homecoming Weekend.
Be sure to check each event to register if required.
Fun for the whole family!
A Day for the Arts with a Poetry Reading and Student Showcases
Spirit Day Contests
President's Scholarship Celebration and Alumni Honors
Owl Fun Run
Tailgating between Women's Soccer, Football, and Field Hockey events
Jazz Brunch and more!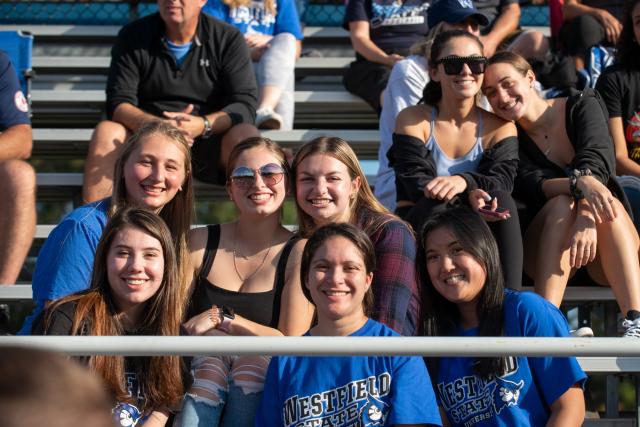 Schedule of Events:
HONORARY CHAIRS Mayor Michael McCabe & Senator John Velis
Thursday, October 20: A Day for the Arts

Activities:

English Department Poetry Reading
Art Gallery Shows
Student Showcases
Contests & Competitions

Events:

1 p.m.
Art Talk' with artists Faustin Adeniran and JaJa Swinton
Dower 127 

2 p.m.
Digital Storytelling Showcase
Location TBA

4 p.m.—5 p.m.
Mixed Arts Recital
Dower* 134

5:30 p.m.
Poetry Showcase with Alumni
Loughman Living Room (Scanlon Hall)

Dower* - The Catherine Dower Center for the Fine & Performing Arts (formerly Juniper Park Elementary School)
Friday, October 21: Spirit Day Events

7:00 p.m.
Bonfire, Movie, and Pep Rally

6—9 p.m.

President's Homecoming Dinner & Scholarship Celebration
Join President Thompson and The Westfield State Alumni Association to celebrate the very best of Westfield State! This benefit dinner will honor four outstanding alumni for their achievements and Dr. Elizabeth Preston, former Interim President and recently retired Professor of Communication. Proceeds will benefit the a new scholarship in Dr. Preston's name. 

Registration Coming Soon!

Distinguished Alumnus
Dr. Robert Enright, class of 1973

Alumna of the Year
Ms. Alison Rheaume, class of 2009

Excellence in Education
Dr. Terrell Hill, class of 1992

Excellence in Healthcare
Mrs. Ashley Weisse, class of 2019
Saturday, October 22

Activities:

Trivia and Games
Nestor's 21st Birthday
Live Music
Entertainment for all ages

Events:

9 a.m.
Admissions Open House

12—5 p.m.
Tailgating

Woodward Center (Outside of the Softball Field)
The Westfield State Alumni Association invites Alumni, Student (+21) Groups, Departments, and the community to the tent tailgating village! Gather your friends, coolers, picnics, and your 10x10 tailgating tent for an afternoon of Owl Pride! Space is limited, so register by Oct. 14th. While students and community members under 21 may attend, registrants must be 21+.

11 a.m.
Athletics Swag Sale

11 a.m.
Women's Soccer

1 p.m.
Owl Fun Run

Check back soon for more details!

2 p.m.
Football

7 p.m.
Field Hockey

7—10 p.m.
After Party at Great Awakening Brewery

Great Awakenings Brewery, 77 Mill Street, Westfield, MA
The Westfield State Alumni Association invites all alumni and 21+ students for a fun filled evening of great food, drink, and entertainment celebrating Westfield State! Registration includes access to the Westfield State beer garden and appetizers. Don't miss out!
Sunday, October 23

10 a.m.—2 p.m.
Farewell Jazz Brunch
Hotel Information
Hotels

The Hampton Inn: Westfield (formerly the Holiday Inn Express). Located right off the Mass Pike, A block of rooms has been reserved for October 20 - 23. the Westfield State rate is $99/ night (plus tax) for two queen beds or a king. $109(plus tax)/ night for a larger room including a pull out bed. Please ONLY call the front desk directly at 413-564-6900. 
Please call by October 1.

Quality Inn & Suites: 2 Southampton Rd, Westfield (right off the Mass Pike exit). A block of rooms has been reserved for October 20 - 23. The Westfield State Homecoming rate is $130(plus tax)/night for a 1 King bed room, and $130(plus tax) for 2 queen beds. Call (413) 572-0663 or (413) 568-2821.
Please call by October 1.