Dr. Cristina Azocar Visits Westfield State as Inaugural Speaker in National Women's History Lecture Series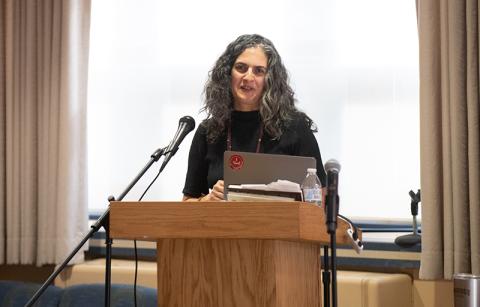 The Westfield State community was recently honored as the site of the inaugural lecture of the Beverly Wettenstein Women's History Lecture Series sponsored by the Women's Media Center, a national non-profit organization organized to raise the visibility, viability, and decision-making power of women and girls in media. The event brought Dr. Cristina Azocar of San Francisco State University to campus to present "Pocahontas Chic: Damaging Media Representations of Indigenous Women".
Azocar is a Professor of Journalism at the University of San Francisco, the same institution where she earned her bachelor's and master's degrees, both in Journalism and Ethnic Studies respectively. Her work has been published in various literary journals such as American Indian Quarterly, Journal of Broadcasting and Electronic Media, and Health Communication, among others.
She is also a citizen of the Upper Mattaponi Indian Tribe, part of the Algonquin-Powhatan alliance of peoples who were living near the settlement of Jamestown in 1607. This personal connection made Azocar's research and presentation all the more impactful to a packed room of attendees who came to hear her speak on the commodification of Pocahontas and the proliferation of myths around her life.
While Azocar holds many esteemed titles, she proudly served as an inaugural board member of the Women's Media Center, a foundation established by Jane Fonda, Robin Morgan, and Gloria Steinem that strives to uplift women of all color and creed within the media. As the group stives to expand access to women's voices and increase knowledge of those who have been disadvantaged, Azocar's research is uniquely fitting for sharing with a wide audience as she aims to reveal more accurate accounts of Pocahontas' legacy, which has largely been filtered through a European-centric and heteronormative lens.
Her stop at Westfield State University shed light on what is perhaps the most well-known, and well falsified, account of Native American history: Pocahontas.
Azocar briefly recounted the sensationalizing of Matoaka, daughter of Powhatan, who is most famous for her account of saving John Smith from certain death. What many historical and mythical accounts don't include, however, is that John Smith only disclosed his interactions with her 17 years after her death and is widely suspected of embellishing the story.
During her presentation, Azocar went on to introduce clippings of old newspapers which overtly commodified Pocahontas. The dozen or so examples of this cultural commodification ranged from announcing clothing lines in her name to featuring what was to be thought her life story and then giving the header a name such as: "Savage Saviour." She argued that while Pocahontas's commodification makes clear the way her story was turned into a product to be bought and sold, popular media also distorts the truth of many native peoples based on this historical prejudice.
Azocar's presentation was well-received by the audience of Westfield State students, faculty, and community members. During the question-and-answer session, students asked how they could do more to support efforts of expanding representation of all voices and further discussed how the Pocahontas narrative connects to recent efforts to draw more attention to Missing and Murdered Indigenous Women through the public awareness campaign of the same name. All left with a greater sense of what it is to be an ally and the need to continue to research historical narratives to correct records to bring about greater understanding between people.
Additional coverage posted on WWLP.com
Westfield State University illustrates women's representation in American media
by: Blake Thorne
Posted: Mar 28, 2023 / 10:52 PM EDT
Updated: Mar 28, 2023 / 11:01 PM EDT