Environmental Science Majors Travel to Costa Rica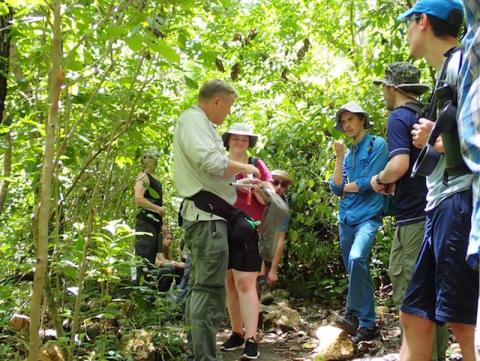 A group of environmental science majors traveled to Costa Rica on May 22 to study local vegetation, forests, and animal life. Chair of Environmental Science, Dr. Timothy Parshall, and Dr. Michael Vorwerk, a professor in the department, spearheaded the trip, acting as guides as students explored their surroundings.
Parshall elaborated on the academic findings of this trip: "The students did a rapid assessment of different characteristics of forests, comparing one that was recently reforested to another that is much older," he said. "This builds on research that I have been doing with Debra Hamilton and students have been a part of this project every time I have run the course since 2011."
"For environmental scientists, there's a growing concern that people don't get out into the environment and actually experience it, and because of that, they don't really appreciate it or care for it," Vorwerk said. "Virtual experiences and watching heavily produced environmental TV shows while sitting on a sofa eating chips doesn't prepare you for hiking with a blister on your foot, picking ants out of your food, or getting stung by a large wasp. Simple things like the fact that in Costa Rica, you don't flush your toilet paper, you put it into a trashcan located beside the toilet. Having the hot water quickly run out because it's solar hot water and it all got used up. These are experiences that strengthen students and prepare them for life - real life, not the stuff they watch online."
Vorwerk chronicled the group's daily activities on an online blog, from traversing through thick, dense forests to being ambushed by varying species of snakes, birds, monkeys, and insects. In this his blog, Vorwerk described Costa Rica as "a small world and a small country. We are very lucky indeed to have the opportunity to see this special place. Not many do," he said.
Vorwerk documented conversations with the various hosts, drivers, and mentors who helped guide them on the trip. One of the hosts mentioned atmospheric changes, like how "the rains are late this year. With global warming, the rain is predictable and heavier now." The host also said that it would rain until November, highlighting the effect climate change has had on their environment.
"I spend a lot of time talking to the students," Vorwerk wrote in one blog entry, "and what I'm seeing … is pretty much every student is stepping out of their comfort zone and growing in some way."
For more information, you can read about their experience on Dr. Vorwerk's blog.