Geography, Planning and Sustainability students present green infrastructure proposal to Westfield City residents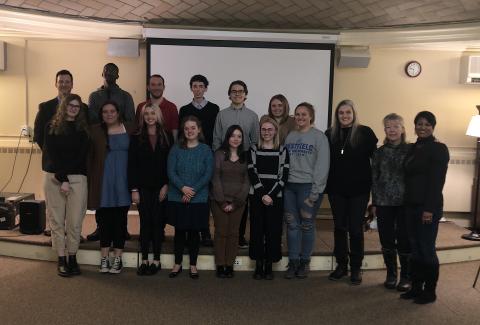 Urban and regional planning students from the Site Planning Studio at Westfield State University presented recommendations to the public and city leadership on a green infrastructure project for the Westfield Middle School (WMS) parking lot on Dec. 14 at the Westfield Athenaeum. 
The project to retrofit the school parking lot with green infrastructure was a collaboration with The Westfield River Watershed Association and WSU's Department of Geography, Planning and Sustainability (GPS) Department. Students of the Site Planning Studio, taught by Dr. Dristi Neog, inventoried and analyzed the Middle School parking lot site to come up with design solutions that implemented tree trenches and green infrastructure features for effective stormwater management. This work was supported by two other GPS classes- Dr. Alina Gross's 'Unjust City' and the 'Site Planning Lab' led by Mr. Mohammed Abdelaal. All this work was further supervised by Dr. Brian Conz.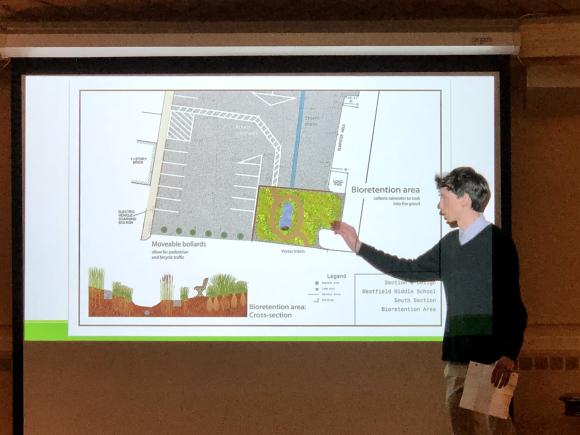 The City of Westfield has infrastructure that utilizes catch basins and underground pipes that collect water that eventually travels into the Westfield and Little Rivers. The system, known as Municipal Separate Storm Sewer Systems (MS4), are separate from the wastewater sewage system and requires unique permitting requirements. Projects that address improvements to these systems are part of the permitting process. As the Little River is deemed "an impaired waterway," additional steps are required by the City to satisfy the permitting process, and the project was presented as a potential additional step that can aid the City in this process.
WMS and surrounding parking lots were identified as top priority in The 2021 Nutrient Source ID Report and the student project examined creating systems for creating cleaner stormwater runoff, which impacts local rivers and streams. The project also introduced a new landscaping plan that would be aesthetically pleasing and conducive with the needs of the updated drainage system as well as the users of the lot.
GPS student Abbey Majka said of the effort, "I had a great time working on this project. It was nice to get some real-world experience as well as collaborating with different people in the field. This will help me in my future endeavors and has given me valuable connections."
Patty Gambarini, chief environmental planner at Pioneer Valley Planning Commission, who worked with the students on the project, praised their effort after the presentation. "I want to reflect on working with you over these past few months, we're here at this final place but that arc of learning that you've engaged with and the curiosity and the questions you've brought to this exercise has raised my heart. I think all our conversations about climate change and those impacts and having learned so much about green infrastructure, how it can cool, how it can manage these larger storm flow we've been experiencing, I want to congratulate you from the bottom of my heart. Where you've landed and what you're delivering to the city for this project and this really important place is fantastic."
Neog spoke of the positive and valuable connections the project had with the community,  "As an instructor, the experience of working on a real-world project that allowed students to practice their planning and design skills, develop sustainable solutions for a local community, and learn from experts in the field was incredible. As a studio, to be able to be heard by the community, and to know that we can make a difference is a feeling of accomplishment and gratitude."