Local Entrepreneurs Follow Their Passion and Find Success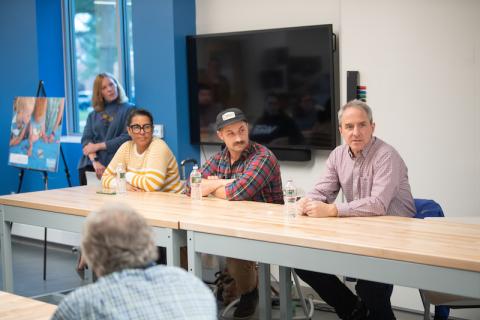 Tapping into the spirit of entrepreneurship in the Pioneer Valley and beyond, Westfield State University hosted a panel discussion last week on hopes and dreams.
The event, a collaboration between the Management & Marketing Department, the Research, Innovation, Design & Entrepreneurial center, and Institutional Advancement with support from the School of Business, Mathematics, Computing and Sustainability, welcomed three entrepreneurs who through hard work, determination and a little luck, made their business ideas come alive, eventually developing successful operations.
Ted Dobek, founder of Circuit Coffee in Westfield, Sheila Coon, founder of Hot Oven Cookies and Bob Lowry, owner of Bueno Y Sano, not only brought in samples of their wares to a crowd of students, faculty and staff at Parenzo Hall, but also served up valuable advice on their journey of starting a business, supporting the community in which they serve, and keeping operations humming along during uncertain economic times.
For Lowry, none of this probably would have happened if he didn't have a burrito in a small restaurant on Nantucket Island in the early-1990s.  A short time later, the University of Massachusetts alum, class of 1993, was driving through Amherst and noticed a "for rent" storefront sign next to the popular Antonio's Pizza restaurant. Lowry remembered that burrito. Could a burrito shop work in Amherst? All of his instincts told him, 'Yes. It could.' He called the number on the sign.
He found that particular storefront wasn't available, but the owners knew of another space on Boltwood Walk. He made the call and eventually landed the store. After writing a business plan, and securing a $20,000 loan from his dad, Lowry was in business. "The short story is," Lowry said to the group,  "I just wanted to be a boss. And when I had the idea for a burrito shop in Amherst, which turned out to be a really good idea, I thought, I think I can really pull this off. It's not complicated and I didn't really need to know anything, so it's perfect," he quipped.
Bueno Y Sano serves burritos, tacos, and quesadillas and now has seven locations throughout Massachusetts and one shop in South Burlington, Vermont.
Lowry said his biggest challenge is managing himself. While the formula for Bueno Y Sano turned out successful, he had earlier ideas that didn't really lead anywhere. So, he feels very conscious of being responsible for all aspects of the business. "I certainly make mistakes," he said. "Most of them are not consequential, but when you're the only one accountable, and I feel like I'm accountable for everything that happens within the business, which I think is a good philosophy, instead of pointing fingers, it comes down to just managing me, which can be kind of challenging."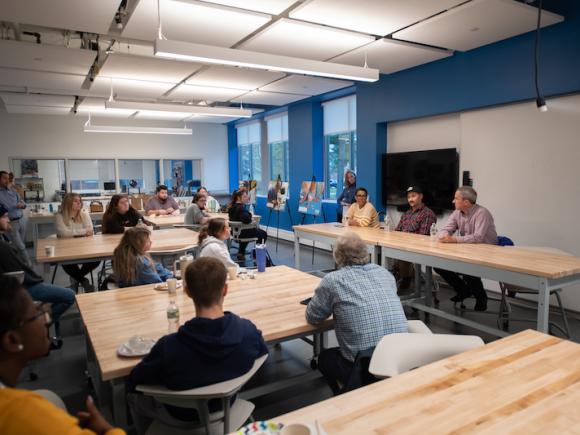 Lowry says he loves what he does and can't imagine doing anything different. "It's super fulfilling to feed people and do it successfully. I've been really lucky with the employee, management relationship. Almost everyone who works at Bueno is from El Salvador." Early on, Lowry hired a woman from El Salvador that turned out to be a great employee. He then hired other members of her family, some turning out to be business partners. These relationships set the tone of his business. "I feel a huge obligation to people in that community," he said.
Coon also took an unconventional road in starting Hot Oven Cookies, a boutique cookie operation featuring over 1,000 varieties in which to choose. Coon has been in business for seven years. Revenue streams are retail shops, a mobile catering operation and she is about to head into retail distribution.
 Although Coon earned a bachelor's degree, she found herself in a homeless shelter in 2014 with her three children. Looking for stability she looked to buy a franchise with a loan from her grandfather, but the idea fell through. "They thought I was too average," she said. "So, I was determined to create a company that allowed me to work whenever and however. Here we are seven years later and those three girls that were in the shelter with me? Two of them are my managers, and the 13- and 16-year old's run the cash register in the shops." A  growth challenge for Coon is having access to business capital. "That happens sometimes to women of color. We've had to be somewhat self-funded and that requires a lot of hustle."
What drives Coon to succeed and keep business moving is "breaking the generational poverty cycle and creating second and third generational wealth for my kids and grandchildren. Kind of like a low-key social mission, in that we've always wanted to become a franchise to apply attainable and sustainable self-employment to the average person. Specifically single moms and single dads. And the average person that may get overlooked, she said."
At the start of Hot Oven Cookies, Coon found herself doing almost everything and because of that she still feels responsible for all aspects of the operation. "I often don't want to hand off my customers to other people. Hot Oven Cookies is really a love song from my family to humanity because we're so grateful that we've been able to survive and to excel," she said to the group.
Coon says students should get the most out of their college experience by "focusing and researching what you want to do. If you want to be an entrepreneur you have to look at systems and the viability of an idea. Pick peoples' brains. Brainstorming is a really good idea."
Circuit Coffee, located in the center of Westfield is a specialty coffee shop with a full espresso bar and offers a variety of teas. The menu features house-made pastries created with local ingredients. Dobek started the shop in 2017 and chose Westfield as a location because, as a student of Westfield State, class of 2015, he didn't know of any place to get quality coffee other than a chain. "I've learned a lot and continue to learn as we grow," he said.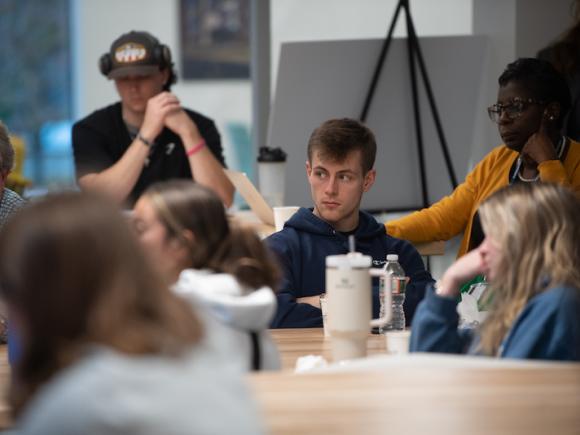 Dobek's challenges are not unlike any young entrepreneur venturing out into business. "A challenge for me is learning how to manage properly, which is an ongoing process. Also developing standards for staff to follow and implementing those standards is not as easy as it sounds."
For Dobek, the experience of attending Westfield State had a strong influence in his drive to start a business and he chose the city of Westfield as a location for that reason.  As Dobek commuted into Westfield he saw a city that was investing in their downtown and he felt he could positively contribute with his business idea. As a student at Westfield State, Dobek said he appreciated and made the most of his time at school. "The connections I made with my professors opened me up to explore a variety of ideas. Also, my experience at Westfield created an appreciation for local agriculture, which I still work into our business."
As a father, providing for his family drives Dobek to succeed but beyond that he finds maintaining the connections he has made over the past seven years and developing a customer base is very important. "I can't imagine what it would be like if we closed and what it would be like for our community if we weren't there. We've worked so hard to create this experience."
"This business is a passion for me, and that helps propel me forward," Dobek said.