Regina Smialek Celebrates 28 Years at Westfield State University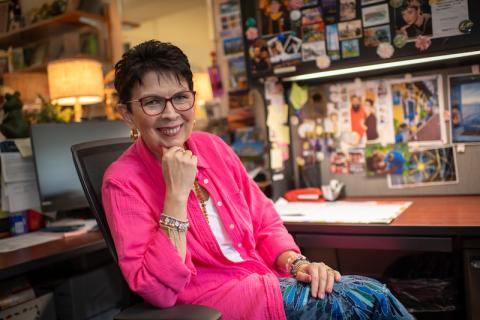 When Regina Smialek immigrated from Poland in 1983, she didn't know her path would bring her to Westfield State University, where she would spend 28 years building a vast community which extends far beyond the lives of those she directly influences. Now, Administrative Assistant for the Department of English and Composition Program, Smialek offers insights as to what and who have most enhanced her time at Westfield State.
"I started working at Westfield State in 1995 in Student Accounts," she said. "After two years, I moved to Purchasing (now Procurement), and then in 2001, I started working for the Urban Education Program. In 2005, I moved to the English department, and that's where I've stayed for eighteen years!"
To commemorate the beginning of the new semester, Smialek and the English department organized for a pizza party to be held on Wednesday, September 13, where students and faculty could stop by, socialize between classes, and eat in her office, located at Bates 217.
"Today with the pizza, I said, 'This is exactly like before COVID!' The students were talking, laughing, and taking crazy pictures."
Similar events are held in Smialek's office throughout the academic year, and heavily emphasize the utilization of what the department knows as a communal space. In addition to being constantly stocked with an assortment of candy and tea, visitors will also find a microwave and refrigerator which Smialek keeps so that people can warm up their lunches.
Every few months, she hosts a baked goods party, where students and faculty can snack on cookies, pastries, and other desserts which are either brought in or made at home. During Halloween, students are invited to come in and take pictures with her in their costumes.
"This is a safe space," Smialek said about the office. "Students will come in and ask if they can just sit here. Maybe they're feeling anxious or panicked, and I sit them down. I get them something to drink—mint tea mixed with chamomile, and I talk to them. They remember that. I have former students who tell me they have a candy dish at work because they remembered that there's always candy here. They remember how my tea tastes, and so they ask how I make it. Even our campus' police officers come in and if they don't feel good, they'll ask, 'Can I have some of your tea?'"
The tea station in Smialek's office remains a fixture in the Bates building, with students, faculty, and various staff members venturing from all over campus to brew from a selection of flavored tea she keeps fresh and ready. Smialek has even claimed unwanted tables from other departments and repurposed them to make sure every visitor has a place to sit.
Being Administrative Assistant to the English department brings its own challenges, from filling out requests to general problem-solving, communication referrals, error corrections, and mentoring work-study students.
"There is no average day. A long time ago, when I started working at Urban Education, I was nervous and was told, 'Regina! Just open the door and let the day take its course.' Ever since then, I've remembered that. Sometimes I get a student who doesn't feel well, and I focus on that. Some days it's all about bills. Every morning though, I come in and I'm still in the habit of disinfecting everything even though COVID ended, to protect people. Then I just wait for something else to come through the door, no matter what it is."
Being the glue which holds so much together, it's no wonder that her favorite thing about the 28 years she's spent at Westfield State is the community she's built. In particular, she's grateful for her time with students. "They keep me young!" she said, laughing. "It's funny. At the beginning, students are taken aback that I have an accent, but then after a couple conversations, they learn my accent, my way of thinking, what I want to say, and it works. It's family. They teach me how to dance, how to use new slang… some of my work-study students have been in choir and teach me what they learn. And with the faculty, we spend more waking hours here than at home. After so many years, you get to know people."
The secret in cultivating such a successful, life-altering space for students and faculty? "Treat people how you want to be treated," Smialek said. "What you see is what you get! Anyone is welcome here. No matter your shape, size, religion, sexual orientation. All that matters is what kind of person you are. I accept you."