Students, faculty to contribute at national council on undergraduate research event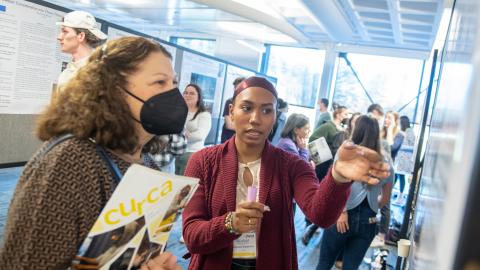 The importance of the process of creating and facilitating collaborative opportunities for faculty and students to work together to pursue research and creative scholarship cannot be overstated. 
Each year, the Council on Undergraduate Research (CUR) selects a host university as the setting for the National Conference on Undergraduate Research (NCUR). This year, the University of Wisconsin – Eau Claire will showcase the scholarly work of more than 4,000 selected students and faculty-administrators who excel at providing innovative and creative approaches to engaging students in high-impact practices. 
At the CUR event on April 13, Dr. Lamis Jarvinen, Director for the Center of Undergraduate Research and Creative Activity (CURCA) and Dr. Robin White, Associate Professor of Biology will  lead a professional faculty-administrator development workshop.  They will be presenting strategies utilized through CURCA to increase student engagement in undergraduate research and creative activity while promoting diversity and inclusion. 
Founded in 1978, CUR describes its mission and purpose as an "organization of individual, institutional, and affiliate members from around the world that share a focus on providing high-quality and collaborative undergraduate research, scholarly, and creative activity opportunities for faculty and students."
More than 700 institutions, including Westfield State University are members of CUR, engaging in shared opportunities to advance undergraduate research in all disciplines. 
"It is an honor to have been selected to share our collaborative work and successes in increasing inclusion and diversity through CURCA with others from around the world.  CURCA grew out of a faculty-led grass roots movement with the idea of centralizing and institutionalizing the practice of faculty-student research," Jarvinen said. 
Unique to NCUR this year are the special collaborative artistic projects that include a selective process from across the nation to put together diverse teams of students to produce original work in dance, music, theater, literature, and mural projects.
Two WSU art students, Julia Cullinane and Jacob Paddock, along with 5 other nationally selected students, have received the honor of creating collaborative murals on the campus of UW-Eau Claire.  They will receive a photograph and description of the assigned space along with a faculty mentor in advance of the conference. They will work together during the conference to create mural designs that are representational, abstract, non-representational or a combination of both around the theme of equity, diversity, and inclusion. Conference participants will be invited to observe and learn as these collaborative artists work to create murals that will become part of UW-Eau Claire campus.  
 "Julia and Jacob are impressive and unique artists who are worthy of this prestigious selection. It is impressive that 2 out of the 7 students chosen nationally are from Westfield State University and it speaks to the quality of our Art Department faculty and program overall. We are all proud of their accomplishments and excited to see what they will create.  This conference will be a transformative opportunity for both Julia and Jacob as they represent WSU on a national-stage and be exposed to other artists and opportunities in their artistic fields. Congratulations to the students and to the Art Department for their hard work and dedication to educational experiences that support artist success," Jarvinen said. 
For more information on CURCA.
See additional information on the Council on Undergraduate Research.