Veteran's Day Ceremony Honors Those Who Have Served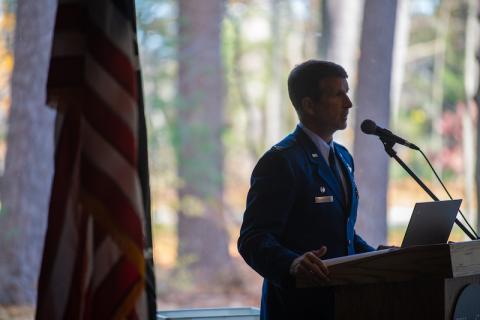 On Wednesday, November 8, 2023, Westfield State hosted its annual Veteran's Day Ceremony at the University Hall Multi-Purpose room. Opening remarks were given by Senator John Velis, a veteran of the U.S. Army Reserve as well as a Major in the Massachusetts Army National Guard. Colonel David Halasi-Kun, Wing Commander of the 104th Fighter Wing at the Barnes National Guard Base in Westfield, was the keynote speaker. The ceremony's theme was "Service" and focused on the spirit and sacrifice which comes with serving others.
A Missing in Action/Prisoner of War Table of Honor Ceremony was performed during the event, which Vigneault described as "eye-opening". "It can open your eyes and give you a sense of where people have come from," he said. "The military is steeped in tradition and honors. I think it's important to take a step back and appreciate those who serve."
"It was a phenomenal event," Vigneault said about the ceremony. "It's about honoring those who have worn the uniform. Senator Velis talked about his service, how everything changes when he puts his uniform on. People look at you differently. He's no longer Senator Velis, but Major Velis."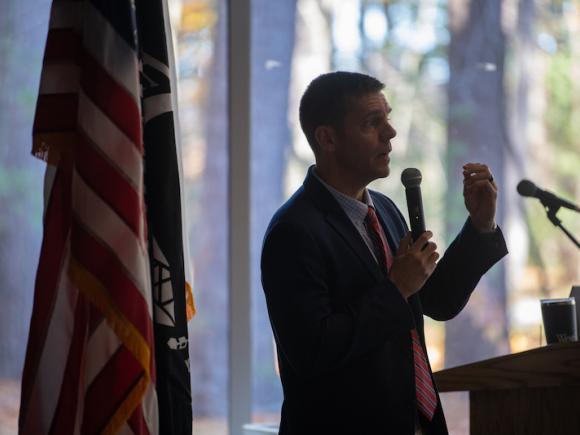 Colonel Halasi-Kun discussed similar topics regarding service and how to interact with those who are grateful for it. "What do you say when someone thanks you for your service?" Vigneault asked. "I always say 'thank you', but the Colonel discussed struggling with what may be the proper thing to say versus what you want to say. It was amazing to think that he thinks the same way we do. The Colonel did a great job." 
In addition to the Veteran Day Ceremony, Westfield State is also preparing to take part in United Through Reading (UTR), a nonprofit organization dedicated to strengthening military families via a secured, cloud-based program which allows deployed military members to upload videos of themselves reading books, which can then be accessed by the children and spouses of the deployed member.
"The program provides you with everything that you ever need for free," Vigneault said. "They provide you the books, the tablet, everything."