Westfield State Students Inducted into the Gamma Sigma Epsilon Chemistry Honors Society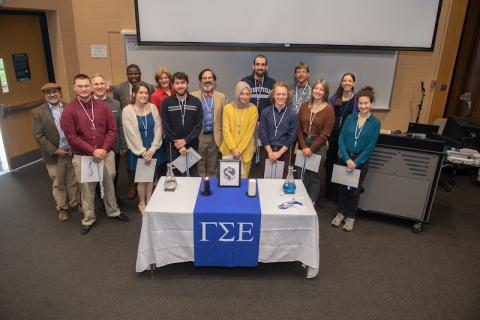 Last week, Westfield State University inducted several students into Gamma Sigma Epsilon, the Chemistry Honor Society.
Amber Brothers, Annalise Cramer, Jean Ganek, Emily Geddes, Esra Karaarslan, Daniel Lanctot, Samantha Martin, John Masi, Holden Nelson, Alphonse Provost Brianna Toomey, and Salam Zaitoun were initiated into the honor society on May 3. 
Gamma Sigma Epsilon's mission is to recognize outstanding academic achievement in chemistry, increase interest, scholarship, and research in chemistry, and promote professionalism and the general welfare of the chemist.
Dr. Ashley Evanoski-Cole, faculty advisor for Gamma Sigma Epsilon, described the students as exceptional, stating that chemistry majors are notoriously small as a group, and so for the inductees as "an even smaller group" to be recognized because of their excellence is extraordinary.
"We're incredibly proud of the students inducted into Gamma Sigma Epsilon this year," she said. "These students have not only worked hard to achieve this recognition but overcame the challenge of transitioning from remote to in-person laboratories, formed a supportive, tight-knit community in their smaller upper-level chemistry classes, and worked together and supported each other throughout their journey."
The event was organized and collaborated with help from the Chemical and Physical Sciences Department as well as the School of Health, Natural Sciences, and Human Services, and included remarks from Morgan Shia ('21), an alum to speak about their experiences as a fellow inductee.
Recognizing the student efforts, Evanoski-Cole said:  "Our inductees are already contributing members of the chemistry community and have presented their research at local and national scientific conferences, have published their research in peer-reviewed literature, and have held internships at local chemical companies. Some of the honor society graduates will be going on to graduate school or have already secured employment."