Westfield State University launches new Racial Equity and Justice Institute Team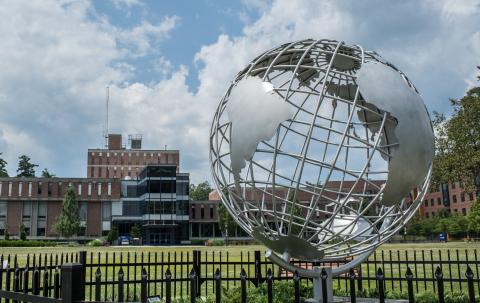 Westfield State University has launched a Racial Equity and Justice Institute (REJI) Team and joined the Leading for Change Higher Education Racial Equity and Justice Institute, pledging to help dismantle systemic barriers to opportunity and combat injustices faced by communities of color on our campuses.  
The Bridgewater State University-based Consortium is a voluntary collaboration of 30 public and private colleges and universities in Massachusetts and New England committed to identifying student and employee diversity best practices through uniform and transparent use of equity-oriented data, institutional benchmarks, and reflective practice. Its goal is to close racial educational equity gaps in higher education and it will guide Westfield State's team. 
Westfield State University Interim President Roy H. Saigo, Ph.D., initiated the establishment of the team and inclusion in the Consortium. 
"I look forward to the team's leadership and the Consortium's guidance as we continue our efforts to improve diversity, equity, and inclusion throughout our campus community and provide opportunities that inspire and create positive change," he said. "We must work together to empower communities that have borne the brunt of racism and discrimination for far too long. 
"We need to smooth the road for everyone because the path is more difficult for some than others," added President Saigo. "We need to broaden our eyesight to wear glasses of many different colors. If we don't do that, we are not doing American society any good; we are not doing our democracy any good, and we are not helping the middle class achieve what it can." 
Members of the team represent a diverse group of offices and departments from across campus, including Human Resources, Academic Affairs, Student Affairs, and Institutional Research. Faculty on the team represent the following academic departments: Ethnic and Gender Studies, Education, Psychology, Art; and Geography, Planning, and Sustainability. 
"Together with the Consortium, Westfield State is committed to expanding opportunities for students, faculty, and staff of color across campus; to helping raise understanding, awareness, and support of the University's diverse communities; and to advancing racial equity and justice on campus," said REJI Chair Enrique Morales-Diaz, Ph.D., interim dean of faculty at Westfield State. 
"Students are at the core of what Westfield State's Racial Equity and Justice Institute Team will do, as we will work toward closing educational gaps and breaking down barriers to educational opportunities for our students of color," added Dean Morales-Diaz. "This team is part of how the University supports and makes all students of color, and by extension, all students, feel welcome and supported on campus." 
Consortium Convener Sabrina Gentlewarrior, Ph.D., vice president of student success and diversity at Bridgewater State University, said she looks forward to working with Westfield State's team. 
"I am deeply appreciative of the leadership of President Saigo and Dean Morales-Diaz," she said. "It is a pleasure to collaborate with Westfield State University. Together with the other REJI campuses and within the Massachusetts Department of Higher Education's Equity Agenda, I am confident we will advance racial equity and justice at our institutions." 
A first-generation American born in California to working-class Japanese immigrants, President Saigo and his family were prisoners in U.S. government-sponsored internment camp—created after the Japanese attack on Pearl Harbor in 1941—because they were Japanese.  
"From my own personal experience, an affordable education is the one attribute that will help you help yourself, your family, and society," said President Saigo, who has worked in higher education for 53 years and been president of four colleges and universities. "As such, barriers to education must be removed. It needs to be available to all people, from all walks of life, regardless of income, social class, gender, religion, ethnicity, and/or race—just as Horace Mann, Westfield State's founder, intended."
Media Contact
Lorraine U. Martinelle, communications officer, lmartinelle@westfield.ma.edu