Westfield State University senior Fiona O'Sullivan receives '29 Who Shine' Award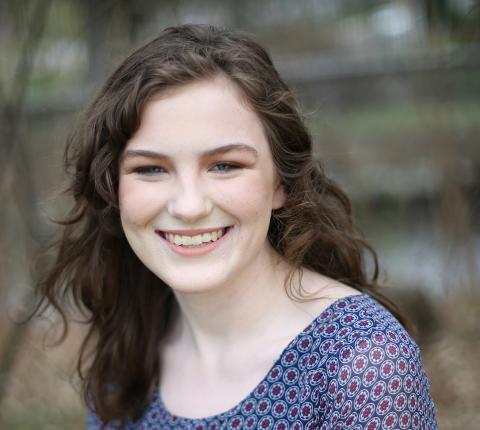 Westfield State University senior Fiona O'Sullivan of Ludlow, Mass., has been recognized as the University's 29 Who Shine award recipient for 2021. These awards are presented annually by the Massachusetts Department of Higher Education to 29 graduates throughout the Commonwealth who exemplify the values of community service and academic experience. Each recipient attends a Massachusetts community college, state university, or University of Massachusetts institution and is nominated by a faculty or staff member. The celebratory event was held virtually on May 13.
This year, in recognition of the challenges faced over the past year, award recipients were selected for their willingness to help others impacted by the COVID-19 pandemic. 
"Westfield State is honored to have another passionate student recognized by the Department of Higher Education for their contributions to the Commonwealth," said Roy H. Saigo, Ph.D., interim president of Westfield State University. "Fiona embodies the type of graduate that the University strives to produce, one who has developed the knowledge, skills, and character essential to become a responsible leader and an engaged citizen." 
Following the onset of the COVID-19 pandemic, O'Sullivan initiated a card drive at a Springfield-based hospice agency, where she had volunteered as a companionship provider. O'Sullivan collected more than 200 cards to share with patients experiencing isolation due to COVID-19 restrictions, and as a result of her initiative, she was offered and accepted a full-time position as a bereavement coordinator at the agency which she will begin soon.
On Saturday, May 15, Fiona graduated summa cum laude with a Bachelor of Social Work and a 3.982 grade point average.  
"I feel truly blessed to receive the 29 Who Shine Award. I know I would not be where I am today without all the guidance I received from Westfield State University. I would like to thank everyone who helped me along my journey," said O'Sullivan. "I chose to recognize Michelle Rizk-Jarvis from the University's Banacos Academic Center as my mentor because she has been my rock throughout my four years at Westfield State. Going through college with a learning disability comes with certain challenges, but she had helped me through it all. I hope that by receiving this award I can break the stigma surrounding learning disabilities and showcase how with the right support people with learning disabilities can do great things."  
Among nine Westfield State students to receive a President's Award for Excellence in Leadership from the University in December 2020, O'Sullivan serves as vice president of Phi Alpha Honor Society for social work, treasurer of the Social Work Association, and is a peer leader of The Perch social group. 
Her involvement on campus also includes serving as a member of the Lambda Sigma National Honor Society for second-year students, the Emerging Leaders Program, and the steering committee for the Poor People's Campaign of Western Mass. Fiona has volunteered at Westfield State's Common Goods Food Pantry, Arise for Social Justice, and the Drama Studio. 
Upon writing a compelling essay about why the Commonwealth of Massachusetts should ban plastic bags, O'Sullivan was recommended by State Senator Eric Lesser to lead the initiative in her own hometown. Through the process, she learned about hard work, persistence, and leadership, while prompting the town of Ludlow to begin its own work toward banning non-reusable plastic bags. 
Committed at a young age to help others, she has volunteered at St. Elizabeth's Parish in Ludlow, preparing meals for the sick and homebound for nearly 10 years through its "Take & Eat Program" and serving as a Catechism teacher for five years. 
In addition to her professional position, O'Sullivan will pursue a Master of Social Work degree from Westfield State University in its two-year advanced standing program.