WSU Health Services Director: Getting to know what is available in Health Services should be priority for students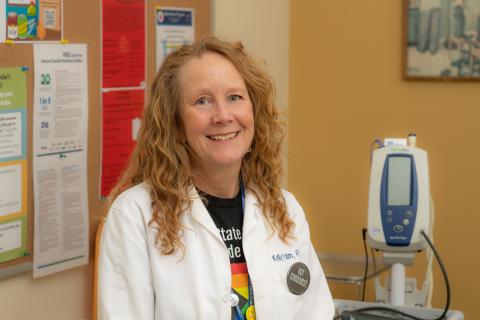 For full-time day students, residential and commuter, having a medical resource nearby provides peace of mind for both students and their families and champions. Westfield State's Health Services department provides many benefits and options that make living on campus safer, healthier, and more welcoming. The stated mission of Health Services is to provide coordinated health care, wellness education, and disease prevention enabling students to achieve their academic goals. 
Kelly Palm, MSN, APRN, BC, Director of Health Services at Westfield State, has spent decades working in the nursing field. A graduate of Holyoke Community College's nursing program, Palm soon moved to Hawaii where she worked at Queen's Medical Center in Honolulu. Palm subsequently earned a bachelor's degree at Hawaii Pacific University. In 2014, she earned her master's degree in nursing and became a family nurse practitioner. 
As the needs of students have evolved over the years, Health Services has been able to adapt and offer students quality care on campus in a variety of areas. Palm says while there are many services available to students on campus, becoming familiar with campus health offerings is one that should be a priority. Many students are living on their own for the first time in their lives, so getting familiar with programs that promote health and wellness can translate into academic success. 
Palm said although her department's website lists the services provided, students still might not be aware of what is available. "We need to reinforce that WSU Health Services is not the high school nurse's office -- where students can get their temperature taken and get a band-aid. We're all nurse practitioners and have full prescription authority and are independent providers. That is not well-known on campus," she said. 
Health Services staff consists of Palm;  Pauline Moran, Associate Director, MSN, APRN, BC; Donna Anderson, DNP, FNP-BC; Lisa Brosnan, DNP, FNP, BC; and administrative assistant Lisa Campbell.
Palm says her department goes beyond just offering medical services. "We, of course, offer urgent care, but we also offer preventive medicine. If students have health concerns, we want Health Services to be a part of their education. Even though we're not standing in a classroom, we conduct longer visits than the outside world and because of that we want the student to learn something about themselves, their illness, a medication we've recommended, and how to advocate for themselves. We understand that when students come to see us, it may be the first time they're navigating the healthcare system on their own," she said. Palm wants that process to be accessible, clear, comfortable, and understandable. 
Palm's outlook and philosophy on the nursing field is all relationship-based. Every nurse-patient interaction counts towards building on that relationship. "If you're coming to see me, I listen, we make joint decisions. The patient is the driver in the relationship, but we're a team, and that relationship is hopefully beneficial and rewarding to both of us. I strive to optimize the health of my patients and work to prevent illness while providing the knowledge to advocate for themselves."
Working in Health Services at Westfield State University is a career highlight for Palm. "I love working with the student population," she said. 
Some of the services provided by Palm and her team include: 
Urgent care 

Health education 

Prescriptions (sent to pharmacy of choice) 

On-site Strep, Mono, Pregnancy, Flu, COVID-19 and Urinalysis 

Reproductive Health – Contraception, PAP smear 
STI testing and treatment 

Xray's and lab work (performed off-site) 

Condoms provided free-of-charge; no visit necessary 

Specialty referrals, as needed 
Westfield State University Health Services information: 
Hours:
Monday 8:30 am – 7pm 

 

Tuesday  Thursday

8:30 am – 5pm

 

Friday

10am – 7pm 

 

Closed: Saturday, Sunday, holidays and for weather related closures. 

 
Location: Health Services is located in the back of Scanlon Hall.  
Email: healthservices@westfield.ma.edu 
Phone: 413-572-5415 
Instagram: @wsuhealthservices 
Visits by appointment only. Please call 413-572-5415 to schedule. Same day appointments available.