Jessica Stephens
Assistant Professor of Biology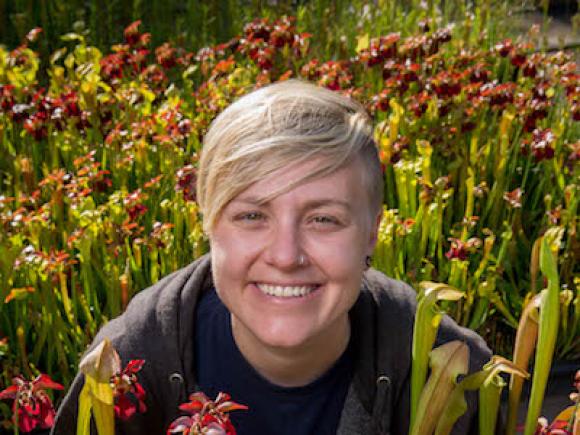 Education and Training:
B.S., Butler University
M.S., Auburn University
Ph.D., University of Georgia
Postdoctoral Appt., University of Pittsburgh
Visiting Assistant Professor, Salve Regina University
Joined Westfield State University in 2020
Specializations:
Evolutionary Ecology
Plant Biology
Biology Education Research
Recent Courses:
BIOL 0230: Evolution
BIOL 0120: Environmental Biology for non-majors
BIOL 0129: General Biology I (Lecture and Lab)
Formal Pedagogical Training:
Virtual Web Camp for Online Teaching, Westfield State University
Resilient Teaching Through Times of Crisis and Change, University of Michigan
Co-creating the Future Through Socially-Directed Science and Technology, MIT
College Teaching and Student Learning, UGA
Course Design for Significant Learning, UGA
Pedagogy of Writing in the Disciplines, UGA
Selected peer-reviewed Publications:
Scholar google link
(*Student Authors)
Rebolleda-Gomez M, Forrester N, Russell A, Wei N, Fetters A, Stephens JD, Ashman TL. 2019. Gazing into the anthosphere: Considering how microbes influence floral evolution. New Phytologist 224:1012–1020.
Stephens JD, Ryan TJ. 2019. Diet of the red-eared slider (Trachemys scripta) and common map turtle (Graptemys geographica) in an urban landscape. Urban Naturalist.
Stephens JD, Battle D*, Gormally C, Brickman P. 2017. Show me the way: Future faculty prefer directive feedback when trying active learning approaches. Journal of College Science Teaching 47:57–65.
Stephens JD, Rogers WL, Mason CM, Donovan LA, Malmberg RL. 2015. Species tree estimation of diploid Helianthus (Asteraceae) using target enrichment. American Journal of Botany 102:921–941.
Stephens JD, Rogers WL, Heyduk K, Cruse-Sanders JM, Determann RO, Glenn TC, Malmberg RL. 2015. Resolving phylogenetic relationships for the recently radiated carnivorous plant genus Sarracenia using target enrichment. Molecular Phylogenetics and Evolution 85:76–87.