ABC flagship TV station names Westfield State University graduate Chad Matthews as new president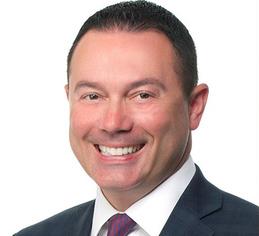 WABC-TV Channel 7 of New York City has promoted Westfield State University graduate and Emmy Award-winner Chad Matthews to be its president and general manager. Matthews earned a bachelor's degree in mass communication from Westfield State in 1994.
WABC-TV is located in New York City and is the flagship station of ABC Owned Television Stations.
In his new role, Matthews is responsible for overall management responsibility for ABC7/WABC-TV and its ancillary businesses. An award-winning news executive with six Emmy Awards to his credit, WABC earned four of them as recently as 2020 when it won for best newscast in each day part.
A native of Chicopee, Matthews has come a long way since the early days of his career at WWLP-TV in Springfield.
"We are proud that Chad has been appointed as president and general manager of WABC-TV, building on a long record of achievements at the station," said Emily Todd, interim dean of the University's College of Arts, Humanities, and Social Sciences. "His commitment to high standards and to advocacy represents exactly what we seek to make possible at Westfield State: a transformative education that prepares students to become leaders equipped to serve their profession with integrity and imagination."
Matthews has served as news director of WABC for the past three years and has a long list of accomplishments. At the onset of the COVID-19 pandemic last year, he successfully transitioned the station to a remote workforce to produce New York City's Eyewitness News without interruption. Despite the challenges of the pandemic, WABC finished the year with the largest audience of any television station in the nation for the 17th consecutive year.
Matthews started his WABC career in 2000 and was promoted to senior executive producer in 2002. He spent 12 years in senior roles for Eyewitness News and won both a Peabody Award in 2001 as the live control room producer for the station's Sept. 11 coverage and an Emmy Award in 2007 for Best Evening Newscast. In 2012, Matthews temporarily left WABC for a five-year stint as assistant news director at NBC-owned WTVJ in south Florida. At WTVJ, he won another Emmy Award in 2017 for breaking news coverage during the Ft. Lauderdale airport shooting incident before returning to WABC as assistant news director later that year.

Early in his career, Matthews held producer positions at WCBS, WFXT in Boston, WJAR in Providence, and was a producer/reporter at Springfield's WWLP. 
He has certainly made the most of his Westfield State degree.
"Chad Matthews' brilliant career shows a communication degree from Westfield State can take you to the stars," said Professor Thomas Gardner, Ph.D., chair of Westfield State's Department of Communication. "Our mission is to offer students engaging learning opportunities to become creative and ethical communication practitioners. Chad has proven that creative and ethical passion for one's work can take you far. 
"Chad has not forgotten his ties to WSU's Communication Department," added Gardner. "As busy as he was a couple of years ago as news director at WABC-TV Channel 7, he still visited with our communication majors during their field trip to New York City with professors Christopher Gullen and Max Saito. With appreciation for all he has done, we wish Chad the best in his new position as president and general manager of the TV station with the largest audience in the country."
Matthews also stands tall among the University's alumni community.
"Chad is emblematic of a Westfield State alumnus: hard-working, driven, and successful in their chosen field," said Erica Broman, Ph.D., vice president for institutional advancement. "I met Chad and heard his Westfield State story. He worked hard as a student and took advantage of every opportunity. His local internship while a student here, combined with the guidance and mentorship of great professors, started him on his trajectory. We are so proud of his accomplishments."