Dance team continues to impress at regional, national competitions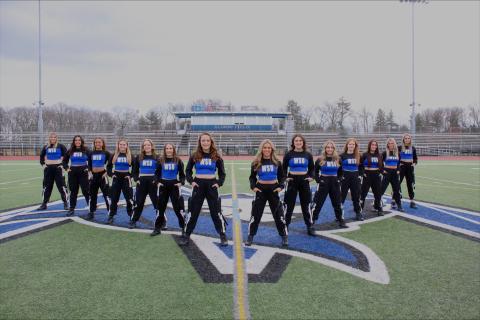 Westfield State University recently hosted the Regional New England Dance challenge where the Westfield State Competitive Dance Team was awarded a first-place win. This came just a month after they competed in the National Universal Dance Association competition in Orlando, Florida where they took home eighth place.
Since its formation in 2014,  the competitive dance team has won multiple first place awards at the regional competition. In 2022, the team topped their best standing at the national competition resulting in a fourth-place win. The team previously ranked eleventh in the competition. 
The team also performs at home football and basketball games.
Coached by Michelle Almeida and Cassey Bay, the 2023 team is co-captained by Jensen Giroux (Elementary Ed '23), Leia Famolare (Elementary Ed '24) and Lindsey Genatossio (Communications '23). All three have been on the team since their freshman year.
For Giroux, it's not all about winning. The pure enjoyment of participating in a team environment and the resulting camaraderie is what is important.
"Nothing will compare to the feeling of hitting the stage with your best friends and giving it your all. No matter what place we get, we are so proud of each other for working so hard and putting all our dedication into this team," she said.
Along with the captains, team members include: First-year, Jenna Alicea (Psychology '26'); Sophomores Abby McDonald, Molly Champney (Early Childhood Ed '25), Emma Towsley (Elementary Ed '25), Christina Reece (Nursing '25), and Abby Keenan (Early Childhood Ed '25). There are five juniors on the team: Payson Ribaudo (Early Childhood Ed '24), Kylie Howard (Early Childhood Ed '24), Chloe Benoit (Psychology '24), and Tatum Legere (Health Science '24). Captains Giroux and Genatossio are both seniors.
Giroux indicates the team is not limited to a certain number of members or just women.
 "Although we only have women on our team this year, we welcome anyone and would love to see more men at tryouts. We have never been co-ed," she said.
 The team hosts two tryout sessions, one in the spring semester and another in September. They are hoping to add the option of video submissions, beginning this year.
The dance Team mostly focuses on Hip-Hop style of dance.
 "We look for potential not perfection," Giroux said. The tryout process includes learning a 45-second combo and then learning some of the tricks that the team often employs including a headspring, headstand and a kip-up, a move where you are lying on your back before transitioning to a standing position.
Their training begins in early fall and subsequently competes in regional and national competitions in January and February. Choreographer Brandi Tuck assists the team in devising and executing routines. 
Practices run Monday through Thursday nights in the aerobics studio at the Woodward Center.
You can find out more about the Westfield State University Competitive Dance team on their instagram @wsu_danceteam, TikTok @westfieldstatedanceteam, and Facebook page - Westfield State Competitive Dance Team.