Job and internship fair, nursing career fair to be held on campus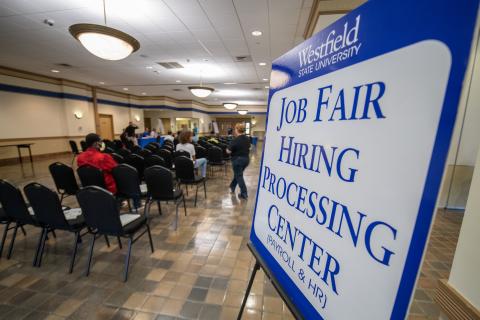 Westfield State University will hold two job fairs on campus Tuesday, February 28, from 1:00 to 3:00 p.m.
The Job and Internship fair will take place at the Scanlon Banquet Hall and feature representatives from more than 70 employers.
The Nursing Career Fair will be held in Nettie Stevens Science Center hosting nearly 20 employers.
These fairs offer a convenient opportunity for Westfield students and local residents to network with employers and learn what it would be like to work for their companies. Some of the registered companies include, Big Y Foods, Clean Water Action, Cooley Dickenson Health Care, Northwestern Mutual, PeoplesBank, Western Mass News, Westfield Gas & Electric, WWLP-TV 22, Behavioral Health Network, Holyoke Health Center, Trinity Health of New England, Federal Reserve Bank of Boston, and many others.
"The fairs will be a great opportunity for our students to connect with organizations and learn about internships, part-time and full-time opportunities," said Junior Delgado, director of the University's Career Center.
Both job fairs are free and open to the public. Public parking is available in South Lot off Western Avenue. Shuttle service will run continually throughout the event.
For more information contact the Career Center at 413-572-5206.