President Linda Thompson: Education is Transformative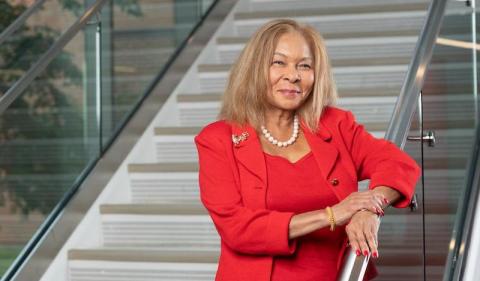 As we start the fall semester and I begin my third year as president of Westfield State University, I am reminded again this class, the class of 2027, will have opportunities to participate in innovative learning experiences and practical applications that will lead to positive changes in our government, businesses, legal, medical, and educational systems, and others.
For students transitioning to college, the road traveled is not always linear. There will be twists and turns, successes, and failures. But making the most out the college experience will offer a lifetime of resources to reference.
When I was a young girl living in a poor household on the east side of Detroit, I had no idea what I would become. My mother was a single parent living on welfare and there weren't many options presented to me. But after graduating from high school, I was afforded the opportunity to attend Wayne State University to study nursing.
That was my first step toward a path of lifelong learning.
My instructors provided inspiration, which translated into confidence. I found the coursework to be challenging, but with the patient guidance of my professors, I was able to develop good study habits and found success.
I graduated with a BSN in nursing, and I continued my education at Johns Hopkins University, earning master's and doctoral degrees in public health.
I often think of myself back in Detroit as that young girl. I often think of that long, arduous journey I had taken. Education saved my life and after acquiring skills and knowledge, I could now get to work to help others.
Throughout my career as a nurse, educator, public official, and now university president, I've never lost sight of the advantages of practicing tolerance, patience, and respect toward others. Empathy, compassion, and kindness are the foundation that defines who I am as a leader, friend, colleague, and companion. These qualities translate into being a good educator, a good person, and help provide inspiration to those in which I work.
While learning and classwork are an integral part of the college experience, students must also never lose sight of the potential to create lifelong friendships and develop personal skills through extracurricular interests. College life and learning extends beyond the classroom into the residence halls, clubs, sports and interactive performances.
I was recently inspired by a recent news article featuring Westfield State coordinator of Residential Life, Sydney Maiden. In describing how she works to build a better community and sense of belonging for students, Sydney said: "By doing a little bit of everything. It starts as soon as students walk into our halls. We let them know this is not only a safe space to learn, but this is also a brave space to explore, where they can be brave enough to be whoever they want to be. We emphasize that when we do our programs, they are inclusive. All programs are devised based on student feedback. It's not all about what we think, it's about what the students need, what are they looking for. Do they need a 'stress reliever' program? Do they want a movie night? We want to make sure their voices are heard."
We are fortunate to have Sydney, and students like her at Westfield State. Her wisdom serves our students well. College is a place for all voices to speak out loud and clear.
Following Sydney's lead, we all strive to provide our students a transformational experience, presenting them with the leadership skills that will advance our communities in a variety of areas.
It is an honor to have served the past two years as president of Westfield State and I look forward to serving and guiding our new and returning students on their journey to success.
You can read the original post here.