"As Schools Match Wits" readies for historic 62nd season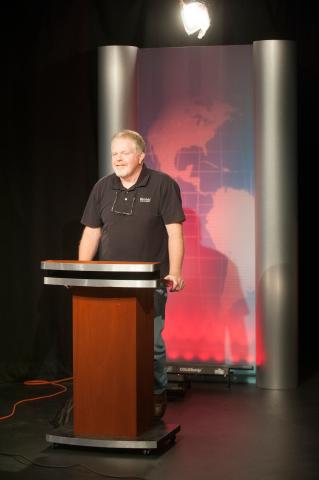 In September 2006, when WWLP canceled the quiz show "As Schools Match Wits," (ASMW) after 45 seasons, Westfield State's Elizabeth Preston, at the time chair of the Department of Communication, had an idea. Preston proposed producing the show at Westfield State's television studio.  In January 2007, Westfield State partnered with WGBY and the one of the longest running quiz shows in America launched its 46th season, not missing a beat. The show was created in 1961 by Westfield State alumnus Leonard J. Collamore. 
Mark St. Jean ('99), now the show's executive producer, has been an integral part of the production ever since.
"In 2007, Liz Preston came to me and said, 'Hey, Mark, want to do a gameshow?' Liz had a plan to do the show perhaps on a smaller scale maybe on public access channels. Then we discovered channel 57 (WGBY) was thinking along the same lines. So, we were able to get the rights from WWLP to record the show," said St. Jean.  
St. Jean, Westfield State's coordinator of video production and television operations wears a variety of hats for ASMW. From technical production to question writer, to judge, St. Jean, with the assistance of co-producer Tony Dunne, of WGBY, is the heart and soul of the show and has been at Westfield State for 30 years.
Students are a big part of the show's operation and can be trained in video production on the spot. "The Department of Communication has a couple of video production classes and generally we would take students from those upper-level classes. This year, because we needed crew, I went into first-year classes and said, 'If anyone's interested, we can train you.' And that's where we found most of our crew."
The opportunity to work in a scripted, professional production setting provides a real-world experience for students. "One of the cool things about studio production is you are forced to be a team player. It's a team atmosphere. When it comes to this type of production, I very much emphasize every person has a job to do. It's something students can interact with other students on, something that has common ground. They become friends," said St. Jean. "This is a great learning experience for them to work on a locally broadcast show — especially this show with its rich history," he said. 
Shows are taped in advance and St. Jean says they've already recorded 14 shows. Alex Simisky, video production technician at Westfield State, keeps the equipment running and helps train the students on various production equipment and procedures. The crew can produce up to five shows in a day. The 62nd season premiere will be broadcast on WGBY television on Saturday Jan. 7 at 7 p.m.
One of the highlights of St. Jean's long association of the show was when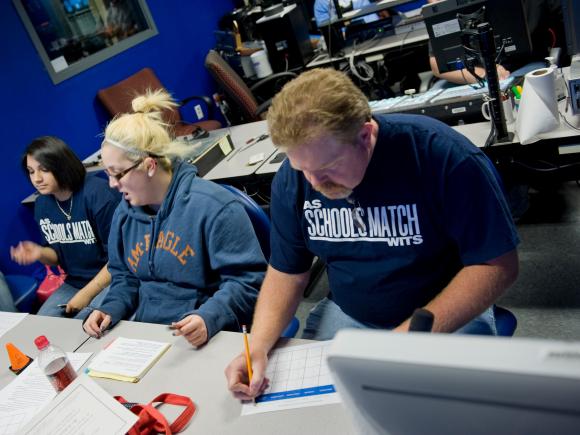 Holyoke High School, then in state academic receivership, pulled out a last minute victory over top-seeded Longmeadow in the championship. The show ended in a tie, twice. In a third lighting round, with points going back and forth, Holyoke finally earned the win.  "They ended up winning on the last question of the last lightening round by 5 points," St. Jean said. "That was a very cool moment. People were crying at the end," he said. At the end of the match, host Beth Ward said, "What an amazing championship matchup, in the history of As Schools Match Wits this has never happened and likely will never happen again."
Season 62 broadcast schedule:
Jan. 7: Frontier Regional vs. East Longmeadow

Jan. 16: Belchertown High vs. MacDuffie School

Jan. 21: Academy at Charlemont vs. Holyoke High

Jan. 28: Deerfield Academy vs. Longmeadow High

Feb. 4: Ware High vs. East Granby High

Feb. 11: Hall High vs. West Springfield

Feb. 18: Pittsfield High vs. Smith Academy

March 4: Minnechaug High vs. Chicopee Comprehensive

March 11: Easthampton High vs. Gateway Regional

March 18: Mount Greylock vs. Pope Francis

March 25: Wahconah Regional vs. Amherst Regional

April 1: Pioneer Valley Regional vs. Amherst Regional

April 8: Lenox Memorial vs. Lee High